Through a life of service, Utah's first female governor has won supporters with her grandmotherly charm and has moved mountains with her abundant energy and political savvy.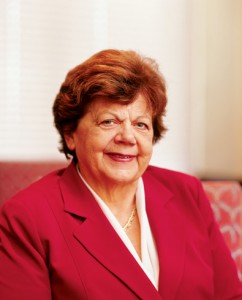 When J. Myron Walker, '52, began attending BYU after his mission, he asked two of his friends to point out "a really neat girl" he could ask out on a date. When each pointed out the same woman—a light-brown-haired, blue-eyed student—he was sure they were coconspirators in a matchmaking scheme.
"I thought they had been talking to each other, but they hadn't," Myron says. "They both pointed her out independently."
A few days later he saw the woman, Olene Smith, '53, again. He was a marshal at the homecoming parade, she was first attendant to the homecoming queen, and he mustered up the courage to ask her on a date. The rest is more or less history, although, he says, "I knew I wanted to marry her a lot sooner than she did." His rationale? "She was then and still is an all-American girl. She's intelligent, has a great personality; she's fun, wholesome."
This all-American girl is the woman who, after devoting her life to serving others, would one day take office as Utah's first female governor, marking what former governor Michael O. Leavitt called a "historical milestone."
After more than half a century of community involvement, including eight years in the Utah legislature, four years as director of community development for Utah, and 11 years as lieutenant governor, Olene Walker, then 72 years old, was sworn in as Utah's 15th governor Nov. 5, 2003, when Governor Leavitt accepted a post to head the Environmental Protection Agency (EPA). She joined Massachusetts governor W. Mitt Romney, '71, to become one of two BYU graduates then serving as U.S. governors. Though some suspected her brief time in office would leave her in a lame-duck position, Walker, whose whirlwind term ended Jan. 1, left indelible, if subtle, marks on Utah.
"Because she's so patient and calm and happy, people sometimes underestimate how incredibly smart she is and what she's been able to accomplish in a very quiet way," says Nena Walker Slighting, Walker's sixth child.
Adds Nolan Karras, who served in the legislature with Walker and is now chair of Utah's Board of Regents, "When you first meet Olene, you sometimes underestimate her, but once you've been with her for a little while, you realize this gal is smart, and you'd better pay attention. I think people will look back and say, 'Wow, she did a great job under difficult circumstances.' She was a great lieutenant governor, she was a great governor, and people will remember her fondly not only because she was a woman, but because she led with great ability."
From Understudy to Leading Lady
Walker has been called Utah's accidental governor, but those close to this soft-spoken woman were not shocked when she became the first woman to attain the highest political position in Utah.
"I'm not surprised," says Myron. "I didn't imagine it, but I'm not surprised. It comes pretty naturally to her to be involved—it's just part of her total person."
In her 11 years as lieutenant governor, Walker spearheaded a number of groundbreaking initiatives—an accomplishment in a role that many consider to be largely ceremonial. In his farewell speech to Utahns, Leavitt said, "She has given the job of lieutenant governor high energy and elevated importance."
She led the Healthcare Reform Task Force, which helped establish affordable healthcare for children; she helped develop the Department of Workforce Services; and she worked with education and budget programs. Though most of her work was behind the scenes, she nonetheless gained experience she would draw on when she became governor. "A lot of the things done when she was lieutenant governor were done in the background, and the administration got the credit for it, but it was really Governor Walker who was doing the pick-and-shovel work and was the inspiration behind it," says Walker's lieutenant governor, Gayle McKeachnie.
Echoes Karras, "She was hands-on, involved in policy; she paid attention to what was going on. That's why she brought to the governor's chair as good a background in state affairs as anyone."
This background allowed her to transition smoothly when Leavitt left for the EPA in October 2003. She quickly grabbed the reins of her position and began steering state issues and policies.
"She's on top of the issues, and I think she's always looking toward the future," says Democrat Mike Dmitrich, Utah State Senate minority leader, who worked with Walker, a Republican, for years in the legislature and who has maintained his friendship with her since. "When she wants something, she goes after it aggressively with facts and figures to justify why she's doing it, and she's been very effective."
During her 14 months in office, Walker became known for her independent approach, tackling tough issues without always paying particular heed to the trends of her party. In fact, though she received consistently high approval ratings across the board from Utah citizens, a March 2004 poll of registered voters conducted for the Deseret Morning News and KSL-TV showed Democrats leading in their approval of her, with 84 percent saying they strongly or somewhat approved of her job performance. Among Republicans and independent voters, she had an 81 percent approval rating.
"She has not ever used her influence as a heavy-handed Republican leader, and that's one of the things we in the minority party admire," Dmitrich says. "She's kept us involved in everything and informed of everything she was doing. It's hard to believe that's happening between Democrats and a Republican."
Despite some inevitable conflicts, Walker compromised and worked closely with lawmakers to develop and implement legislation involving a variety of issues. "That means I'm a jack of all trades, expert of none." But, she says, "people probably think of me as the education governor, and I'm happy about that. . . . I realize how important education is, because if a child doesn't master the basic skills, they're probably going to be a negative factor in society, rather than a positive one."
In December 2003 Walker unveiled her "Read with a Child" early literacy initiative, designed to encourage adults to read with children for at least 20 minutes a day and to increase the percentage of Utah's children who read at or above grade level by the end of the third grade. As part of the initiative, which was applauded by educators throughout the state, Walker traveled to numerous elementary schools to read to students, promoted a book of the month, and offered a summer reading challenge that honored children who read 20 minutes a day between May and September. Walker tells of a time when she was driving by a group of Salt Lake City schoolchildren. Guessing the children were from a poorer area of the city, she decided to stop and talk to them. "I hopped down and started walking toward them," she explains, "and one of the kids said, 'It's the governor who makes us read.' And that was reward enough for everything right there. I thought, Maybe what I'm doing is making a difference."
On top of the pressures of her daily tasks, Walker felt a particularly keen responsibility as the first female governor in the state and one of only nine female governors nationwide. "I could have come in and been a caretaker governor and sat back and enjoyed the ride, but I felt a very, very heavy obligation to put forth programs and initiatives that would show that a woman is capable of being a governor of the state of Utah and taking action and getting things done," she says. "Because others will run in the future, and if I had just been a caretaker, they would have stumbling blocks to overcome. But I hope that I've built a foundation on which they can build."
Though she began a campaign for reelection, Walker was eliminated from the 2004 governor's race in a vote at her party's state convention in May 2004.
Seasons of Service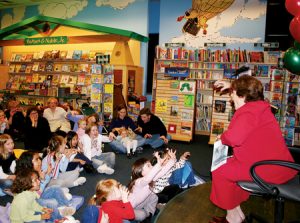 Despite her extraordinary achievements and extensive community involvement, balanced with a strong devotion to her large family, the highly energetic Walker remains unassuming. "Growing up, I had no ideas that I would ever be governor," she says without pretense, hands folded carefully in her lap as she sits in a chair at her governor's office conference table. This is on the same day she will be greeting the king of Tonga, who is on a weekend visit to Utah. "I've just been very fortunate to have remarkable opportunities, and many of them have sort of fallen into sequence—like the idea that there's a season for all things."
Slighting agrees: "There's no better example of how you can accomplish everything in your life in stages. I think sometimes we try to do everything at once, but she had a time for raising her children and a time for pursuing her education and a time for becoming seriously involved in community service and work. It is possible to do it all, but maybe not all at once."
Although Walker grew up on a 130-acre farm near Ogden, Utah, both of her parents worked as educators. "I think from my parents I had a sense of community obligation—that we have a responsibility to make where we live a better place," she says. "We have an obligation to contribute to society."
In high school and at Weber College, Walker participated in debate; at BYU, where she studied political science, she represented the student body as its first vice president. Within a year after receiving her political-theory master's degree in 1954 from Stanford, Walker and her husband had their first of seven children, all born within 11 years. Walker's societal contribution during those early years was geared primarily toward her children.
"There was never a dull moment growing up, that's for sure," remembers Slighting. "My mom was always on the go, whether it was with PTA or Primary, running us to our many sports activities or lessons. And she was always very encouraging of us to be involved in sports and student-body offices, just instilling in us the attitude that we could accomplish anything we wanted to."
While her children were in school, she volunteered and worked with the Salt Lake City School District and the U.S. Office of Education. She started and directed the Salt Lake Education Foundation to bring in funds from the private sector for education projects, and she later helped set up the Jordan and Granite education foundations.
Then, in 1980, Walker explains, "I had a few people say, 'Why don't you run for the [state] legislature?' So I ran for the legislature. And I wish I could say I had remarkable goals, that I was going to change the world, but it was more that I felt I could get things done and bring people together." As a Republican in a predominantly Democratic district, Walker had to work hard to get elected, going door-to-door to talk to people and enlisting the campaigning help of her children and their friends—whom she rewarded with pizza, sodas, and enlightening political discussions.
Walker served in the legislature for eight years, acting as majority whip and sponsoring a number of significant bills, including one that would establish Utah's lauded "Rainy Day Fund," a financial safety net for times of economic downturn. "That's become such an institutionalized thing, but when she was fighting for it, people kind of laughed and said, 'Why would you put money away? We need all the money now,'" Karras says. "But she knew it was important that we do that."
The groundbreaking legislation, still a central part of Utah's budget, is also the legislation Walker is most proud of. "It has really helped get us through some tough times," she says.
Walker, who chaired the Workforce Task Force, is also well known for her passionate, not-so-conservative advocacy for jobs and job training for people on welfare—women in particular.
Karras, who served as majority leader when Walker was serving as majority whip, credits her with garnering his support for women in difficult life situations. "I didn't know what it was like for a woman with two or three children whose father wasn't paying child support. I generally don't like government solutions, but sitting next to Olene when we would debate about displaced-homemaker issues, she sensitized me to the plight that women felt. She had those of us who are very conservative voting for a program to train displaced homemakers."
Affordable housing for struggling individuals and families has also been high on Walker's priority list, and Utah's housing fund has been renamed the Olene Walker Housing Trust Fund. Despite this recognition, Walker has done the majority of her work and advocacy behind the scenes. McKeachnie recently attended an annual meeting supporting low-income housing projects, where Walker was speaking and being honored, and even he was surprised by how much she has devoted her life to service. "I thought I had known her," he says, "but at that meeting, it became clear to me that she has dedicated a huge portion of her life to helping people who are downtrodden, who have had bad luck or are having hard times."
Reserves of Energy
It is a Friday afternoon, a day after Walker's office received an envelope with a primitive incendiary device from an inmate in Nevada. The phone at her office's front desk is ringing off the hook. One man calls with complaints about the Department of Child and Family Services; another woman calls about water problems she's having. Walker, wearing a simple black dress with a black jacket and white collar, says with a characteristically pleasant smile, "Oh, it's not much different from any other day."
Olene Walker has unusually abundant energy that all of her friends and family point to as a hallmark of her character. At 73 she is eight years past the standard retirement age, but she is on the go all day and runs on an average of three hours of sleep a night. In a society that equates tiredness with grumpiness, however, one would never guess she survived on so little sleep.
"She's very rarely grumpy and is just a very good-natured person," Myron says. "I think it's permitted me to support her. It would be difficult for a lot of men to support a woman who was that busy and feel good about it, but I think Olene's personality and her general wholesomeness has enabled me to feel really good and supportive about her involvement."
While writing her dissertation for a University of Utah PhD in the mid-1980s, Walker was also serving in the legislature and working for the Utah Educational Foundation. She had children at home, grandchildren being born, a son finishing medical school, and a daughter planning a wedding. So she worked on her dissertation the only time she could. "She started normally around 10 or 11 at night and would normally stay up until about 4," Myron says. "She mainly plowed through it. Obviously there was some evidence of tiredness, but she has a huge reserve of energy. I think her ability to do that is totally unique—to be that involved and to do a dissertation in the middle of the night."
Adds McKeachnie, who served in the legislature with Walker, "I have always been impressed with her high energy. I remember toward the end of one legislative session being completely worn out. We had long nights trying to put everything together, and we were on the floor of the house. In a lull, she mentioned something she had been thinking about while she was ironing that morning at 3 a.m. I was tired, and I had been sleeping at 3 a.m., but I think I'll always remember that while she was being a mother, working on her doctorate degree, and being a legislator, she was ironing at 3 in the morning."
A Grandma in the Mansion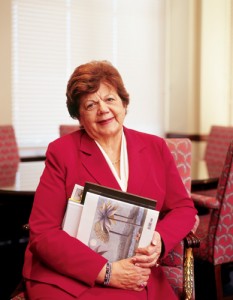 Walker's energy level no doubt helped her raise her seven children—particularly during the first 10 years of her marriage, when she and Myron moved 13 times. "Olene is very adaptable," Myron says. "And we were very focused together on what was important to us during those years. It was a battle sometimes, but she was a good mother to those children."
Says Slighting, "As busy as she has always been, when I was growing up, I always knew if it mattered, she would be there. And she's that way with the grandkids, too. She's been to basketball games, soccer games, dance recitals, guitar performances."
After 50 years of marriage, seven children, 25 grandchildren, and four great-grandchildren, Olene and Myron Walker are still going strong. As a couple they enjoy movies, reading—her favorite book is War and Peace, though she also admits she has read every John Grisham book—traveling, exploring, and golfing. "She doesn't get to do it very often, and she doesn't play very well, but that doesn't bother her," Myron chuckles. Adds Olene, smiling, "He plays well and I play fast, so we're very compatible."
With their children and grandchildren they enjoy hiking, exploring, off-roading, celebrating holidays, and traveling. "We just enjoy doing a lot of things together," says Walker, who has been known to stay up all night playing card games with her grandchildren.
Despite her busy schedule, Walker has made an effort to maintain a personal relationship with each of her children and grandchildren, all of whom she had over to the governor's mansion during her stay there. "I think each of the grandchildren have a very personal relationship; it's not a distant, 'My grandmother is governor,' kind of thing," says Myron. "When she sees them, they get personal love and attention."
One way she makes sure everyone gets that personal love and attention is by giving individual gifts to all of the children and grandchildren on their birthdays and on Christmas. She has what the family lovingly refers to as "the storehouse," which she keeps stocked with dolls, sweaters, and other items she knows she'll eventually be able to give as gifts. "We tease her about it," Slighting says, "because if somebody gets the wrong size sweater, she can actually go down and get the right size without having to go to the store."
Ultimately, and most importantly, says Myron, "She just is a tremendously involved, wholesome person. I think if Olene weren't so well balanced and wholesome and friendly—there's nothing puffed up about her at all—with the energy level she has, she could be a pain. But she is just totally well balanced and friendly."
So what is this woman going to do with her boundless energy after leaving office? She expects to "slow down a little," take a little more vacation time, and spend a little more time with her children and grandchildren. But any plans to sit back and do nothing are nowhere on her agenda. "It's remarkable," she says. "I've had four or five good job offers. Can you imagine somebody giving a 73-year-old woman a job offer? But I'll look at those job offers. And there are some things I've been involved with as governor that I'd like to stay involved with. I guess we'll see what's out there. But certainly we'll take more time to enjoy family and friends."
"I don't think she'll ever sit around knitting—that just doesn't work at all," says Myron, who notes that the two would like to become further involved in church assignments and travel to Israel, New Zealand, Australia, and Africa. "I think we'll be pretty active and involved as long as we have good health."
As for leaving Utah's capitol after nearly a quarter-century of service, Walker is both reflective and optimistic. "I have mixed feelings," she says. "There are a lot of other things I look forward to, but certainly I've enjoyed being involved. When you can see things being resolved that will help so many people, and you've had some small part in it, it's exciting. And of course I'll miss that. But I'm looking forward to the new opportunities."
Feedback: Send comments on this article to magazine@byu.edu.
The First Lad
J. Myron Walker, '52, recalls speaking to California first lady Maria Shriver, wife of Governor Arnold Schwarzenegger, about his trouble coming up with a title for his role as husband to Utah's governor, Olene Smith Walker, '53. When Shriver suggested he could be Utah's "first partner," he joked, "But we're not partners. Partners are equals, and it just isn't that way."
Myron has sometimes been referred to as Utah's "first lad" since the "Programs of the First Lady" office door dropped a letter to become the "Programs of the First Lad" office soon after Olene was sworn in, and he is nothing if not proud of his wife of 50 years, who took office as Utah's first female governor in November 2003. When asked about his whirlwind experience as the spouse of the governor, he deflects all attention to Olene. "I've thoroughly enjoyed watching her rise to and, in my feeling, excel . . . in being governor. She, from the very beginning, has stepped up and shown vision and caring and priority in the things that are really important."
Serving for just over a year as first gentleman, Myron has been more of a behind-the-scenes Olene champion than a hands-on initiatives promoter. The "supportive spouse" has been a natural role for Myron, who, like his wife, has worked and served in myriad capacities. While studying business and marketing at BYU, he was involved in student government, Intercollegiate Knights, and Blue Key.
In the next five decades, he would, among other activities, serve at Fort Ord in California during the Korean War, receive an MBA from Harvard, and purchase a snack-foods company, which, in its 25 years under his leadership, would grow from a 13-employee company to a 650-employee success story. He has also been a member of the executive committee of the U.S. Tennis Association, president of the Utah Manufacturer's Association, and president of the Harvard Business Club of Utah.
"You just try to be the best you can be," he says. "I've always been very interested in what's going on and trying to be a part in shaping it."
Despite what could easily be perceived as an unending hectic schedule, Myron has kept Olene and their seven children a top priority.
"Even though my parents have both led very productive, busy lives, we as children could always count on them when we needed them," says Nena Walker Slighting, the sixth of the Walkers' children. "They also had a great deal of respect for each other and what the other was accomplishing at that time."
Having retired in 1994, Myron volunteers three days a week in the Salt Lake Temple, does some consulting work, plays golf, goes fishing, and reads. In the last year, he says, "My major thrust has been in trying to be with and support and sustain Olene in the things she has prioritized."
Upon leaving the governor's mansion, Myron looks forward to continuing to support his wife in additional opportunities. "I feel good about Olene, and I hope she feels good about me," he says. "And I'm sure she does. . . . We support each other very well."