---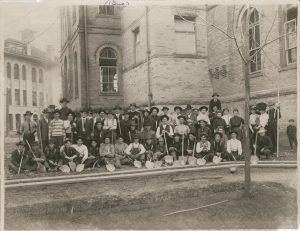 The early days at the Y put students' minds—and bodies—to work. Around 1905, Brigham Young Academy students, armed with shovels and pitchforks, pause after digging a half-mile trench near the academy building (now the Provo City Library).
In BYU's first decades students literally helped build campus facilities. Other early projects included leveling land for the upper-campus playing field, adding gravel to the road south of Temple Hill, and diverting a canal to build the old football stadium. After the Y was placed on the mountain in 1906, campus service days became known as Y Days.
Although students no longer have to pick up shovels or lay bricks to construct the latest buildings, BYU's charge to "go forth to serve" continues with Y Days each fall—a week of on-campus and community service projects.