BYU's first Worldwide Alumni Gathering brought the university family together from all over for one event— in 200 places around the world.
On Nov. 7, 2003, BYU alumni met around the world and in the Tabernacle on Temple Square for the Worldwide Alumni Gathering. The satellite broadcast allowed a potential audience of 330,000 alumni to meet Cecil O. Samuelson, the university's new president, and hear Church President Gordon B. Hinckley express his confidence in BYU and its graduates.
The event was the first of its kind and resulted in more than 200 chapter gatherings throughout the United States and across the globe. "We have a continuing desire to connect with our alumni," explains John C. Lewis, '77, associate advancement vice president for alumni and external relations, who spearheaded the gathering. "We hoped the gathering would renew within our alumni their affection for BYU and all that it represents. We hoped they would better understand the Alumni Association and what it has to offer them as members. We hoped they would become excited about mentored-student learning and want to be a part of that wonderful initiative."
Phoenix chapter chair Sterling A. Baer, '83, is a particularly enthusiastic supporter of the event. "Let me say thanks for executing a fantastic broadcast," he says. "You all did wonderfully, and the spirit and content were great. President Hinckley's talk is one for the ages."
More than 150 alumni went to the Pensaquitos Stake Center in San Diego for the event coordinated by Phillip W. Wing, '81, chapter chair. "It was a real positive experience to meet and visit after the broadcast," he says. Another purpose of the San Diego meeting was to encourage donations for the victims of the Southern California fires.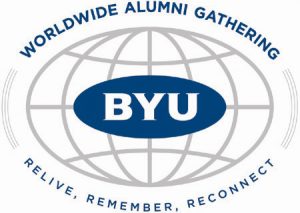 "We continue to gather data from our alumni chapters worldwide and will be interested in their feelings about future gatherings of this type," Lewis says. "You could imagine various formats for a worldwide broadcast, in addition to the devotional format used Nov. 7. Perhaps we could take our alumni on a tour of campus, or invite them into the de Jong Concert Hall for a presentation from a few of BYU's performing groups, or treat them to a lecture from one of our distinguished faculty members. We are fortunate to have access to the Church satellite system, allowing us to provide events simultaneously to our substantial alumni base. BYU has alumni dispersed around the world, and we are interested in each one of them."
At the event, President Hinckley talked about BYU's impact on its students, the quality of its graduates, and the strengths of its new president. "He is wise in the wisdom of the world," he said of President Samuelson. "He is certain in the foundation of his faith. He is a man of prayer and thoughtful deliberation. He is a friendly man but also tough as tempered steel when it comes to taking a stand that demands courage, forthrightness, and decisiveness. We have every confidence in him. I commend him to you as the president of the university you learned to love." (See pp. 67–68 to read an excerpt of President Hinckley's address.)
President Samuelson pointed out that the 145 alumni chapters around the world play a vital role in the continuing growth and vitality of BYU. He emphasized the expansion of BYU's mentored-learning program and explained how students can take on in-depth research and creative projects under the direction of a seasoned faculty member.
Enhancing the evening were musical selections performed by the BYU Men's Chorus. The Alumni Association's president, Brent W. Romney, '82, and president-elect, Carr C. Krueger, '85, also spoke.
Lewis says the gathering was designed primarily to foster stronger relationships with alumni, not to raise money. "Before the event, I was frequently asked if it was going to be a fund-raiser for BYU," says Lewis. "While my answer was always 'no,' I do hope that as a result of learning more about what's happening at BYU—especially the mentored-student learning program—alumni will have a desire to give back to the university in whatever ways they can."