---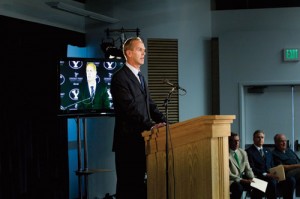 In a Sept. 1 press conference, BYU athletic director Thomas A. Holmoe (BS '83) announced that BYU would leave the Mountain West Conference (MWC) in 2011. The Cougar football team will become independent, and most other sports will compete in the West Coast Conference (WCC). He also announced an eight-year deal to televise Cougar football on ESPN's family of networks. BYU's bold move has raised a lot of questions. Here Holmoe offers a few of the answers.
Q: What motivated this change?
A: We've actually been looking to improve our fan access and exposure for our teams, our student athletes, for years. It comes down to those two pillars: access and exposure. Being independent increases access for our national following of fans and exposure for our athletic programs. Every home football game and men's basketball game will now be televised nationally, either on ABC, ESPN, ESPN2, ESPNU, or BYUTV. At least one football game each season will be live on BYUTV. BYU's national fan base will also be able to view same-day rebroadcasts on BYUTV of every home game and any away game to which ESPN has television rights. And we will be free to broadcast our Olympic sports as often as we please on BYUTV.
Q: Who will we play in football?
A: Our vision is to play many of the storied football programs in their legendary stadiums and to have those same highly regarded programs return to LaVell Edwards Stadium. We believe the combined resources of BYU and ESPN are already paying off—we have agreed to a six-game deal through 2020 with Notre Dame that will bring the Fighting Irish to Provo. Because football schedules are usually determined several years in advance, there will be a transition period of a couple of years before we achieve the full vision of what football independence can become.
Q: What does this mean for bowl games and the BCS?
A: We are in discussions with ESPN, which owns and broadcasts a number of bowls. I've also had conversations with other bowls, and while nothing has been formalized, there is certainly interest in BYU. As for the BCS, I've had some conversations with them. As an independent, if we are among the top 14 teams in the final BCS standings, we'll be given consideration as an at-large participant.
Q: In June Utah announced it would leave the MWC for the PAC-10. Will the rivalry continue?
A: University of Utah athletic director Chris Hill and I are working on that. We both agree that the rivarly is important. ESPN is excited for that football game when it's in Provo.
Q: Why is the WCC a good fit for BYU's other teams?
A: Our eight WCC partners are all private, faith-based universities located in West Coast states within a two-hour flight of Salt Lake City. The academic profile of the WCC schools is very similar to that of BYU; they all have a strong commitment to academic excellence. Fifty-eight percent of BYU alumni live within the four states represented by the WCC schools. Teams in the WCC traditionally compete well in NCAA tournaments, with programs like Gonzaga in basketball and Portland and Santa Clara in women's soccer among the elite in the national polls. Other WCC programs, including volleyball, baseball, tennis, and golf, have also enjoyed national success and will make for great competition.
Q: What about BYU sports (swimming and diving, track and field, and softball) that the WCC doesn't sponsor?
A: Our staff has been working diligently to find the best opportunity for each of the sports not offered through the WCC. We'll explore options with other conferences until we find the best solution for each program, similar to the arrangements we've had for years with men's volleyball and women's gymnastics.