These eager BYU students didn't wait for graduation to "go forth."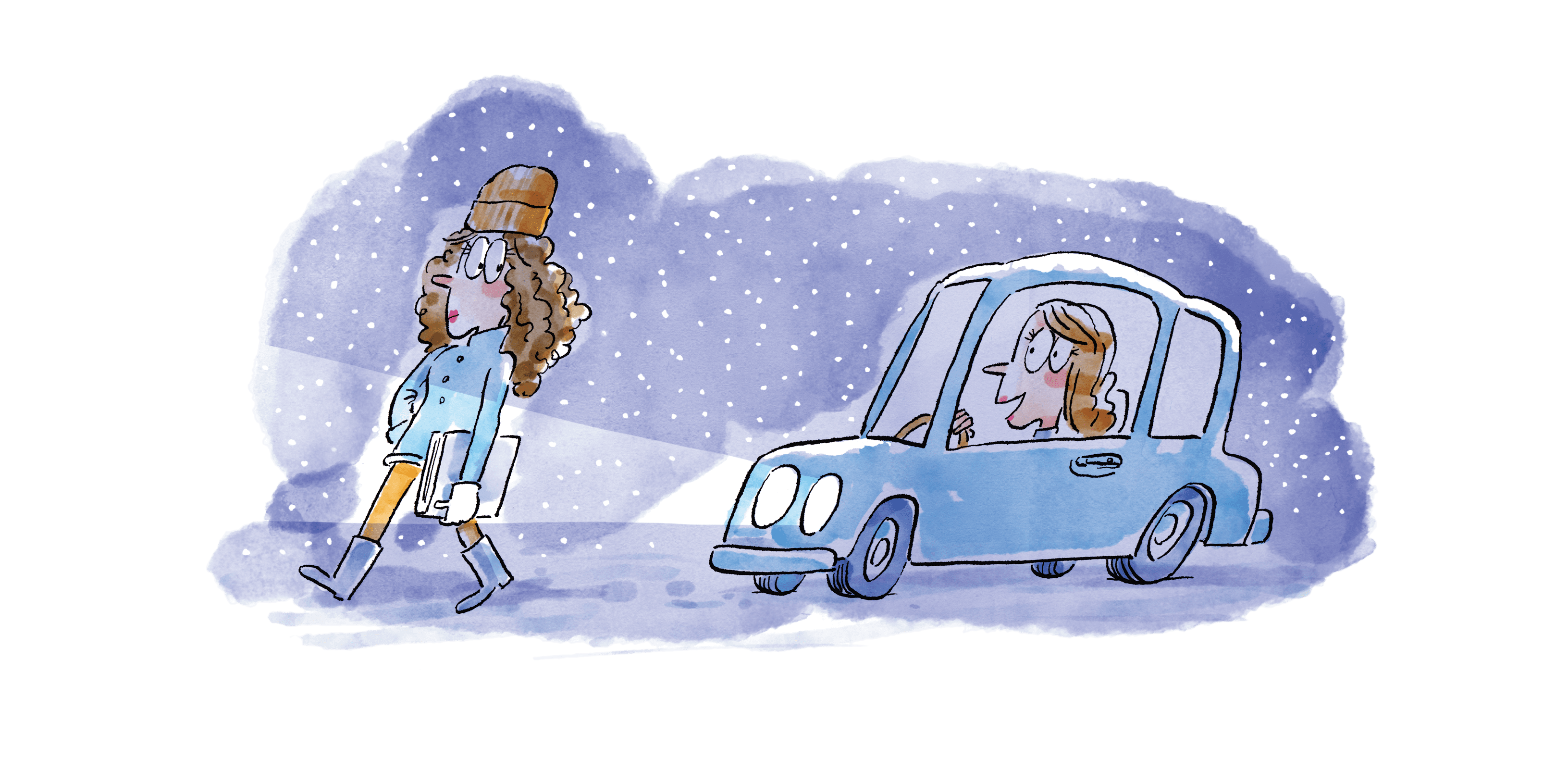 Beams of Mercy
By Kylee Adams Andersen (BS '13), Plano, TX
By the time I finished studying in the Tanner Building, the sun was gone and a fresh blanket of snow covered campus. It was the first heavy snowfall of the semester, and I wished I had brought a warmer jacket for the chilling trek to my apartment.
I pulled my sleeves over my hands and threw open the doors. As my face met the sting of the crisp night air, I kept my head down and watched my step—the last thing I needed was to slip in the snow and get wet.
As I waited to cross the street, bright headlight beams flashed behind me. I turned to see a car pulling to the curb, its window rolled down, and a smiling driver. A fellow student, she asked if I would like a lift. I accepted, and the warmth inside the car enveloped my numb body. We chatted as she drove to my apartment, where she dropped me off and wished me a good night.
Flash forward to my final semester at BYU, my first with a car. It was a cold winter night as I pulled out of the Tanner Building parking lot. I saw a fellow student making her way through the snow. So I pulled over and offered her a ride.
An Unexpected Welcome
By Solomon K. Keawekane (BS '65), La Mirada, CA
In fall 1962 I left my family home in Hawaii to attend BYU. As I stepped onto campus, I was impressed with the air of friendliness; everywhere I went, students were waving, saying hi, and smiling.
Then, when I entered the campus library for the first time, a beautiful young lady ran up to me, threw her arms around my neck, and said, "I'm supposed to take care of you!" My first thought was, "What a school!"
Later on I found out that there was a football player that looked a lot like me, and I was the lucky recipient of a mistaken identity. I later met that player—Ofati N. Malepeai ('64)—and we had a good laugh. And I was fortunate enough to secure a date with the welcoming girl from the library, Judy Green (BS '67), who was a song leader and Homecoming queen.
Friendship Has No Boundaries
By Glenda Ainsworth Towne (BA '09), Snowflake, AZ
When you are 45, leaving your comfort zone and going to school for the first time can be scary. My first fall semester at BYU, I lived in on-campus housing, assigned to younger roommates who didn't want to live with "that old lady." This attitude made me sad enough that I was about to give up and go back home.
But then I met a true good Samaritan, Marsha Stoutenburg Fuller (BA '09), a 20-year-old who took me in. Over the next three years we roomed together and built a lifetime relationship. Her friendship was a lifeline, and, to this day, she and her family are a huge part of my life.
Floored by Kindness
By Mindee Sharp Ricks (BA '17), Ann Arbor, MI
As a single freshman girl on Valentine's Day, I expected to go through a pretty blue "Singles Awareness Day." Imagine my surprise when I found our floor of Taylor Hall peppered with pink cards. And at my door was a nice note with my name and a cutout heart.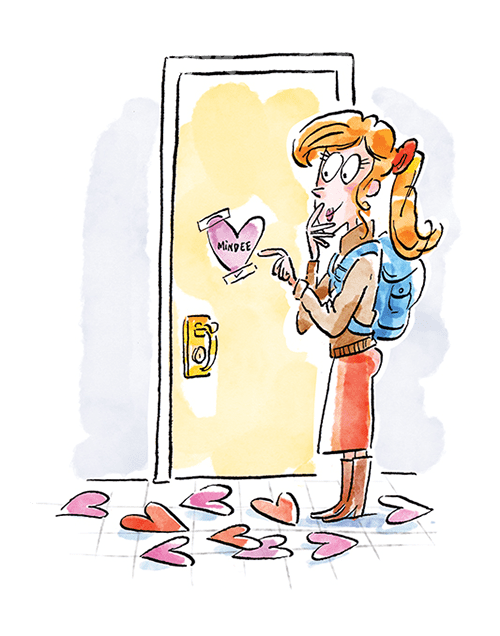 As it turns out, members of the elders quorum had spent a late night preparing valentines for us. While that alone made me feel loved, it wasn't the only surprise that day.
Feeling inspired by the service project, one young man returned home at 2 a.m. and spent three more hours crafting personalized cards for his close friends.
The next day, wearing a pink tie and a grateful (if tired) smile, he hand-delivered his cards, slipping an M&M-shaped card under my laptop while I studied in the library. I kept that card as a reminder that going the extra mile can express compassion in a way that helps others recognize their worth.
This young man's creative kindness impressed me so much that I decided to keep my eye on him. I married him—Michael D. Ricks (BS '17)—three years later.
Open Hearts and Wallets
By Marianne Dahl Johnson (BA '95), Deeth, NV
In 1990 my American Heritage class hosted a Secret Santa service project to sponsor needy families. I volunteered to lead the effort for my section. I estimated that, after a fundraising dance, I would have $300 to spend.
When I reached out to the soft-spoken mother of four from Central America, she shared her list of clothing and other necessities for her children, and I was grateful we could help them.
The next day I learned that the dance had raised only $150 for this family. I went to Budge Hall and told a fellow RA, and we decided to share the news that night at floor prayer. Of course, the girls immediately wanted to help.
Soon there was a steady stream of girls bringing money and presents. One girl donated a large stuffed animal she had bought for a younger sibling. Another brought $10 in pennies. One girl from Orem went home and returned with a bag of gifts. When I headed off to shop, my car was already full of donated presents, plus I had $300 to spend! I was able to get everything on the list and a bonus gift card.
I'll never forget those wonderful freshman girls who—amid their finals and in their college-student poverty—opened their hearts and wallets to a family in need.
Sitting with a Friend
By Adrian Van Wagoner Gibson (BS '02), Orem, UT
My sophomore year at the Y, I was at an off-campus ward activity when I saw a girl who walked jerkily, her body bent almost double, with people assisting her across the room to a seat. I'd never met a person with cerebral palsy before, and I didn't know then what her condition was called. But when I noticed that she was sitting alone, I took the seat next to her and struck up a conversation. I was quickly glad I'd made that choice. She became one of my best friends that year.
Her walking improved somewhat over time, and we were easily able to hang out. I remember lots of shared laughs and late-night chats about boys we liked. We joked that her handicap parking tag was the only reason I drove her anywhere, but I knew that she was always happy to see me and to listen to whatever was concerning my young heart at the time.
I thought I was doing her a service the night I sat next to her, but her friendship was the sweetest reward I could have ever asked for.
Call for Stories: Keep It Clean
Did your BYU dorm have a framed cross-stitch stating, "Cleanliness Is Next to Godliness," or was it more akin to "Proud of My Pigsty"? Whether it was a misadventure in cleaning, the mad rush before a cleaning check, or a lesson learned as you tidied your home away from home, we want to hear your story. Deadline: June 6.
BYU Magazine pays $50 for stories published in First Person. Send anecdotes of up to 300 words to firstperson@byu.edu. Submissions may be edited for length, grammar, appropriateness, and clarity.