---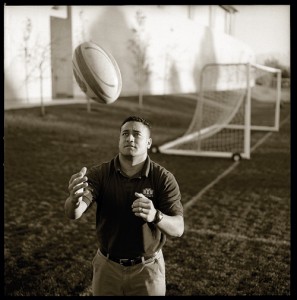 A rugby player builds a better future with a strong academic foundation.
SALESI A. Sika ('06) limps slightly as he walks across campus, favoring his left leg, where a metal plate and seven screws serve as a reminder of an incident he will never forget.
"I try not to think about that moment," the 6-foot-2-inch, 240-pound Tongan says as he puts his head in his hands. "I shouldn't have gone back out."
As part of the USA Eagles—one of the top 20 rugby teams worldwide—Sika has traveled to many countries, including Italy in November 2004.
Dazed after breaking his nose, Sika rushed back to the field. Contrary to his better judgment, he ran the ball. At that moment, he felt an immense force against his leg as a large Italian threw his body into the side of it—snapping his fibula in two. "I heard the pop and closed my eyes as I hit the ground. At first, regret outweighed the pain," Sika recalls with a grimace.
Just a year before, he was playing in front of a very enthusiastic crowd of 65,000 fans in the 2003 Rugby World Cup in Australia. Sika was one of only 30 athletes fortunate enough to represent the red, white, and blue.
"It's the pinnacle of rugby to play for your country," says Jared W. Akenhead (BS '97), an Australian native and rugby head coach at BYU. "It's not something many get to do."
Even though Sika is not technically a U.S. citizen, he met all requirements for the national team when Akenhead submitted his name to the Eagles' head coach at the Collegiate All Star Championships, where Sika reigned as "Most Valuable Player."
"If he wanted to be a professional rugby player, I'm sure he could, but rugby's not the end all, be all to him," says Akenhead. "He wants to do what he can with rugby without impeding his life goals."
Now a healthy captain of the BYU rugby team, Sika is preparing for the 2007 World Cup in France; however, his main priority is a college degree. He traveled about 10,000 miles to major in civil engineering. No matter where rugby takes him, Sika refuses to put his academics second.
"He sent his homework in on time from Ireland, which I thought was pretty impressive," says Henry N. Christiansen, a professor in the Civil and Environmental Engineering Department. "Engineering and athletics both take a lot of time. I don't know how he does it."
Yet despite his busy schedule, Sika teaches Tongan classes year-round at BYU. And with the help of a Texas mission, he has mastered English and Spanish. Self-motivated, Sika works hard to fund his education. "I was raised in Tonga and saw the struggles people went through in a developing country. I even went through some struggling myself. So the prospect of a stable future is worth the sacrifice."
"What he learns at BYU excites him to help build up his country," says his wife, Haley. "He's like a gentle giant, leading by example on and off the field." After graduation, Sika plans to return to Tonga and use his degree to strengthen his homeland.
"A measure of success is what you contribute to society, not how much you make," he says with determination in his voice. "It's how well you do with what you have."