---
Biology and Agriculture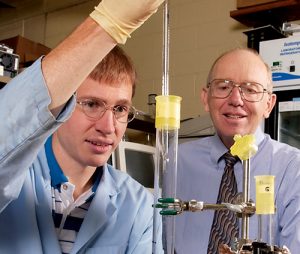 Graduate student Eric B. Taylor, '01, was the lead author of a recent study published in the American Journal of Physiology—Endocrinology and Metabolism. With physiology and developmental biology professor William W. Winder, '66, a coauthor on the study, Taylor shows that exercise increases the protein responsible for the first step in the fat-burning and sugar-absorbing process. The researchers hope the discovery will lead to drugs to treat type II diabetes and improve the health of those who cannot exercise.
Education
Nancy Brockbank Livingston, '75, an emeritus professor of teacher education, was appointed by Utah Governor Olene S. Walker, '53, to the Utah Commission on Literacy.
Engineering and Technology
Brent L. Adams, the Dusenberry Professor of Mechanical Engineering, was recently elected a fellow of the ASM International Society, a leading organization for materials studies. Adams has contributed to the study of microstructure, including advances in representation, stereology, and the development of orientation-imaging microscopy.
Jesse R. Cannon, '03, won first place in the graduate student division of a competition cosponsored by the American Society of Mechanical Engineers for his project, a device used in mechanisms that rotate and return to their original position, like a doorknob.
Family, Home, and Social Sciences
The U.S. Department of Health and Human Services selected the School of Family Life, along with the National Council on Family Relations and a team of four other major universities, to create and operate the first-ever National Healthy Marriage Resource Center. Alan J. Hawkins, '79, professor of home and family living, is the BYU team director for the center, which will receive a $900,000 grant per year and will collect and make accessible all reliable marriage research and resources over the next five years.
Fine Arts and Communications
Thomas A. Griffiths, '68, associate professor of communications, received the 2004 Edward L. Bliss Award for Distinguished Broadcast Journalism Education. The award is conferred annually by the Radio-Television Journalism Division of the Association for Education in Journalism and Mass Communication.
Jerry L. Jaccard, associate professor of music, received the Outstanding Educator Award from the Organization of American Kodály Educators. Jaccard specializes in musical pedagogy with emphasis in children's musical development.
Health and Human Performance
Kenneth L. Knight, professor of exercise science and director of the Human Performance Research Center, was selected as chair of the National Athletic Trainers' Association Education Council. Knight's official duties will begin in June. As the new chair, Knight will oversee the council, which facilitates ongoing quality improvement in entry-level, graduate, and continuing athletic-training education.
Humanities
Ray T. Clifford, '68, has been named the director of the Center for Language Studies, replacing Melvin J. Luthy, '71, who founded the center in 2000. Prior to this, Clifford was chancellor of the Defense Language Institute in Monterey, Calif.
Law School
Law professor John W. Welch, '70, is a co-planner of a joint symposium with BYU and the Library of Congress that will examine the contributions of Joseph Smith. The symposium will be held in Washington, D.C., May 6–7, 2005, the bicentennial year of the Prophet's birth.
Marriott School
The MBA program ranked fifth among regional schools in the 2004 ranking of top business programs by the Wall Street Journal. BYU also ranked second in the category "best for hiring graduates with high ethical standards" and fifth worldwide for its excellence in accounting.
Adam G. Edmunds, '03, was named BYU's 2004 Student Entrepreneur of the Year. His company, SilentWhistle, produces whistle-blowing software to help companies prevent illegal and unethical activities within their organization and provides public companies with compliance systems required by the Sarbanes-Oxley Act. Edmunds received a $12,500 cash award and another $12,500 in support services for his new venture.
Nursing
Kent D. Blad, '99, an assistant teaching professor in the College of Nursing, has been named a Fellow in the American College of Critical Care Medicine (FCCM). Of the total 701 FCCMs, only 38 are nurses.
Physical and Mathematical Sciences
William F. Christensen, '94, and C. Shane Reese, '94, both assistant professors of statistics, received a grant from the Environmental Protection Agency to investigate advances in tools for better air quality source-apportionment analysis.
Religious Education
D. Kelly Ogden, '74, professor of ancient scripture, recently published 8 Mighty Changes God Wants for You Before You Get to Heaven through Bookcraft.
RELATED ARTICLE: An Older Isthmus