Kelsey Nixon's recipe for success combines ingredients from the classroom, the studio, and Mom's kitchen.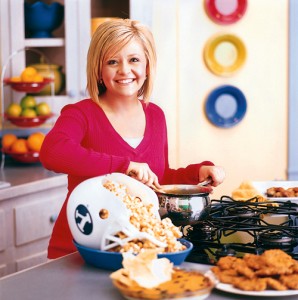 "30 SECONDS!"
Budding broadcast journalist Kelsey Nixon ('06) and star football player Curtis Brown ('07) stand side by side in the Provo Cable kitchen studio stirring a butter, corn syrup, and brown sugar mixture. Surrounding broadcast students stand at their cameras ready to go on air.
"We're at the mercy of butter here, people!" yells Tom D. Hiatt (BA '05), the show's director.
The melted mixture starts to froth and is ready to be poured onto the popcorn.
"5…4…3…2…1…and action!"
Tonight's episode is "Tailgating Food," and aromas of spicy chicken wings and chili cheese dip fill the humble studio. Brown joins Nixon for the last segment on caramel popcorn.
Once a week Nixon hosts Kelsey's Kitchen, featuring "fast, fun, and affordable" recipes for college students. The show airs daily on the iProvo network, but the former Cougarette and native Utahn hopes to market it nationally someday.
"There's no such thing as a college cooking show on the Food Network," says Dan S. Ransom (BA '05), iProvo manager. "Kelsey's show has such an untapped market."
"I feel like every other college student does," says Nixon. "I'm just learning what pots and pans to use and how to use a knife."
Growing up in Ogden with a family that loves to cook, Nixon spent a lot of time in the kitchen cooking gourmet cuisine with her mother.
Although a broadcast student, Nixon says she doesn't necessarily want to do the 10 o'clock news. To combine her love for cameras and cuisine, Nixon interned with Good Things Utah in winter 2005 for the cooking segment. During that semester, Nixon approached Provo Cable with her idea for a college cooking show.
Provo Cable execs gave her the green light and by February 2005, the 5-foot-1-inch blonde was a Martha in the making. She filmed only five episodes, but the response was positive.
Her summer 2005 internship with Martha Stewart Living Productions brought her into the limelight. "I was terrified," Nixon says of her New York adventure. Yet, the day after she helped the Cougarettes win the National Championship in Florida in April 2005, Nixon was on her way to NYC.
Working more than 40 hours a week as the assistant to the food producer for Everyday Food, most days Nixon was the first one to arrive and the last one to leave the set. Her evenings and weekends were spent at the French Culinary Institute.
Her hard work paid off. At the end of her internship, she was offered a full-time job.
Not willing to jump into the workforce without a degree, Nixon returned for her senior year to BYU and her humble kitchen studio. Far from the media capital of the world, Nixon continues to succeed in her field.
In fall 2005, BYU's Communications Department added a one-credit class in the broadcast emphasis to help produce Kelsey's Kitchen once a week.
Although sponsors help fund the show, Nixon is responsible for much of the design of her set. She spends Saturdays painting and touching up the yellow-walled bistro—even donating her own brightly colored dishes to match.
For her business class in fall 2005, she produced a Kelsey's Kitchen DVD with "10 Recipes in Under 5 Minutes." She also launched her Web site, kelseyskitchen.com.
Every Wednesday night, Nixon films a new episode of her show with themes ranging from "Ramen Recipes" to "Where's Mom?" Broadcast students don Kelsey's Kitchen crew T-shirts that read: "Nothing says lovin' like something from the oven." Nixon hopes to do just that behind the scenes for her future family, just as her mother did for her.
"I just absolutely love cooking. I wish it was the only thing I had to do," she says. "I would rather spend money at the grocery store than at the mall."
Kelseyskitchen.com features easy recipes and video segments from Nixon's show.