---
A brush with cancer gives a nursing student one more reason not to skip class.
"You need to get this checked out right away," nursing professor Sabrina D. Jarvis (MS '90) had said, examining student Sharla E. Morgan's (BS '05) neck. "Do you have a doctor you can go visit?"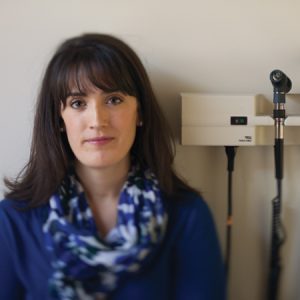 "I remember the day," Morgan recalls. It was in fall 2009. Still working part-time as a registered nurse, Morgan had just returned to BYU to pursue a master's degree. She was in Nursing 621, a class teaching nurse-practitioner students how to do advanced physical assessments. The day's assignment: head and neck exams.
After Jarvis had explained the proper procedures, the students practiced on each other in pairs. Morgan's partner found nothing, but Jarvis noticed something abnormal—a mass—on the right side of Morgan's neck. "I firmly believe that at the right moment, the right time, Heavenly Father aligns these things up," says Jarvis. In Morgan's case, Jarvis says the moment was just right for her to see the mass, which was hidden under the neck muscles.
With concern and empathy, Jarvis asked if she could show Morgan's neck to the students present. Morgan agreed and swallowed, causing the mass to bulge. "Everyone was kind of like, 'Whoa!'" Morgan says with a smile. "I hadn't seen it yet, but when I looked in the mirror, . . . it was really quite big."
The next day Morgan asked one of the surgeons she worked with, Seth Riddle, to examine her neck and do a biopsy. Awaiting the results, she says, "Something just told me that it wasn't just going to go away fast . . . kind of that feeling that I think this might change my life quite a bit."
Within a few days the results came back: she had thyroid cancer.
Four days later, Morgan had her thyroid removed by one of the surgery teams she worked with. "I had been trained by the nurse who was going to be my nurse, . . . and[I had worked with] my scrub techs, my anesthesiologist, and my surgeon. I knew them, and I trusted them," Morgan says. "I knew exactly where I was going to be lying and how things were going to go because I had been the nurse of people having their thyroid removed countless times."
After surgery, one of her treatments prevented her from taking thyroid hormone replacements, making her extremely tired. She tried to stay in school. "She probably is one of the strongest and most determined individuals I know," says Jarvis, but "she was so tired." Eventually, Jarvis helped Morgan decide to defer for a year and take care of herself.
Now, two and a half years after being diagnosed, Morgan is back at BYU and almost done with school. And cancer has opened a door for her future. In November 2010 Riddle invited Morgan to work at the new Thyroid Institute of Utah; she has since been asked to stay on as a nurse practitioner post-graduation. Riddle says Morgan has both intelligence and empathy: "No one is more compassionate than someone who has experienced it," he says. This is "one of the many good things"—as Morganputs it—that has come out of her battle with cancer. Another: "I think I'm a little more patient with life and try to let go of expectations a little bit and be more at peace with things. Life can change, turn out not like you expect it will, but it can still be good."