Generations of women take turns being mother and daughter.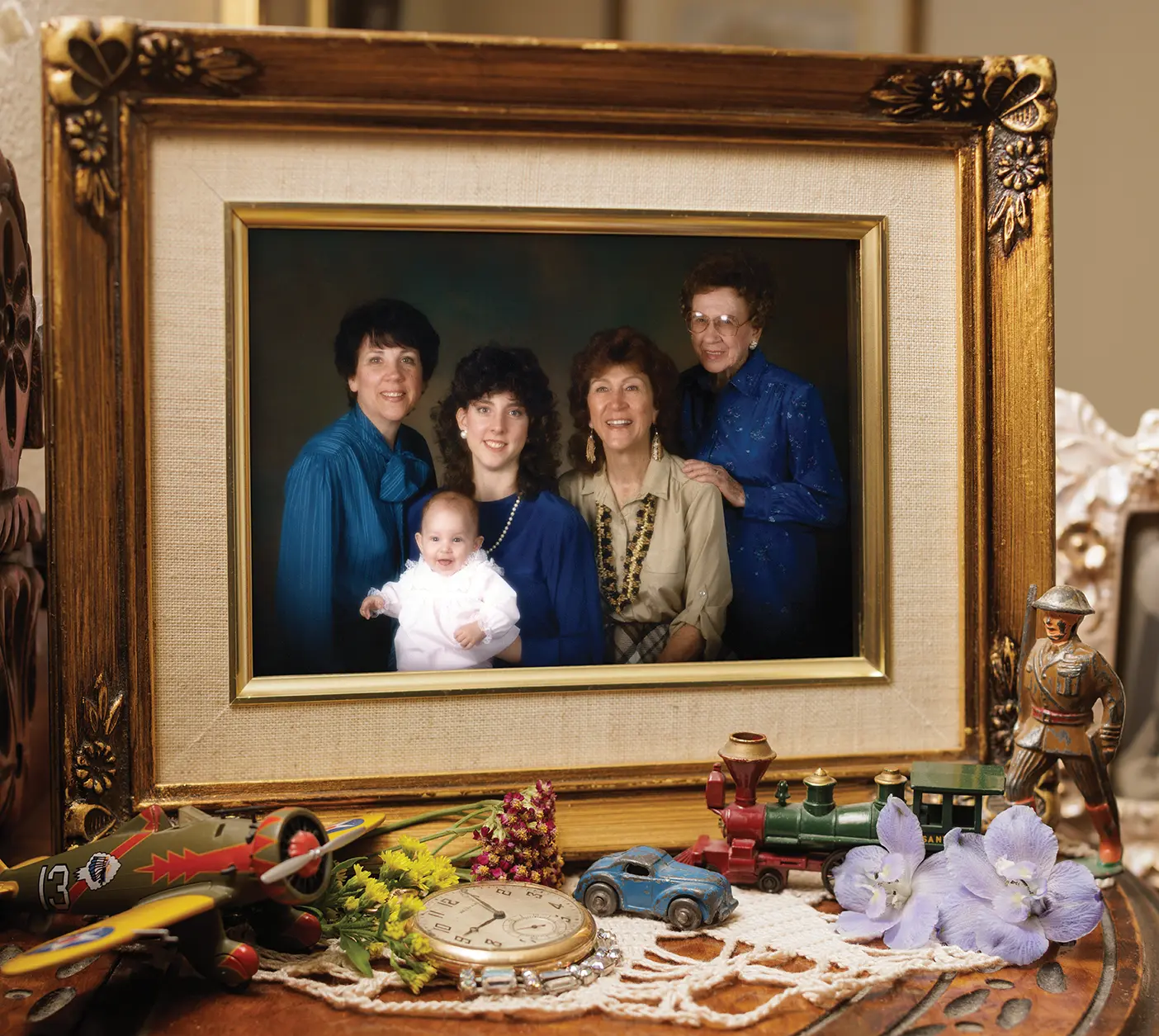 In 1993 I went home to Mesa to help my daughter with her new baby. Upon arriving, I learned that my 92-year-old grandmother had fallen and bruised her back, was bedridden, and needed round-the-clock help. She had been living alone, caring for herself, and driving her own car. Grandma had discovered she could get anywhere she needed to go by making only right-hand turns. But her independence had ended abruptly. The family had been taking turns caring for Grandma.
While I was in town, I volunteered to stay a night with Grandma. I brought my 4-year-old grand-daughter with me, hoping to give some rest to my daughter and my mother, who was overseeing Grandma's care. As we went into the bedroom, I leaned down to hug my grandma and noticed how thin she had become. It hurt to see the sparkle gone from her eyes. The fall had aged her.
As I hugged her, I noticed my little granddaughter visibly pull back from the old woman in the bed. I was reminded of being taken to visit my own great-grandmothers as a little girl, three of whom I remember well. I recall feeling a little afraid of them and trying to keep my distance from their strangeness.
As nighttime came, I found myself lying in a bed beside my grandmother's hospital bed. My granddaughter slept with me on my other side. I was wide awake after Grandma had gotten me up for the third time. When she couldn't sleep, she would talk to me about her childhood, stories I had never heard before. I treasured this time together and the memories shared.
As I lay there that night, I suddenly felt awed by my situation. On my right lay my little granddaughter whom I loved as part of my soul; on my left was my dear, caring grandmother; and I lay in the middle of five living generations of women, each the first daughter of her mother. As my deeply grateful heart reached both ways and across those five generations, the love I felt was more than I could contain, and tears began to fill my eyes.
Grandma had cared for her loved ones, older and younger, for more than 80 years, and I knew that each of us would care for those before and after us as our turns came, loving one another with a bond that only blood and time can produce.
I pondered the wondrous changes in the world and in society that Grandma had seen in her near century of living. She had been courted in a horse and buggy and had sent her husband, sons, and grandsons off to wars. She gave birth to, nurtured, and cared for five babies. She had seen women receive the right to vote. She had felt awed by the development of automobiles, trains, and airplanes. She'd learned to talk to her neighbors through a little black box called a telephone and watched men land on the moon through the wonder of television. She had buried parents, brothers, sisters, and her husband. And through it all, she had calmly and strongly nurtured a profound and abiding faith in God.
Through the impositions of old age—and most assuredly against her wishes—my grandmother had become the daughter again. We, her posterity, had become the mothers. And we, in time, would take her place as daughter once again as the caring re-creates itself in an unfailing cycle of family. What a wonderful, sacred thing it is.
It is now 2023. My mother and grandmother have passed on. I am, at 82, the oldest living female in the family. My granddaughter is now married and has two children of her own. One day she will be a grandmother and bring her children to visit me, and they will smile when I tell them I can drive anywhere I want to go by making only right turns. And the circles of love will go on.