Recent LDS fiction and nonfiction are records of "human conduct under fire."
A number of recent works of fiction and nonfiction by Latter-day Saints, most of them BYU alumni and faculty, remind me of a statement by Wallace Stegner, the Pulitzer Prize–winning author who spent his youth in Salt Lake City and was a great admirer of Mormon families: Literature is, Stegner wrote, "the celebration of the human spirit as that spirit works itself out in conduct" ("Variations on a Theme by Conrad," Yale Review, vol. 39, no. 3, p. 522). Literature is the record of human conduct under fire.
In Surprising Marcus (Deseret Book; 150 pp.; $12.95), Donald S. Smurthwaite, '77, concludes his warmly human, and thoroughly Latter-day Saint trilogy about Marcus Hathaway, his wife, Helen, and late friend Sam. Marcus is turning 75 and is under the fire of age. This volume is less about Marcus' storytelling, so central to the first two volumes, and more about the wisdom Marcus has acquired in three-quarters of a century. By now a somewhat confident, veteran earthling, Marcus declares that for the rest of his days he "will be true like a mountain" (p. 149), from which the original title of this upbeat, thoughtful novel was taken. It will be cherished by Latter-day Saints of a certain age—my age.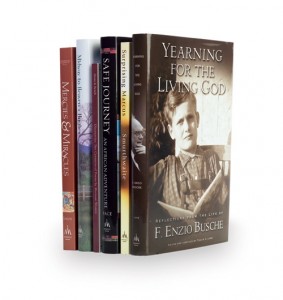 Dean T. Hughes, in Midway to Heaven (Deseret Book; 225 pp.; $19.95), examines Ned Stevens, a recent widower who has moved to Midway, Utah, where he has belatedly built the dream home of his late wife, Kate; is shepherding his last child, Liz, through BYU; and is dealing standoffishly with the benevolent aggression of eligible women. All is well until Liz brings home David Markham—anyone's ideal son-in-law, save for Ned, who wages a losing battle to keep his baby from David's clutches. But Carol, one of the hovering women (so unlike Kate and thus suspect), steps in, steadies Ned's course, and resolves his misapprehensions. Hughes' Mormon Sleepless in Seattle comedy is light and fun; it is different but appealing fare after Hughes' two blockbuster historical fiction series about 20th-century Mormon life.
Lee R. Nelson, '68, corrals our interest once again in Born to Rope (Cedar Fort; 161 pp.; $14.95), a can't-put-it-down novel about a mistreated wild horse, a troubled high school football star, and a horse trainer. Nelson recounts the good things that happen when the trio joins together in the sport of team roping. In his comfortable way, the veteran storyteller relates an exciting and moving story about the power of patience, tenacity, example, and love in focusing and redirecting lives. Set in Payson, Utah, Born to Rope is a modern-day Western that teaches timeless truths and values to a general audience.
Annette Luthy Lyon, '95, in At the Water's Edge (Covenant; 197 pp.; $14.95), spins a good, old-fashioned conversion/romance novel, set in contemporary Finland. Annela embraces Mormonism and must free herself from the clutches of old relationships and find love among the Saints. This is good contemporary "home literature," teaching convincingly and palatably the blessings that follow when one lives LDS values.
Sharon Downing Jarvis, in Mercies and Miracles, volume 2 in The Fairhaven Chronicles (Deseret Book; 297 pp.; $14.95), writes with remarkable authenticity about how it is to serve as a Latter-day Saint bishop. We follow Bishop James Shepherd of the Fairhaven Ward in Alabama as he undergoes his ministry, which is fraught with surprise, joy, sadness, humor, and nail-biting decisions that will affect the lives of members of his flock. From whatever sources she gleaned her information, Jarvis knows bishops, and she knows about the "mercies and miracles" of LDS life. No one else has captured so well the life of an LDS bishop.
Larry Barkdull, in Cold Train Coming (Shadow Mountain; 160 pp.; $16.95), recounts the story of Shep, a real-life dog in Fort Benton, Mont., who faithfully waits at the train station for a master who will never return. Into that real story, Barkdull weaves the fictional story of nearly 14-year-old Ben and his nearly 16-year-old "best friend" Ellie. Aimed at a national audience, Cold Train Coming is also the story of a stressed family under financial, physical, and emotional fire. It's a good read.
In his first novel, Death Hollow (American Book Publishing; 256 pp.; $22), Richard J. Butler retells the parable of the prodigal son from several perspectives. Butler, a BYU economics professor, brings LaVelle Hanson together with "good son" Sterling and estranged "bad son" Red on a hazardous journey along southern Utah's Death Hollow Trail. The journey is complicated when the trio, nursing longstanding anger, must also serve as good Samaritans to a woman who has been robbed, beaten, and left unconscious along the trail. This novel fuses parables as the threesome—already under stress—rescue the woman, examine their mutual misunderstandings, and seek resolution through repentance, forgiveness, and love.
Several nonfiction books examine and celebrate the triumph of LDS lives under fire: Mark L. McConkie, '70, in Remembering Joseph: Personal Recollections of Those Who Knew the Prophet Joseph Smith (Deseret Book; 529 pp.; $32.95), collects personal accounts of encounters with the Prophet Joseph Smith from more than 800 sources. What emerges is a rich portrait of Joseph—of his physical appearance, spiritual nature, character, and temperament. McConkie, a faculty member at the University of Colorado Graduate School of Public Affairs, also provides a useful CD-ROM of the contents, which enables scholarly roving among the entries.
Elder Glenn L. Pace, '65, of the First Quorum of the Seventy, has written Safe Journey: An African Adventure (Deseret Book; 293 pp.; $18.95). It is the story of Elder Pace's presidency over the African West Area from 1998 to 2001, an eventful insider-outsider story of the miracle of the Church in West Africa. It is the story of a ministry that leads to the blooming of a great love for the African peoples—human beings "under fire"—and culminates in the realization of the impossible dream of temples in Accra, Ghana, and, eventually, in Aba, Nigeria. Elder Pace expresses his feelings in the words of Willa Cather: "This is happiness: to be dissolved into something completely great" (p. 139).
Elder F. Enzio Busche, emeritus member of the First Quorum of the Seventy, recounts memorably, in Yearning for the Living God: Reflections from the Life of F. Enzio Busche, written and compiled by Tracie A. Lamb (Deseret Book; 307 pp.; $24.95), his eventful spiritual journey through the mortal crucible. Young Enzio grew up during the Hitler regime, was drafted into the German army at 14, and became a prisoner of war at 15. He later underwent the terrible rebuilding years after the collapse following Germany's surrender, became a printer, then CEO of Busche Printing Co., then underwent the mighty change in conversion to the Church of Jesus Christ. Elder Busche tells of the miracle of change wrought by the Holy Ghost in the lives of men and women whom he meets during his ministry as, among other callings, regional representative, mission president, member of the First Quorum of Seventy, and president of the Frankfurt Germany Temple. This book is full of testimonies of the liveliness of the Holy Ghost in our lives.
In a fascinating "photobiography," Prophets of the Latter Days (Deseret Book; 220 pp.; $39.95), BYU associate professor of Church history and doctrine Richard N. Holzapfel, '80, and photo-historian and LDS archivist William W. Slaughter, '74, have collected photographs, drawings, engravings, paintings, daguerreotypes, and stereographs—many published here for the first time—of each of the 15 presidents of the Church of Jesus Christ. Holzapfel and Slaughter have fused the journals, letters, and principal teachings and doctrines of each of the prophets with glimpses into their personal lives and historic events that occurred during them to give a new perspective on their unique ministries.
---
Richard Cracroft is Nan Osmond Grass Professor of English, emeritus.
Cracroft's Poetic Pick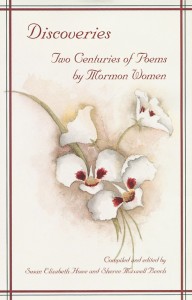 A rich poetic find is Discoveries: Two Centuries of Poems by Mormon Women (Joseph Fielding Smith Institute for Latter-day Saint History and the Association for Mormon Letters; 121 pp.; $9.95), compiled and edited by BYU associate professor of English Susan Elizabeth Howe, '71, and Joseph Fielding Smith Institute research historian Sheree Maxwell Bench, '02. Howe, a widely published poet, and Bench have collected poems by 33 19th- and 20th-century Latter-day Saint women, works "that [reveal] the life experiences of a Mormon woman from her birth to her death and entrance into eternity" (xv).One example is "Blackberry," by Penelope (Penny) Moody Allen, '63, a moving poetic reverie that captures in the simple imagery of picking and savoring a blackberry—and suffering a thorn prick for one's efforts—Eve's consequential but inevitable choice in Eden, a dilemma that resonates in our own mortal struggles:
BLACKBERRY
By Penny Allen
Sucking darkness into swollen lobes,
It rides the cane over in its plumpness.
She wants it—enough to thread a careful hand
Through the thorns, etching a ragged red
Rivulet on the wrist and pricking tiny
Rubies where she wavers until her fingers
Lightly pluck it—thumb-pad pierced by a point
In the process. She pulls the berry back
Through close-woven briars; it stains startled
Fingers pinching at the pull of a thorny
Anchor. She plunks it into her wet mouth.
Delicious. More desirable than the first
Death she ate. Yet long after her tongue
Forgets the sweet, her throbbing thumb remembers
The pain, and still hungry, into the tangle
She flinches, sighing, "Oh, Eden, Eden." [p. 4]