The Alumni Career Services Center brings alumni and jobs together.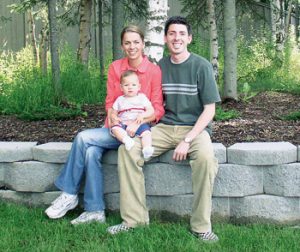 After graduating in financial services in April 2003, Michael T. Dulgarian found his job hunt to be both daunting and frustratingly fruitless.
"It seemed as if nobody was hiring," he says. "The economy had just turned down, so I really couldn't blame BYU. I realized if I wanted a good job, I was going to have to be more proactive than just browsing eRecruiting."
Dulgarian heard about BYU Alumni Career Services Center, which helps alumni find a career that matches their desires and needs. Among the center's services is an alumni network featuring contact information for thousands of alumni in a variety of career fields.
Dulgarian quickly sent out a number of e-mail messages to alumni working in industries that stood out to him. Though he did not hear back from all those he contacted, he heard back almost immediately from a real-estate businessman who was not hiring but was nonetheless interested in meeting the proactive Dulgarian. The two met for lunch, getting to know each other a bit better, and the man offered to forward Dulgarian's résumé, along with a recommendation, to various bankers with whom he had relationships.
"His recommendation had the right effect," says Dulgarian, "because within just a few days I had HR people from about four of his banks calling me." After interviewing with each of the banks, Dulgarian ended up with a job at Wells Fargo Bank, working in real estate.
Other alumni report similar benefits from the Alumni Career Services Center, which also offers job listings, a résumé-posting service, job-hunting tips, and links to related Web sites.
"I started looking for a job and found one on the BYU alumni placement listing in a town 20 minutes from where I live," says Juanita Brunner Grissom, '69, noting that the job opening wasn't advertised in any local job listings. "I figured it was meant to be—and it was. I interviewed for the job, got it, and am starting my sixth year there.
Adam M. Goodman, '97, also found the center's online job listings helpful—twice. "Both jobs were a direct result of using BYU alumni placement services," he says. "I would not have found either job without your valuable Web site."
In addition to the online services, career advisor Scott R. Greenhalgh, '86, is available to consult with alumni seeking employment.
INFO: 801-422-6936, 801-422-2072, or alumni.byu.edu/placement