---
Missions spice up BYU life for those who serve and those who observe.
Becoming a Missionary the Old-Fashioned Way
By Laurie Richardson McIntosh (BS '81), Spring, Texas
As a young freshman, I was awed at the quantity of young, earnest-eyed missionaries everywhere. Rules being quite different then for MTC missionaries, they strolled down the hill through Heritage Halls, loitered in the BYU Barbershop, and sat en masse in a great pie-shaped section of the Marriott Center at devotionals.
My equally enamored roommates and I positioned ourselves strategically at the devotionals to get the best view of these handsome and righteous young men. Oh, we knew they were off-limits—I was way too shy back then even to flirt—but we enjoyed the scenery and our dreams of someday having an RM of our very own.
Once, we contrived a plan to surround ourselves with dark-suited, white-shirted splendor: we'd make nametags for ourselves and impersonate sister missionaries! Our goofy coed dream was to sit through the next devotional in a sea of priesthood wonder.
It wouldn't be hard. Nametags back then were color-coded Dymo-taped strips attached to an easily aped pin. We even put "Hermana ________" on the tags, because we were enrolled in Spanish 101.
When it came right down to it, we chickened out. Bad enough to be deceitful, but worse to be dishonest by posing as servants of the Lord.
Later, after graduating from BYU and working for a year, I found myself legitimately among the ranks of missionaries as I accepted a call to serve in the New Zealand Auckland Mission. Young elders surrounded me at the MTC and in the field, but by then my heart was focused elsewhere—on the great work of learning and sharing the gospel. Thank goodness I'd grown up a little since those freshman days at BYU!
An Iron-Fisted Handshake
By Bryce A. Contor (BS '94), Iona, Idaho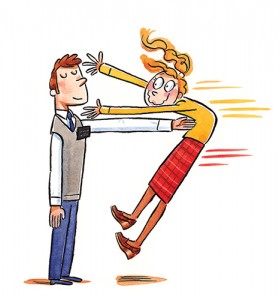 In the fall of 1976 I attended the newly constructed Language Training Mission below the temple (now the Missionary Training Center). One preparation day my companion and I were at the Wilkinson Center, which was allowed then. A female student suddenly spotted a missionary she must have been missing a great deal. She squealed his name and ran toward him, arms outstretched, in anticipation of a hug. Aware of his new status, he extended his arm for a firm and proper handshake. She folded around his outstretched arm like she had run square into the end of the rod of iron.
None of the Above
By Erin Cox Wall (BS '06), Rock Springs, Wyo.
Less than two weeks after returning home from the Canada Winnipeg Mission, I was back at BYU. I felt I had made the transition from missionary life to normal life fairly easily. My first class that semester was Teachings of the Living Prophets. I walked into the classroom 15 minutes early to find only one other student in the room . . . a boy! I panicked as every thought in my head yelled at me to not be in the same room alone with someone of the opposite sex. I immediately turned around and walked out of the classroom. I distinctly remember telling myself in the hallway that this was OK; I no longer needed a companion, nor was it taboo to be in this situation.
After my internal pep talk, I cautiously reentered the room and sat as far away from him as possible. He politely turned around and began to talk to me. "So what's your status? You married? Single?"
My trembling response: "Actually, I'm none of the above. I just got home from a mission, so I'm not sure what I am." With that, the conversation ended, and never again did we talk that semester.
I guess I still had a little readjusting
to do.
Foreign Correspondence
By Suellen Stout Weiler ('77), Lilburn, Ga.
My sophomore year at BYU I started collecting stamps. The miniature works of art piqued my interest in history and culture. Colorful stamps from the Philippines, where my brother was serving a mission at the time, were a welcome addition and gave me an idea for expanding my collection: I would write all the missionaries I knew—friends, cousins, former classmates—many of whom were serving in faraway countries.
One particular elder serving in Mexico was better than most at responding to my letters. As a show of appreciation I decided to write my next missive in Spanish. It was a test of all I was learning in Spanish 201, and to be sure I had my tenses right, I asked my professor to proofread it.
Handing it back with a few minor corrections, he wiggled his eyebrows in a teasing manner and asked if this were "Elder Right" and how much longer before he would return and bestow the "MRS" degree upon me.
Smiling, I reached into my bag and pulled out the 10–12 letters I had there, ready for delivery to the four corners of the world.
"He's just a friend like those I count in dozens," I sang, taking my letter from the professor's hand and heading for the post office in the Wilk.
Anxiously Engaged
By Shawnie Satterfield Sutorius (BS '95), Pocatello, Idaho
In anticipation of serving a mission as soon as I turned 21, I signed up for Sharing the Gospel, taught by popular professor George D. Durrant (BS '56, MEd '62, EdD '71). Classes were filled with anticipation and enthusiasm as we learned to build relationships of trust, testify boldly, and serve wholeheartedly. Monday mornings were particularly exciting as students announced mission calls or engagements that had occurred over the previous weekend.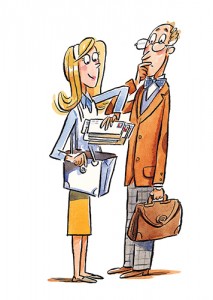 One Monday morning Brother Durrant startled me by asking, "Sister Satterfield, did you get engaged over the weekend?" I was absolutely determined to serve a mission in the fall, and no boy, not even one bearing a diamond ring, was going to stop me. So I instinctively blurted out, "No, sir! I'm going on a mission!" This time it was his turn to be a little startled—by my zeal and probably my volume.
He repeated my answer several times to himself. Then a smile crept across his face, and he declared, "I like that! I'm going to write a book, and I'm going to call it No, Sir! I'm Going on a Mission." Everyone laughed.
Although I haven't seen the book yet, I did manage to escape BYU unengaged to serve 18 months in the Arizona Tempe Mission. But it was fitting that six months after returning home, I was engaged to the former "Elder Sutorius," who had also served in the Arizona Tempe Mission.
Companions with a Common Interest
By Richard G. Otterstrom (BS '88), Blackfoot, Idaho
After graduating from high school, I got a semester in at BYU before my mission. During that semester, I went out a few times with a young lady from Shelley, Idaho.
When I arrived in England as a missionary, my first companion was from Shelley. After a few days, I remembered that was where the girl had been from. I asked my companion if he knew her, and he said, "Yes, that's my fiancée."
When we had made sure we were talking about the same person, he asked how I knew her. When he found out I had dated her, he wailed, "Nooo!"
He asked a few more questions regarding my brief relationship with his fiancée and didn't like the answers, so he decided to call her. He didn't know her phone number, but I did!
He let me listen in for a moment while he asked his fiancée if she knew me and then explained to her that I was his new companion. After a moment of shocked silence from the girl, I hung up. It is a small world, after all!4