Not all BYU music reverberates from the Harris Fine Arts Center. A stroll through the campus music scene provides an earful of BYU's less formal music.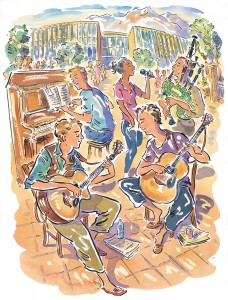 It takes just a cursory stroll around campus to see that BYU's love affair with music runs deep. Even discounting the official groups—Men's Chorus and Women's Chorus, Chamber Orchestra, Wind Symphony, among many, many others—it's still a massively toe-tapping, knee-slapping, hand-clapping campus.
There's the information systems major who dedicates several hours a week to his band; the a cappella group that squeezes in gigs and recording sessions between classes; the hundreds of students who take time out to sing hymns in a tunnel or belt show tunes from a makeshift stage or play chords or notes on an instrument, any instrument, simply to unwind after classes.
It's a campus of "hummers and strummers," says Lawrence J. Green (BM '79), and Green ought to know—he teaches them how to strum. Green is the lone guitar instructor at BYU. ("So, you're part of the guitar faculty or you are the guitar faculty?" "I am the guitar faculty. Like, I am the state.") Each semester he teaches more than 200 students guitar basics; he's taught thousands over the years. But even with the weight of the guitar-playing campus on his shoulders, he slouches in a foldout chair to teach his class, as though he was born comfortable.
During one particular period of his Basic Guitar Skills class, Green sits at the front of a room full of guitar-cradling students. He reviews what they've already learned about finger positioning, chord progressions, strumming patterns—all the basics. If they remember nothing else from college, he says, let them remember these things.
"Students take the class to learn a skill they can enjoy for the rest of their lives," Green says. "I mean, people just love the sound of music. They love the tones of particular instruments."
Dale E. Monson (BA '75), who heads BYU's School of Music, seconds that assessment, adding that some 1,000 non-music majors take private lessons at BYU every year. "The vast majority of universities don't even give non-majors private lessons," says Monson. "So we're making a huge effort to meet the needs of our student body, music major or not, who just love music and who want to participate."
Green's guitar class draws a wide range of majors and motives. A few come intending to become serious guitar aficionados, Green says. Most others come looking just to have a good time: the hummers and strummers. And perhaps a few more come for the "romance quotient" of the guitar. Green stipulates that his class equips its graduates to serenade "only if they can sing on pitch—and if they dress right."
Joshua M. Pruett ('08), a civil engineering major and a student of Green, says he looks at his hours and hours of practice as a down payment on a lifelong pastime, not to mention a stress reliever. He may not have a vested interest in music, he says, but it still makes for a nice reprieve at the end of the day. "Occasionally I've had enough with my books and everything, and so I'll go, 'Okay, it's time to actually enjoy myself.'"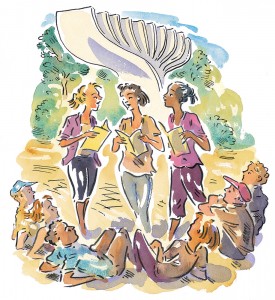 A step up from the hummers and strummers—in terms of intensity, at least—are the contestants in the BYU Idol competition. BYUSA sponsors the semester-long series of events, which draws a number of heroically brave contestants and some remarkably substantial crowds as well. The final round of competition is a few weeks shy of Christmas break, and the atmosphere in the packed Wilkinson Center terrace is very festive, if by festive one means very loud.
As the competition gets underway, all the familiar American Idol types emerge: the talented and not-so-talented contestants, the nice and not-so-nice judges, and a crowd of swooning, screaming fans that gets to pick the winner.
At the end of the show the audience cheers for the contestant they liked most; the cheer volume registers in a handy decibel meter; and Amy L. Whitcomb ('10), who sang an upbeat rendition of "Have Yourself a Merry Little Christmas," comes out the clear favorite.
"Basically, I've just got the best friends ever," says Whitcomb, a freshman from Florida hoping to major in media music studies. "They called everyone and everyone came out, so I was really lucky."
A few months later, on a warm Sunday night, another musical tradition is underway. Like BYU Idol, it also features singing and swooning fans, as well as really outgoing people, come to think of it. It's tunnel singing, and around here it needs little introduction: a bunch of students, a bunch of sidelong glances (cf. the above-mentioned "romance quotient"), and a bunch of hymns sung in a tunnel every Sunday night.
Word on the street is that it started back in the early '90s when an enterprising RA scared up enough freshmen to sing echoey renditions of the hymns. They did it to keep the Sunday spirit alive. The singing has been going strong ever since.
On this particular night, about a hundred students gather under the bridge near the entrance to the Marriott Center. The singers start off with a rousing rendition of "Hope of Israel" and then move to a slightly less rousing take on "O My Father."
Since it's near the end of another semester, lots of the guys have mission calls to announce. At an appointed time people stop singing and sit down as the missionaries-to-be announce their travel plans. One is headed to Poland Warsaw, another to Brazil São Paulo, and so on. They announce and cheer until the last call has been called out. Whereupon the tunnel singers jump up and break into "Called to Serve," with some of the more enthusiastic ones marching in place.
For other BYU student-musicians, reverb stands in for echo. On another spring night, in a south Provo house, Nate Graves ('08) plies the off-campus waters of the local band scene. Nate, an information systems major, and his brother, Seth, have blocked an hour out of their busy schedules for a dressed-down practice session—a "jam session," to the initiated.
Nate sits in his sparse bedroom tuning up his acoustic-electric guitar, then his bass. Soon Seth arrives, and the two get down to business. They play a recent song called "Mother," with Seth on guitar and vocals and Nate on electric bass. Seth's voice is quiet and assured, just as Nate's playing is, and it doesn't take a very trained ear to hear that the two of them have probably been at this for a while. Nate and Seth play about once a week and have had gigs at cafes and other small venues. Theirs is one of dozens of similar small student bands. A few BYU student groups make it beyond Provo, but most are short-lived local productions.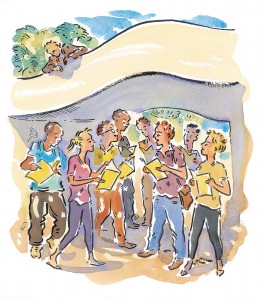 After the practice winds down, Nate and Seth each take stabs at the questions BYU's unofficial music culture begs: If not for money, if not for your major, then why do you play? Why music?
"For me the reason I have instruments and recording equipment is so I can make a record of the ideas I have," Nate says. "It's the same with a writer carrying around a notebook or an artist with a sketchpad. It's a part of your creative self."
Seth seconds that as heartily as the quiet, reedy twentysomething seems able. At the (rhetorical) suggestion that maybe he might one day give up music, maybe he might grow out of it, Seth shakes his head and says, "Music is such a big part of my life, and I can see how important it is to my family and my relatives. I mean, some of them are getting up there in age, but we still have the greatest jam sessions at family get-togethers."
"It does get pretty intense," Nate adds. "There'll be one or two people on the fiddle, two or three on the guitar, someone on the harmonica, and everyone else singing."
"And then they all take turns soloing," Seth says, smiling. "It just seems like music gets sweeter with time, and I know it's something that will always be precious to me."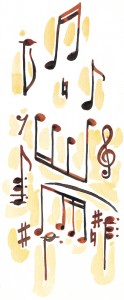 In talking to BYU student musicians like the Graves brothers, you hear phrases like "I almost have to" and "I can't imagine not doing it" associated with their music making, as if it belonged to the foundation level in Maslow's hierarchy of needs: food, water, homeostasis . . . music.
"I need a little bit of music in my life to keep me happy, and Noteworthy does that for me," says Courtney A. Jensen ('09), who sings with eight other BYU students in an all-girl a cappella group called Noteworthy and who, by "a little bit of music," must mean the hours spent at practice sessions (not to mention recording sessions) and private gigs and international a cappella competitions.
"We just got back from New York in April," says Jensen, who is studying theater directing. "We were there to compete in the finals of the International Championship of Collegiate A Cappella, and we won, so this year we're actually the international champions. We're a really young group—we've only been around three and a half years—and so no one expected us to take the whole thing, but we did. And then after New York we went to Arizona and started recording several songs for our second CD." (Noteworthy's first album, On the Horizon, came out in November 2006.)
Jensen's accomplishments with Noteworthy are, of course, noteworthy—a word that could describe nearly ev
erything about the unofficial music scene. It's almost too noteworthy. One starts to wonder. Could it be that BYU's unofficial music groups are stocked by the talented rejects of the School of Music?
"No, I don't think that's it at all," says Director Monson. BYU's School of Music is competitive, it's true, but Monson says he doesn't think the BYU students who pursue music as an avocation are music major wannabes. "It's simply other majors who want to participate in music. I mean, in New York City there's a doctors orchestra. There are just certain types of people who love music but don't want to major in it."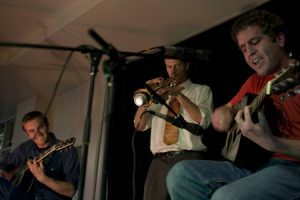 Monson says he believes there are indeed more of those types of people at BYU, and he chalks this up, as did several others, to LDS culture, to countless ward choirs, to the unending need for Church organists and pianists. "So many students come from families where they've had piano lessons or violin lessons or other types of music instruction, and that spills over," he says. "I tell people from other universities that we have five orchestras here and they can hardly believe it. When I taught at Penn State, they were doing everything they could to staff one orchestra. We have five here, and we're still turning people away."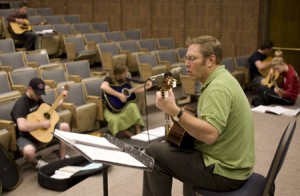 In the end, Monson says, it's hard to pinpoint exactly why BYU students love music so—or why anyone does. "It's something that many musicians and philosophers talk about as being beyond words. Only music can really express the power of music. It's like the story where Beethoven finishes a piano sonata and then someone comes up to him and says, 'Master, that was wonderful, but what does it mean?' And Beethoven looks at him rather puzzled and then sits down and plays the sonata again."
Ryan McIlvain is living in New Jersey. Kailee Heger ('08) contributed reporting to this story.
FEEDBACK: Send comments on this story to magazine@byu.edu.
---