---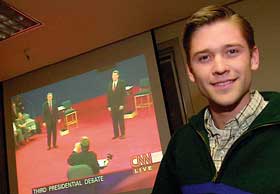 Daniel Marriott is co-chair of the College Republicans National Committee.
By Lindsey Switzler
As someone who was dragged by a friend to his first College Republicans club meeting, the last place BYU business major Daniel F. Marriott thought he'd be was the front row of the Republican National Convention.
But three years after his initial exposure to the club, Marriott, a senior from Salt Lake City, found himself in Philadelphia rubbing shoulders with delegates as the elected co-chair of the College Republican National Committee (CRNC), the highest student-held office in that organization.
"It was a complete rush to be surrounded by people who care so much about the future of the nation," says Marriott, who conducted a nationwide campaign of his own to get college-age voters—regardless of party affiliation—registered for the Nov. 7 election. He acts on his belief that students can make a difference.
The president of BYU's College Democrats club, economics major Jacob S. Rugh, agrees. "Students need to realize that the people we elect today will affect our future. I don't care how people vote; I just want them to make an informed vote," says Rugh, from Orem, Utah.
Scott G. Stewart, a former BYU student from San Jose, Calif., and the current CRNC chair, campaigned with Marriott among College Republicans in July 1999 for their national positions. "Daniel was my first choice as a running mate," says Stewart, who, unlike Marriott, is paid for his full-time work with the CRNC. They help lead 779 College Republicans clubs with more than 80,000 members around the nation.
Marriott says that working with College Republicans serves as an educational experience and as a tool to help get candidates elected.
"There are many opportunities to join campaigns across the country or to join congressional staffs," says Marriott. "I want college students to feel the satisfaction of making a difference."