---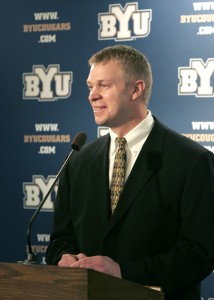 After 16 seasons as an assistant coach, including the past two years as the defensive coordinator for the Cougars, Bronco Mendenhall was promoted to head football coach at BYU on Dec. 13. Mendenhall becomes the 14th head coach since the university first officially recognized football as an intercollegiate sport in 1922.
On Dec. 1 D. Gary Crowton, '83, resigned as head coach. In his four seasons at BYU, Crowton posted a 26-23 (.531) overall record. After a remarkable 12-2 season in 2001, Crowton's Cougars suffered three straight losing seasons.
After Mendenhall was named Crowton's successor at the Dec. 13 press conference, Thomas A. Holmoe, '83, senior associate athletics director, said, "Bronco's leadership ability will focus on enhancing all aspects of our players' lives at BYU. His tremendous work ethic and ability to draw on our student-athletes' best potential will give the Cougars a great chance to get back on top."
"I am excited about what Coach Mendenhall brings to our football team and the university," said President Cecil O. Samuelson. "His motivational skills and emphasis on discipline and character will enhance our program. He has earned the respect of his players, his fellow coaches, and the university administration. We look forward to cheering on the new coach and his team this fall."
"I am humbled by my new responsibilities," said Mendenhall, who will continue to call the defense for the Cougars. "This is a great honor, and I am determined to return BYU to national prominence. BYU fans can expect leadership from the coaching staff and a team that will play as hard as it possibly can. We will continue to have an aggressive defense, along with an up-tempo, high-powered offense. Our goal is to be as exciting and as competitive as any team in the country."
Soon after being hired as head coach, Mendenhall contacted former Texas Tech offensive line coach Robert O. Anae, '86. Anae was named the new offensive coordinator of the Cougars at the Dec. 13 press conference. Anae, a member of BYU's 1984 national championship team, will bring to Provo a version of the Red Raiders' high-flying offense, which produced nearly 4,300 passing yards in 2004 and led the nation in passing offense, averaging more than 388 yards per game.
Read more at byucougars.com/football