---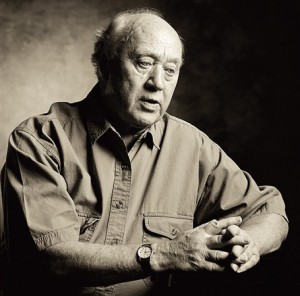 In 1983, at age 61, Welsh poet G. Leslie Norris was invited to teach at BYU for six months. He stayed for two decades. As BYU's poet-in-residence, he continued writing and recording his widely acclaimed and published poetry and short stories, even after retiring from the university. Norris died April 6, 2006, at age 85.
In 1990, Norris wrote "Borders," an elegy to John Ormond; an excerpt is printed here.
Border, boundary, threshold, door—
Orpheus moved either way, the living and the dead
were parted by a thin reflection
he simply walked through. But who can follow?
For all boundaries I have crossed over, flown over,
knowingly, unknowingly, I have no answers;
but sit in the afternoon sun, under mountains
where stale snow clings in shadowy patches,
remember my friend, how he had sung,
hope he is still singing.