---
BYU alumnus David Bowman uses his art to teach, inspire, and comfort.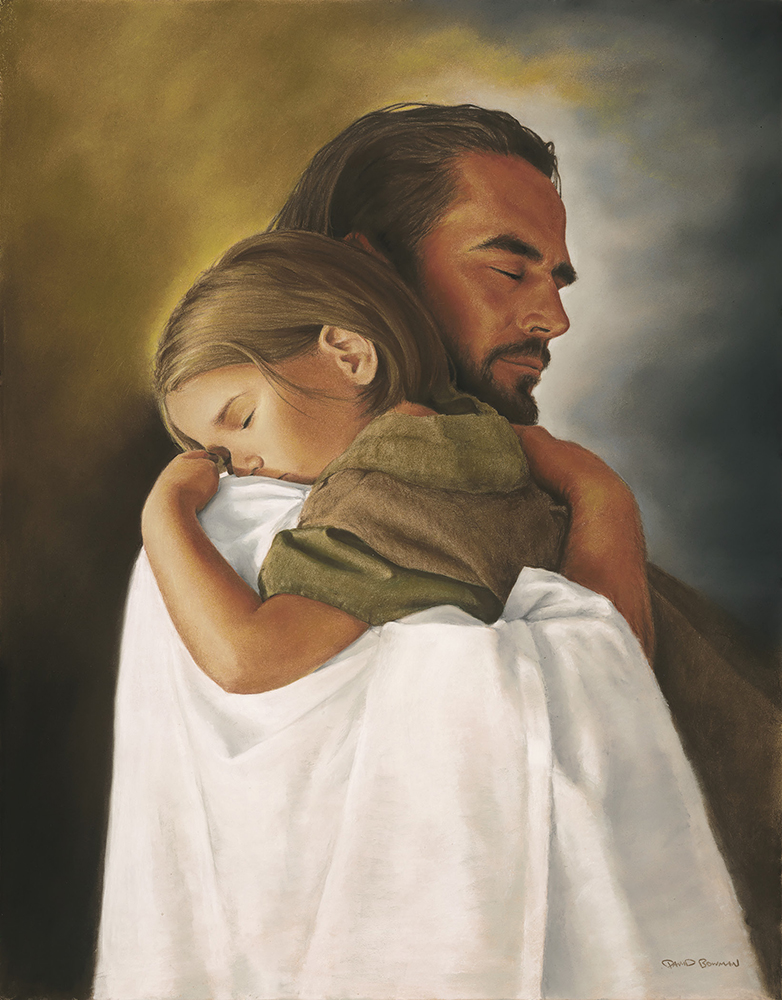 By the time David B. Bowman (BFA '99) heard about the 2012 Newtown, Conn., shootings at Sandy Hook Elementary School earlier that day, thousands of people had already shared his pastel Security over social media. Two sets of parents who lost children in the shooting used Security, which depicts Jesus embracing a child, in their children's memorial services. And two more Newton families each asked him to recreate one of his pieces to include an image of their child with the Savior.
Bowman, who typically does not accept such specific commissions, could neither turn down nor charge for their requests. "It was humbling to be asked to help families in this way," he explains. The commissions, he adds, were a privilege and a bittersweet highlight of his art career thus far.
Bowman, who majored in illustration at BYU, cannot remember a time when he was not creating art. Now the Snowflake, Ariz., artist is experiencing considerable success in two distinct art styles: fine art pastels and cartoons.
During his first post-college position teaching released-time seminary, he began filling his white boards with cartoon characters from the scriptures to entertain and engage his students.
"I see art as a vehicle to teach," Bowman says. "You have to catch your class's attention, which I tried to do with my characters." Along the way, he also became an author, using his cartoon style to write and illustrate several books. In Who's Your Hero? Book of Mormon Stories Applied to Children, published by Deseret Book, Bowman shows children how they can be like their Book of Mormon heroes even as young kids. He also wrote and illustrated three more books with Cedar Fort Publishing, two of which are geared more toward pre-teen and teen audiences.
As much as he enjoyed illustrating and teaching teens gospel truths in a cartoon style, he also wanted to create realistic depictions of the Savior.
"My favorite thing to draw is people," he says. "Artistically, they are the most challenging yet the most rewarding subject matter. I love capturing expressions." He began portraying images of Jesus Christ, and the resultant series, "Expressions of Christ," has found a welcome home in LDS and other Christian markets. Each art piece is created in pastels and given a single-word title, such as Innocence, Love, Inspire, Joy, and Peace.
Bowman is especially pleased with the inroads he has made in the evangelical Christian market, and he receives an interesting reaction when attending international retail shows. "My art seems to touch other vendors and store owners who don't hesitate to wear their religion on their sleeves. They'll say things such as, 'God has blessed your hands. Can I pray for you and your hands?' And then they do it, right there in my booth."
In turn, Bowman hopes to continue using those hands to bless lives around him.