Inspired by the support they received after learning their daughter had Down syndrome, Aubrey's parents pay it forward.
On a late spring morning, sunny and warm, a Lehi, Utah, park is filled with angels. They're watching magic shows, high-fiving local sports mascots, dancing to music, and playing carnival games. One, Jacob Elder, a towheaded 6-year-old with Down syndrome, races from bounce house to bounce slide. His family is easy to identify: they're the ones in the hot pink T-shirts with silver sparkles reading, "Team Jacob."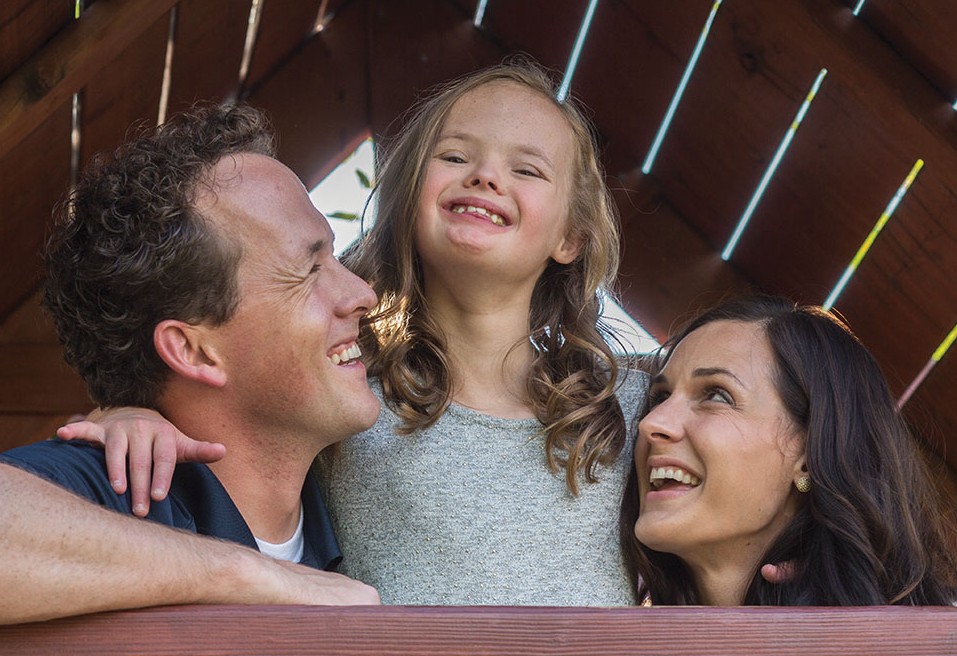 Nearby, Mark H. ('07) and Amber Pann Leck (BS '05) gather with their children and extended family, all wearing white baseball caps—"Aubrey's Angels" embroidered in pink.
Members of each family, along with nearly 2,000 others, are here to support the United Angels Foundation (UAF) in its annual Walk with Angels fund-raiser. It's been eight years since Mark and Amber founded UAF, a nonprofit support group for parents and families of children—"angels"—with a variety of special needs, including Down syndrome, autism, cerebral palsy, and multiple sclerosis. In those years, UAF has helped more than 1,000 families through newborn visits, parent lunches, family activities, educational seminars, and more.
Winning the Lottery
Before their first child was born, Mark and Amber had every reason to expect a perfectly healthy baby. Amber's prenatal exams and tests had been routine, and doctors and nurses detected nothing amiss.
But with Aubrey's birth came a diagnosis: Down syndrome. The news shocked the Springville, Utah, parents, who had no idea how they should feel. Then, while Aubrey was being treated in the newborn intensive care unit, a nurse named Kathy visited and provided what Mark and Amber call priceless support.
Kathy answered questions and addressed concerns in a way the Lecks' physicians, friends, and family could not. As the mother of a child with Down syndrome, she knew firsthand what the Lecks could expect.
"She told us we had won the lottery," Amber says. "It took us a while to understand what she meant, but she was right."
Soon after Aubrey's birth, the couple joined a support group. It eventually fizzled, but not before Amber had met many parents who said they also yearned for an effective support system.
"We realized not all parents of children with special needs are fortunate enough to meet their own Kathy," Mark says. So the two got to work building a new support group: Mark focused on organizational and operational issues; Amber created a network of parents, planned events, and scrambled for volunteers.
Both in taking care of Aubrey and as she began working with UAF, Amber says her BYU nursing education quickly came in handy. "I quit my job as soon as Aubrey was born, because [the responsibilities] were more than I had anticipated," she says. "But my ability to assess different situations and communicate with medical professionals has been invaluable. My training helped me advocate better than I would have."
Inspired by their experience with Kathy, the Lecks made helping families adjust to the birth of a child with special needs one of their top priorities. In the last seven years, hundreds of parents whose newborns were diagnosed with a disorder have received home or hospital visits from the parent of a child with the same condition. The UAF volunteers offer mentoring, information, and emotional support.
And at the spring Walk with Angels, UAF's most successful to date, participants raised $70,000 to support that priority.
As Jacob bounces around the park before the walk, his mom, Larisa Hardy Elder (BS '93), describes the overwhelming range of emotions she felt when she first learned her newborn had Down syndrome. "I did not know beforehand about Jacob's condition." But, she adds, "I was lucky to have help immediately."
With support and perspective, she says, she has learned over the last six years to let Jacob move at his own pace. "The bonus is that he was a baby longer, so I got to hold him longer. He was a toddler longer, so I enjoyed that stage longer."
Creating a Community
Among UAF's supporters is Provo attorney Randall K. Spencer (BA '91, JD '94), a member of the foundation's board and a father whose son Christopher, less than 2 pounds at birth, has cerebral palsy.
"It can be isolating to have a special-needs child," he says. "Friends and family can feel uncomfortable inviting you to events; they are not sure your child can do what they have planned. A lot of well-meaning people tend to leave you out. United Angels provides an opportunity for families with similar needs to get together, recreate together, learn from and teach each other, and support each other."
Mark adds, "We have come to realize that many special-needs children have multiple conditions, like Down syndrome and autism, and that some families have multiple children with special needs, but with different conditions. With United Angels, they all belong."
On the day of the Walk with Angels event, young girls with neon banners and tiaras gather in a corner of the park to participate in the Little Miss Awesome Pageant (spoiler: every single girl is named Little Miss Awesome). Among them is Mary Beth, who sings and dances on a small stage to a recording of Katy Perry's "Roar." She's quickly joined by the Utah Jazz Bear and the Utah Valley University Wolverine, who jump on stage to dance behind her. At the song's end, the beaming child laughs as they carry her off the stage. On the sidelines, BYU's Cosmo and the University of Utah's Swoop toss footballs and high five kids.
Although BYU is a not an official sponsor of Walk with Angels, several athletes attend to greet the crowd and help raise funds. Paul H. Leck (BS '14), Mark's brother and a former BYU rugby player, sits at a booth selling signed BYU footballs and baseballs.
"We all adore Aubrey," Paul says. "It's all in the family. In fact, it's all about Utah families—and we've even helped families in some other states."
Among UAF's most significant projects is iPads4Angels, which provides essential aids for children in Utah special-education classrooms. Because of the iPads4Angels' technology grant program, 75 classrooms in 52 schools have received iPads, and Apple invited members of United Angels to its Cupertino, Calif., headquarters to discuss the program and work together. In 2015 they collaborated on adaptive technology training for Utah special-education instructors, the first of its kind in Utah.
As they advocate for children with special needs and their families, the Lecks have also reflected often on the wisdom shared by Kathy, who helped them appreciate their own angel daughter. "Aubrey is a great blessing," Amber says. "She exudes unconditional love and has amazing empathy. It is our privilege to be her parents."