On Election Day, poli-sci and stats students endure long hours, poll skeptics, and drizzling rain in their quest to understand voters. 
On Election Day, poli-sci and stats students endure long hours, poll skeptics, and drizzling rain in their quest to understand voters.

It's 5:30 and pitch-black on a Tuesday morning, and two deer are grazing on the southwest corner of BYU's campus. Their meal is interrupted by a group of students huddled near the McKay Building. The students are bleary-eyed but sharply dressed for the day. After all, it's not just any Tuesday—it's Election Day—and the students are the organizers and volunteers of the Utah Colleges Exit Poll.
Nov. 4 has been the focus of two months of preparation for 34 students in Political Science 317 and Statistics 333 and 433, three classes created to design and run the exit poll. These students programmed the statistics software and wrote the questionnaire. They recruited and trained more than 1,000 volunteers from seven Utah colleges. And in the weeks following the poll, the student organizers will transform data into research, submitting some of their papers to journals and competitions.
But first, they will make the poll happen. The next 16 hours will be a flurry of activity as they monitor 107 polling locations statewide, compile the data as it comes in, and broadcast poll results on KBYU and other stations. Political science assistant professor J. Quin Monson (BA '96) floats among the morning crowd snapping photos.
As one of the professors who direct the project, Monson is on hand to guide the team's activities. For a moment, he dons a Krispy Kreme hat, which arrived with the 38 boxes of doughnuts that will be mid-shift pick-me-ups for volunteering pollsters. Addie Leavitt Condie ('09), chair of the poll's crisis committee, assigns students to roving "crisis" vans that will visit polling locations throughout the day to resolve any problems. "How many of you can stay all day?" she asks the volunteers. "'All day' meaning [until] 10 [p.m.], " she adds. The one student who can't is sent home.
Soon the BYU vans are rolling out for Salt Lake, Utah, Davis, and Summit counties. The van for southern Utah left the day before, and a Utah State University van will be responsible for northern Utah. Before leaving the parking lot, the Davis County van experiences the first crisis of the day; hot water spills all over the doughnuts. Someone runs for paper towels. The crisis committee leaves them to it and heads to the call center in the Joseph F. Smith Building (JFSB) to start taking calls; more than 250 college students should be at polling stations from Logan to St. George by 6:30 a.m., and problems are inevitable.
It's 2:15 p.m. at Oak Canyon Junior High in Lindon, Utah, and a ringing bell dismisses a flood of teenagers into the area where Utah Valley University polling recruits Bryson Gunter and Benjamin Vallen are set up. The pollsters and the teens fight the clamorous crowd: the pollsters trying to reach exiting voters, the teens
Gunter and Vallen were supposed to have help, but the other two pollsters assigned to this location didn't show up. They have been instructed to poll every third person, and as the polls get busier, it is a difficult task for two to handle.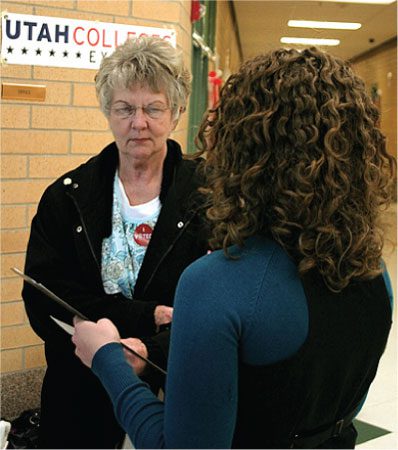 Their shift, which started at 1:30 p.m. and lasts until the polls close, started off bleak: the first voter Gunter approached refused flatly, insisting that exit polls skew elections. Despite assurances that key results wouldn't be released until after the polls close, she maintained her stance. A high response rate is essential for the accuracy of the poll—pollsters need to do whatever is possible to persuade voters to comply. Throughout the afternoon their approach changes: "It will only take a minute." "It's important for the accuracy of the poll." "Please!"
Since 1982 the Utah Colleges Exit Poll has been one of the most accurate exit polls in the state, and the pollsters are determined to uphold its track record for precision. The poll is not simply an early indication of election results; it uncovers why people voted the way they did and helps professors and students better understand public opinion.
Subsequent voters at Oak Canyon are more cooperative, and when the Utah County van stops by to check on their progress, Gunter and Vallen are on their way to completing the 100 surveys organizers hope to get from each of 107 polling locations.
After assuring the pollsters that another volunteer will be dropped off to help, James C. Phillips ('09) and Ashley N. Burton ('09) hurry back to BYU. The two will be participating in the KBYU evening broadcasts of the poll results and need to prepare. With data coming in live, scripting the program is next to impossible.
Advanced statistics students guided by Howard B. Christensen (BS '64), an emeritus statistics professor, and Daniel E. Williams (BA '91), a professional statistician and part-time instructor, have begun compiling the data back at BYU to make sure the students-turned-commentators, not to mention the anchoring professors, will have figures to discuss.
At 6:45 p.m. in the JFSB call center, Condie takes a call on one of the crisis lines. The angry student on the phone explains that election officials have required her polling team to stand outside in the rain because of long voting lines. Condie tries to placate the volunteer and consults with Kyle S. Baird ('09), who is manning the phone next to her.
Through 13 hours of crisis calls, Condie, Baird, and their team have dealt with a car accident, competing exit polls, lost drivers and pollsters, and bad weather. "I would say that the exit poll experience is similar to running marathons," says Monson. "People that don't do it don't understand it. It is kind of crazy, but there's something very satisfying about having accomplished it at the end." "You feel a great sense of pride when you see the students perform so admirably," adds political science professor Kelly D. Patterson (BA '82). "I don't think they'll ever think about Election Day the same again."
Five minutes later the same angry pollster calls again, this time ringing into Baird's phone. After listening for a moment, Baird says, "You are so great! Thank you so much. You're doing a great job." Condie, hearing this, is incredulous. "People are so much better for him," she says. After hanging up, Baird reassures her that the volunteer is still furious. "I've learned you just tell them they're great. Anything else just makes it worse," he says. "And you're crazy, by the way. She said you're crazy," he adds. Condie just laughs.
---
Feedback: Send comments on this article to magazine.byu.edu.