President Thomas S. Monson dedicates the Marriott School's new 76,000-square-foot addition.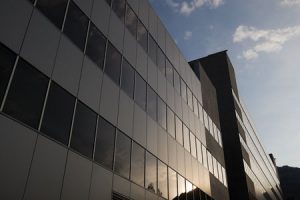 In the 25 years since the original N. Eldon Tanner Building was built to house the Marriott School of Management, the school's enrollment has risen by more than 50 percent; today more than one quarter of all BYU students pass through the school's doors before graduating. "The success of the Marriott School has attracted so many students to our classrooms," said Ned C. Hill, former dean of the school. "We grew until we were bursting at the seams."
On Oct. 24 a project to expand the Tanner Building came to a close as President Thomas S. Monson offered a dedicatory prayer. "I'd like to take a moment of privilege and thank all of the professors who coached me when I sought an MBA," said President Monson prior to the dedication. "I am very grateful to declare that I am a graduate of the Marriott School of Management."
Joining President Monson and BYU President Cecil O. Samuelson were Presidents Henry B. Eyring and Dieter F. Uchtdorf of the First Presidency, several members of the Quorum of the Twelve, and other General Authorities and members of the Board of Trustees.
President Thomas S. Monson speaks at the dedication of the Tanner expansion as members of the First Presidency look on.Designed by the same architectural firm that built the original Tanner Building, the $43 million project was funded by donations. The 76,000-square-foot, four-story addition houses 39 group study rooms, 10 classrooms with tiered seating, a computer-equipped networking lab for information systems students, and one large, divisible assembly hall. A New York-style deli and a three-story parking structure were also added.
Speaker J.W. Marriott Jr., son of the school's namesake and chair and CEO of Marriott International, said BYU and the mission field uniquely prepare students for the workplace. "In today's global business world there is a great need for leaders who have a strong code of ethics and foreign language ability," Marriott said. "BYU graduates fill this need."
In the dedicatory prayer, President Monson asked a blessing on the school's students: "May each one appreciate the past, contemplate the future, and work diligently for the present."