In the tradition of Cooperstown and Canton, BYU's new Legacy Hall celebrates the blue and white's trail to fame and glory.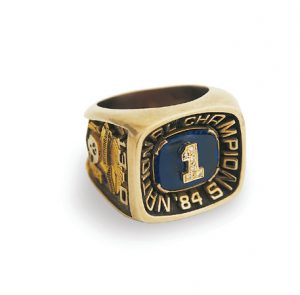 So, where were you when Clay L. Brown, '81, with Southern Methodist defenders draped all over him, latched onto the 41-yard, Hail Mary touchdown pass as time expired in the 1980 Holiday Bowl? That play, and the ensuing extra point, capped an astonishing 21-point rally in the game's final four minutes, securing the Cougars' first-ever bowl victory.
To BYU fans, the game is known simply as "The Miracle Bowl" and Brown's heroic feat is "The Catch." And if you're a true-blue fan, you remember that event better than you remember what you ate for breakfast this morning.
Where were you that next March, during the NCAA basketball tournament, when Danny R. Ainge, '92, received an in-bounds pass with less than 10 seconds remaining, dribbled coast-to-coast through the entire Notre Dame team, and lofted the ball softly into the net, propelling the Cougars to the Elite Eight?
Inexplicably, two of the greatest and most memorable moments in BYU sports history transpired just a few months apart.
Now, more than two decades later, you can relive them.
Ever wonder what happened to the football Brown caught and the basketball Ainge dribbled in those historic games? You'll find them, and much more, inside Legacy Hall, a new 7,400-square-foot, chillbump-inducing BYU sports treasury, a one-stop location for devout Cougar fans to bask in the athletic program's rich tradition. And if that weren't enough, admission is free.
"If you're a BYU sports junkie," says associate athletic director of external relations D. Duff Tittle, '90, with a broad smile, "it's great."
Within the three-level atrium in the new Student Athlete Building, hundreds of pieces of memorabilia are on display, including trophies, game balls, jerseys, shoes, and tributes to great athletes, teams, and coaches.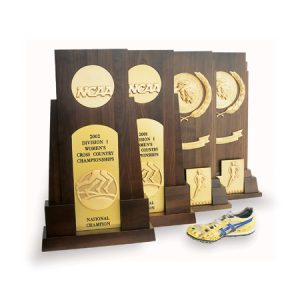 Among other triumphs, the hall honors the greatest continuing victory story BYU fans have cheered for, the dynastic dominance of the women's cross country team. In November 1997 the Cougar harriers rose to the top of their world, where they have stayed for seven years, winning four national championships and logging three second-place finishes.
It also showcases perhaps the most famous piece of sports hardware at BYU: the 1990 Heisman Trophy, won by quarterback Ty H. Detmer, '92.
"For the first time, our fans won't have to ask, 'Where are you guys hiding the Heisman?'" Tittle says. "You walk in the building, and it's right there."
The hallowed walls of Legacy Hall, which opens this summer with 34 display cases and 21 wall displays, are certain to unleash a tidal wave of memories for Cougar fans. Simply put, this is BYU's version of Cooperstown.
The assignment of collecting the memorabilia to fill the vast space was charged to Tittle, who grew up a rabid BYU fan in Orem, Utah. For several months Tittle played the role of museum curator, hunting for rare, tough-to-find Cougar relics from every sport BYU plays. Although the task has required plenty of hard work and networking, there have been some serendipitous moments. Like the time Tittle got a phone call from a BYU fan who received an original Ainge home basketball uniform as a birthday gift years ago. Someone else sent Tittle a piece of the goal post that was torn down following BYU's first-ever football victory over archrival Utah—in 1942.
More than 100 former athletes, from various eras and representing 21 sports, have generously donated items to Legacy Hall. J. Eldon Fortie, '63, BYU's first All-America selection in football, contributed the helmet he wore in 1961. Former BYU golf star Mike R. Weir, '93, sent the bag that held his clubs when he won the Masters in 2003. Quarterback Steve Young, '84, loaned his 1995 NFL MVP trophy and a game ball from his MVP performance in the 1995 Super Bowl with the San Francisco 49ers. "We've had some big-time people step up to the plate," Tittle says.
Other pieces of history include the Team USA 2000 Summer Olympic jersey of men's volleyball All-American Ryan M. Millar, '03; Major League Baseball jerseys worn by Wally K. Joyner, '84, Cory Snyder, '87, and 1991 World Series MVP Jack Morris, '77; jerseys belonging to former women's basketball star and current WNBA player Erin Thorn, '03; the BYU golf bag owned by Carrie Summerhays Roberts, '02, who became the first Utahn to qualify for the LPGA Tour; and a tennis racket that was used by Tracy Tanner-MacDonald, '87, BYU's first tennis All-America selection.
Still, Tittle's goal goes beyond gee-whiz souvenirs.
"I don't want you to just come in and look at the Heisman Trophy and say, 'Wow, that's cool,'" he says. "I want you to be able to see Ty Detmer's jersey and his helmet. Then I want you to learn what Ty's all about. He came here as an 18-year-old kid out of Texas and left as a man who embraced the gospel, met his wife, and it just so happened he won the Heisman Trophy along the way."
To help instill that message, Legacy Hall features 13 interactive kiosks with video touch screens to allow visitors to watch or listen to highlights of some of the greatest moments in BYU sports history. Included are in-depth player biographies as well as video presentations documenting each of BYU's 12 national championship teams—men's basketball (1951 and 1966), men's track (1970), men's golf (1981), football (1984), women's cross country (1997, 1999, 2001, and 2002), and men's volleyball (1999, 2001, and 2004).
Tittle hopes Legacy Hall will both entertain and educate any campus visitor. "Maybe they're a sports fan, maybe they're not," he says. "Maybe they're an alumnus, maybe they're not. But everyone that visits Legacy Hall will learn what BYU is all about. It's more than just championships and trophies."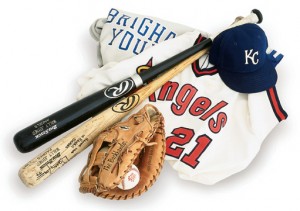 Baseball: Several of BYU's boys of summer have gone big in the Bigs. All-American first baseman Wally Joyner was taken in the third round by the California Angels in the 1983 Major League Baseball draft. After getting his call to the "Show" in April 1986, Joyner started in the All-Star Game as a rookie. He continued in the pros for 15 years, going deep 204 times and maintaining a steady .289 lifetime average. Photo by Bradley H. Slade, '94.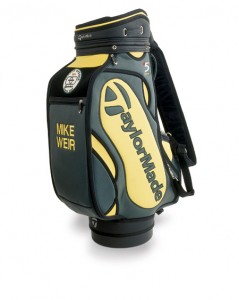 Men's Golf: The WAC player of the year and a second-team All-American at BYU in 1992, Mike Weir used this bag on the PGA Tour as he chipped his way up the leader board to sink the sweetest shot of all. With a 15-foot putt on Augusta National's 10th hole, he won a sudden-death playoff – and his first Masters. Now Weir wears his green jacket alongside legends Woods, Palmer, and Nicklaus. Photo by Bradley H. Slade, '94.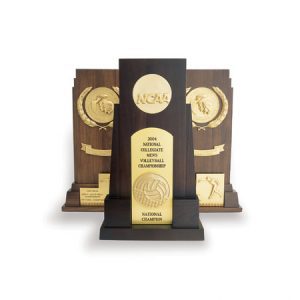 Men's Volleyball: Two-time Olympian Ryan Millar walked off campus with BYU's record books in his bags. Out of 12 individual career record categories, Millar sits atop eight. His jersey from the Sydney Olympics joins his shoes and other memorabilia in Legacy Hall. Millar also helped BYU to its first national championship in 1999, setting the tone for the titles that followed in 2001 and 2004. Photo by Bradley H. Slade, '94.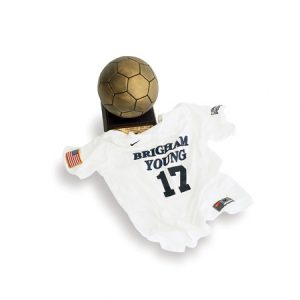 Women's Soccer: Gatorade's National High School Athlete of the Year and former member of the U.S. Women's National Soccer Team, Aleisha Cramer Rose, '04, continued sweeping the field at BYU, winning numerous national and conference honors. Photo by Bradley H. Slade, '94.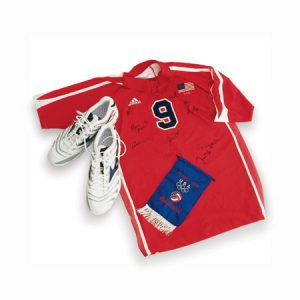 Ryan Miller Jersey and Shoes | Photo by Bradley H. Slade, '94.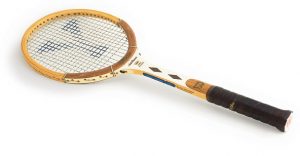 Women's Tennis: This racket belongs to BYU women's tennis ace Tracy Tanner-MacDonald. Besides holding a No. 1 national ranking in 21-and-under doubles for a time, Tanner-MacDonald also received All-American status four times during her BYU career and later went on to coach the women's tennis team. Photo by Bradley H. Slade, '94.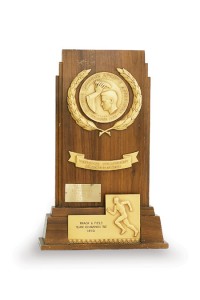 Men's Track: Led by National Track Athlete of the Year Ralph V. Mann, '74, and his then-world record of 48.74 seconds in the 440-yard hurdles, BYU found itself in a three-way tie for second at the 1970 track championships. But when the University of California was discovered to have an ineligible athlete, BYU, Oregon, and Kansas were named cochampions. Photo by Bradley H. Slade, '94.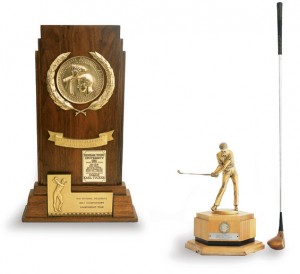 Men's Golf: Three All-Americans drove BYU to the men's golf national championship in 1981. Before the team won the 1981 title, Bobby D. Clampett, '80, was the U.S. Amateur Golfer of the Year in 1978 and also sunk the Fred Haskins Award – given to the top college golfer – in both 1979 and 1980. Clampett's driver from his BYU days resides in Legacy Hall. Photo by Bradley H. Slade, '94.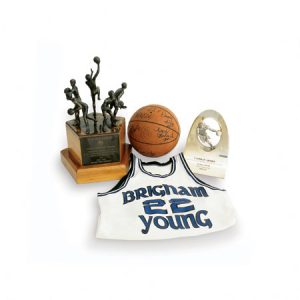 Men's Basketball: Before claiming two NBA championships with the Boston Celtics, number 22 Danny Ainge won the John Wooden Award and the Eastman Award – both given to the country's top collegiate player – with the Cougars in 1981. In the middle sits a game ball from the Sweet 16 win over Notre Dame. Photo by Bradley H. Slade, '94.
Jeff Call is a sports writer for the Deseret Morning News.
Feedback: Send comments on this article to magazine@byu.edu.