---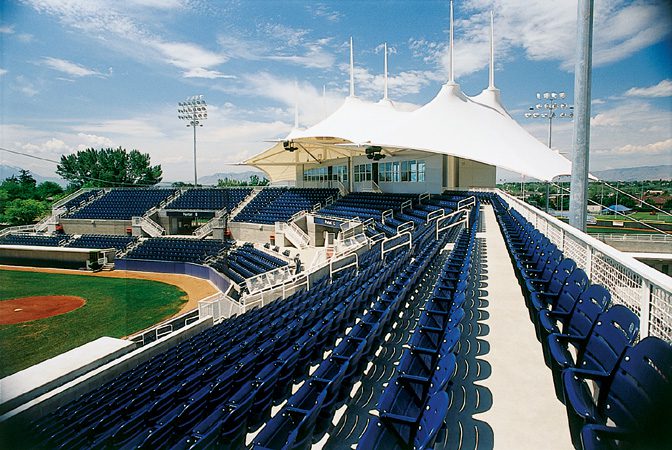 The first baseball game in BYU's new Miller Park was April 13, with the men's baseball team defeating New Mexico at the Larry H. Miller Field. On April 20, the BYU women's softball team split a doubleheader with New Mexico in its first outing at Gail Miller Field, the nation's fourth-largest college stadium (2,100 seats).
THE most visible change to the campus skyline this year is the spire-topped canopy of BYU's new baseball and softball complex. But another construction project is on deck–a building to replace the Smith Family Living Center–a U-shaped structure with underground parking and a spacious gallery.

At its December 2000 meeting, the BYU Board of Trustees authorized the creation of working drawings for the SFLC's successor.

"Originally constructed in 1957, the building was due for a major mechanical, seismic, and electrical upgrade," explained administrative vice president Brad W. Farnsworth, '79. "It was decided that it was best to raze it and start over on a new structure."

The old structure is scheduled to be demolished–and the new construction started–at the end of winter semester 2002, with a move-in date set for fall semester 2004. The new 262,000-square-foot building will contain 400 faculty offices, 21 classrooms, 20 conference/ seminar rooms, 150 student study stations, an 8,000-square-foot gallery in an atrium, as well as underground parking stalls, according to Norman W. Faldmo, '71, director of the Planning Office.

Meanwhile, across campus, BYU athletes are enjoying the groomed fields and glowing lights of their new home. Cougar fans stream into the stands, settle into their new blue seats, and get ready to chatter. As the innings fly by, Miller Park, with its tensile teflon canopy and mirror image fields, will become another familiar campus landmark.