---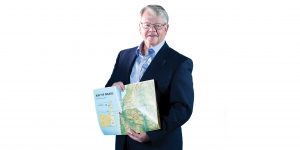 The crowning gem of Jerusalem," says Andrew C. Skinner, BYU professor of ancient scripture and past associate director for academics at BYU's Jerusalem Center, "is the Garden of Gethsemane, where eternity hung in the balance." This sacred garden, the Church of the Holy Sepulchre, and the Garden Tomb are essential for pilgrims like Skinner and his students, but he also recommends a few less-trod places.
What is a hidden gem in Jerusalem?
King Hezekiah's Tunnel, 1,750 feet long, was constructed by two groups of workers chiseling from opposite ends who met in the middle under as much as 100 meters of bedrock. King Hezekiah had it constructed to ensure Jerusalem would have an adequate water supply and the besieging Assyrian army would not (see 2 Chron. 32:2–4).
What are some of your favorite sites beyond Jerusalem?
Capernaum was Peter's hometown, Jesus's base of operations, and early Church headquarters. Texts indicate Jesus performed more miracles here than anywhere else. Nearby on the Sea of Galilee is Magdala, center of the fishing industry at the time, where Jesus almost certainly visited as his famous disciple Mary Magdalene hails from there. (The Hebrew migdal is a tower where fish were dried.)
Historically, I think Lachish is the second-most important city in the Holy Land, the last city the Assyrians conquered before moving on to Jerusalem in 701 B.C., as recorded in the Book of Kings. There you can compare secular historical records with descriptions in the Old Testament to produce a really cool moment where you say, "Ah, so the scriptures are not fairy tales."
Where is the best place to learn about and reflect on the Resurrection?
Protestants and Latter-day Saints gravitate just north of Jerusalem's Old City walls to the Garden Tomb. It is much more conducive to pondering and spiritual enlightenment as the landscape appears as it probably looked in Jesus's day. Some disagree about whether this is the actual location of Jesus's burial and resurrection. But it is a wonderful place to go. Whether it happened there or half a mile to the south at the Church of the Holy Sepulchre makes little difference. The point is that the tomb of Jesus is empty.