---
BYU needs you and me to help change the world.
I wear blue shoes—and believe me, loafers of that color are not easy to find. But I love BYU, and I represent the Y wherever I go, so blue loafers were a good investment.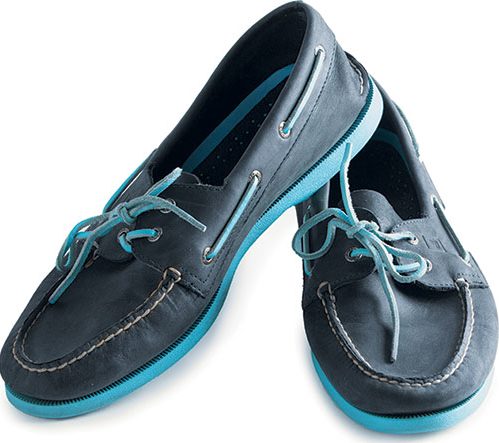 I may wear blue shoes, but my personal history is anything but typical for a BYU alum. My dad drove a beer truck, and my mom drove a school bus. We were not members of The Church of Jesus Christ of Latter-day Saints, and my parents never went to college. The question they would ask me in high school was "Where are you going to work?" not "Where are you going to go to college?" Higher education was just not in their mind-set in that socioeconomic environment, where we were living day to day instead of looking ahead.
My dad's payday was Thursday. I knew that because every Thursday my dad would put a quarter on his dresser. At that time, every quarter counted in my family's budget. If the quarter lasted until the next Wednesday night, we would take the quarter, and the five of us—my parents, my two siblings, and me—would walk down the street, buy five single-scoop ice cream cones, and sit on the curb to eat our ice cream. It was a great growing up, but that kind of growing up doesn't typically lead you to become president of the BYU Alumni Association.
When I was in high school, my life changed: I joined the Church. I later served a mission and went to BYU, where I gained a great education and learned how to live the gospel. The Church changed the course of my life; BYU gave me a boost along my new path.
BYU had a huge impact on me, as it has had on thousands upon thousands of students for generations upon generations. Through those students, who become alumni and go forth to serve, BYU has immense influence on the world. And then there are BYU performing groups and athletic teams, which raise the profile of the Church; when Jimmer Fredette ('11) was the rage in college basketball, the missionaries who came to our home for dinner would tell us that it's easier to get into houses when BYU is on center stage.
BYU makes a difference in the lives of individuals and in the world at large. I have learned in recent years that BYU can make a greater difference if we are involved. As you and I share our time and talents with students and other alumni, and as we share our treasure (however large or small) with the university, we help BYU reach further. BYU needs you, and it needs me, to help change the world.
I learned recently that Steve Young (BA '84, JD '94) helped build a sports court at the primary school that Ziggy Ansah (BS '13) attended in Ghana. After Ansah moved on to high school, he returned to be a teacher's aide at his old school and would play basketball on that court, often with missionary Kenneth R. Frei (BS '12), who taught him the gospel, told him about BYU, and became his roommate in Provo. When Ansah's football career at BYU began to take off, Young took notice and connected with Ansah—a past NFL great mentoring a future NFL great.
This story exemplifies what we should all be doing as BYU alumni. Clayton M. Christensen (BA '75), another alum who is doing good in the world, recently told the Alumni Association board, "Our success in this life will be largely measured by the degree of change we help facilitate in the lives of others."
We aren't all Steve Young or Ken Frei, but like Young and Frei, we can serve others, and who knows where that service will lead? Like Young and Frei, we can reach out to prospective students and we can mentor students from our hometown or recent graduates in our field of expertise—be it football or accounting or motherhood. Regardless of how ordinary we may think we are, we all have life experiences to share. Remember: "Out of small things proceedeth that which is great" (D&C 64:33).
So put on your blue shoes. Keep the Spirit of the Y alive wherever you go. Share what you have and what you are. Connect with BYU and other alumni—for good. Help us make a difference.
By Michael J. O'Connor (BA '89), Alumni Association President