BYU authors share stories, insights, and comments on things eternal.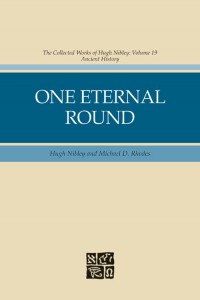 During the last years of Hugh Nibley's life, I often asked him how his last work, to be titled One Eternal Round, was coming. The eminent scholar would flash his innocently wily grin and say, "I'm working on the final chapter—but I'm in no hurry to finish it, as I think the Lord is planning on taking me as soon as I'm done!" Well, One Eternal Round (Deseret Book/Foundation for Ancient Research and Mormon Studies; 698 pp.; $48.99) is finally done, thanks to Michael D. Rhodes (BA '70), associate research professor in BYU's Department of Ancient Scripture. Because many parts of the book were incomplete at Nibley's death, Rhodes became Nibley's coauthor and finished and polished the book. He studied 30 boxes of paper, notes, and pictures, along with 450 computer files containing as many as 20 versions of a given chapter, then organized, condensed, and distilled the whole into publishable form. Rhodes' background in physics, Greek, Egyptology, and archaeology—and Nibleyana—qualified him for this enormous task. One Eternal Round is not recreational reading, but it is a Nibley-style overwhelming presentation of a plethora of evidence in support of the authenticity of the Book of Abraham and its facsimiles. In this 19th and concluding volume of The Collected Works of Hugh Nibley, Nibley and Rhodes guide readers to penetrating asides into Egyptian pharaohs; medieval Jewish and Islamic traditions about Abraham; Greek, Egyptian, and Mesopotamian myths; the Aztec calendar stone; Hopi Indian ceremonies; and early Jewish and Christian apocrypha. Nibley does his inspired best to tie all this apparent disparity together into one eternal round. By the way, that final chapter Nibley kept deferring is a groundbreaking work that delves into the Joseph Smith Hypocephalus and the remarkable geometrical and mathematical relationships depicted in Facsimile 2. One Eternal Round is the crowning achievement of a unique Latter-day Saint genius, scholar, teacher, and visionary man of God.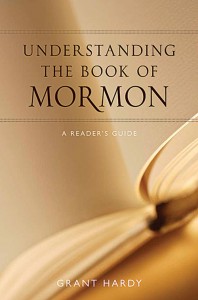 Understanding the Book of Mormon (Oxford University Press; 346 pp.; $29.95), by Grant R. Hardy (BA '84), will become an enduring must-read entry volume for any serious students of the Book of Mormon. Hardy, a professor of history and religious studies at the University of North Carolina at Asheville and editor of The Book of Mormon: A Reader's Edition (2003), is a Latter-day Saint who undertakes the first comprehensive literary examination of the Book of Mormon. In Hardy's hands, the book achieves new life as a kind of Shakespearean tragedy, its ending foreshadowed in Nephi's visions of the destiny of his people. To examine the ancient scripture's highly organized and carefully integrated scriptural narrative, Hardy invokes a variety of literary criticism to deal with the book on its own terms, eschewing tiresome debates about the book's origins and historicity in favor of a careful, lucid, literary exploration of the book's composition, construction, themes, and characters. Written clearly and convincingly, Hardy's illuminating and insightful study will reinforce Latter-day Saint appreciation for the richness and authority of the Book of Mormon. David Noel Freedman, general editor of the Anchor Bible series, not long ago remarked to John W. Welch (BA '70), of BYU, after he and Welch had read Alma 36 together with chiasmus in mind, "Mormons are very lucky. Their book is very beautiful" (p. 273). Amen!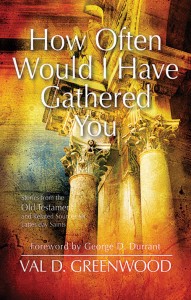 In How Often Would I Have Gathered You: Stories from the Old Testament and Related Sources for Latter-day Saints (Edenwood Press; 380 pp.; $29.95), Val D. Greenwood (BS '62) tells familiar Bible stories masterfully in a simple, straightforward style free of fictionalizing and embellishment and consistent with the Latter-day Saint perspective. Basing the stories on the King James Version, but with modernized language, he arranges them in chronological sequence, beginning with the Grand Council in Heaven (drawn from the Pearl of Great Price) and continuing through the return of the Jews from Babylonian captivity and the rebuilding of the temple at Jerusalem. Greenwood included rich and carefully researched footnotes applying LDS scripture and the Joseph Smith Translation, as well as maps, a pronunciation guide, a chart of the kings, and a bibliography. Although these stories do not replace the scripture, they are exciting and clarifying retellings that bring new life to a scripture often weighed down by confusing language.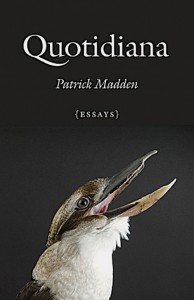 Patrick Madden named his collection of essays Quotidiana (University of Nebraska Press; 204 pp.; $23.95) after quotidian, a rarely used word meaning "mundane, everyday, common." In 11 stimulating, incisive, and evocative essays, Madden shows that "essayists are keen observers of the overlooked, the ignored, the seemingly unimportant. [Essayists] can make the mundane resplendent with their meditative insights" (p. 2). The dynamic of Madden's deep delving and wide ranging among quotidiana is to probe, like an American Transcendentalist, any seemingly insignificant detail for hints and intimations of the larger and deeper world—linking the part and the whole. As he defines his focus in his first essay, appropriately titled, "The Infinite Suggestiveness of Common Things," his crisp and exciting writing discovers for himself and his reader the larger meanings of intricate life and the wider scope and meanings of our everyday existence. A Notre Dame alumnus, a Latter-day Saint convert, a returned missionary, and a father, Madden is a BYU assistant professor of English and, that rare literary bird, a professional essayist. His subjects in this collection range from death, garlic, and a broken tooth, to gravity, asymptosy ("things always approaching, never arriving"), singing, and finity. He ranges widely yet closely through his world, which he assimilates and interprets with the mind, style, and ready wit of a physicist, a poet, a musician, and a teacher who is thoroughly enjoying himself.
Cracroft's Picks in BYU Alumni Fiction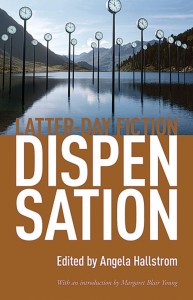 Angela S. Hallstrom's (BA '94) brand-new anthology, Dispensation: Latter-day Fiction (Zarahemla Books; 458 pp.; $19.95), with an introduction by Margaret Blair Young (BA '79), gathers 28 seasoned and fledgling fiction writers. These stories represent the best Latter-day Saint short stories written near the turn of the 21st century. The authors include Mary Peterson Clyde (BA '75), Orson Scott Card (BA '75), Brian K. Evenson (BA '89), Jack A. Harrell (BA '92), Karen Rosenbaum, Phyllis Nelson Barber ('65), Arianne Baadsgaard Cope (BA '02), Todd R. Petersen, and Douglas H. Thayer (BA '55).
In his first novel, The Baseball Box Prophecy (Hearthsong; 550 pp.; $14.95), actor and screenplay writer Bruce Newbold (BA '80) tells a harrowing tale intermixed with some good (and magical) hold-on-to-your-hat baseball. Adopted 11-year-old Cletis Dungaravan is out to earn a baseball position on his hard-pressed neighborhood baseball team. To prove his mettle, Cletis must make a solo raid on the spooky house of Ardis, deemed by the boys to be a witch. He is plunged into a fast-moving fantasy tale of an ancient Irish clan of travelers and their family quest for magical power.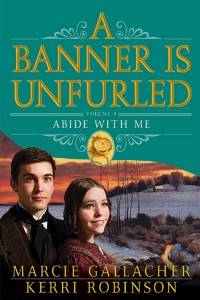 Marcella Huber Gallacher (BS '81) and Kerri Huber Robinson (BS '79) have completed Abide With Me, volume four in their well-researched and well-told A Banner Is Unfurled series of LDS historical novels (Covenant Communications; 276 pp.; $23.99). In the most exciting volume to date in this series about the early decades of Church history, the authors follow four families through remarkable historic events in Missouri, culminating in the harrowing ordeal and near-execution of young Benjamin Franklin Johnson (the authors' great-great-grandfather).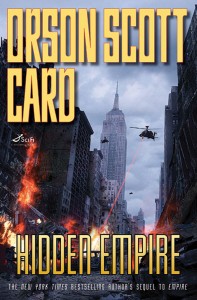 In Hidden Empire (TOR; 335 pp.; $24.99), Orson Scott Card (BA '75) continues the story begun in Empire as the war of words between the polarized right and left escalates into devastating high-tech warfare. The U.S. president is the enemy of American democracy and must be stopped. A thriller!
In Children of Ta'shaen, the third book of the Earthsoul Prophecies (Bladestar; 608 pp.; $24.95), Greg Park (BA '93) features Jase Fairimor—powerful, chosen, and flawed—and again works his unique look at magic and divinity in this terrific tale and well-crafted blend of coming-of-age story and epic saga in the tradition of J.R.R. Tolkien.
In Fablehaven: Keys to the Demon Prison (Shadow Mountain; 593 pp.; $21.99), the exciting finale of his New York Times best-selling five-volume fantasy-adventure series, Brandon L. Mull (BA '00) follows Seth and Kendra and the Knights of the Dawn as they race to find the final artifacts needed to open Zzyxx, the great demon prison.
---
Richard H. Cracroft is BYU's Nan Osmond Grass Professor in English, emeritus.