---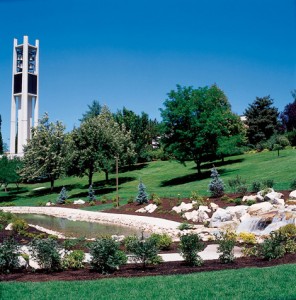 There's a new hot spot on campus for studying, taking engagement photos, and feeding ducks. The BYU grounds crew recently completed construction on a waterfall, pond, and stream that are brightening up the north hillside between the Carillon Tower and Heritage Halls.
Bruce L. Maw, campus landscape architect, says he had always imagined a water feature in that space, and when he learned that the area's canal would need to be covered to conserve water, he saw an opportunity.
"When the public came forward and asked what we were doing to save the ducks, we said, 'Well, we're going to give them a waterfall and a pond,'" Maw says. A perfect water source was already available: Heritage Halls had been discharging water used to air condition its buildings into the canal, and that water is now flowing down the rocky slope of the waterfall.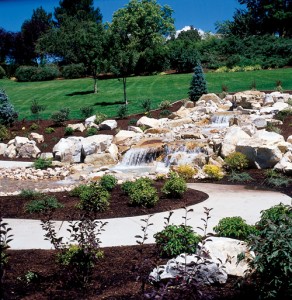 "The water was there initially, and all we've done is reroute it to create a beautification project," Maw says. "People were concerned about losing the canal and losing that water feature, so we just said, 'Hey, we'll put something back that's even better.'"
Ground broke on the project last fall, and it was officially completed July 16. Since that time, locals have started discovering the space, which is quickly becoming a campus landmark. "The number of users I saw around the canal and the users I see around the waterfall and pond—it just doesn't even compare," Maw says. "We've increased the users significantly. It's so fun for me to see those students, families, and kids playing there. It's very rewarding."