---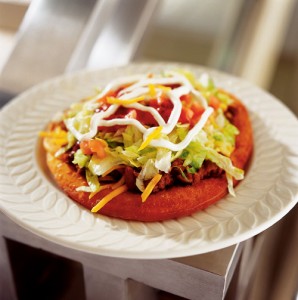 L&T Produce, Cougareat Food Court
MAKES SIX TACOS.
PREP: 90 min. COOK: 15 min.
1 c. warm water
1 Tbsp. active dry yeast
1 Tbsp. sugar
1 tsp. salt
4 Tbsp. nonfat dry milk
2 3/4 c. bread flour
6 c. beef chili
3 c. shredded lettuce
1 1/2 c. shredded cheddar cheese
1 c. sour cream (or ranch dressing)
3 tomatoes, diced
salsa
1. Prepare the fry bread: Soften yeast in warm water. Add sugar, salt, dry milk, and bread flour and knead the mixture into soft dough. In a greased bowl, allow dough to rise until it doubles. Turn the dough out onto a floured surface; punch it down and let it relax about five minutes. Roll the dough to a thickness of 1/4 inch and cut it into six circles with a diameter of six inches each. Allow circles to rise another 15 to 20 minutes. Fry dough circles in hot oil until golden brown.
2. Serve fry bread warm, topped with generous amounts of chili, lettuce, cheese, sour cream, tomatoes, and salsa.
Download PDF versions of this recipe in two sizes:
These documents are in Adobe Acrobat format. If you do not already have a copy of the Adobe Acrobat Reader, it is free and can be downloaded athttps://www.adobe.com/prodindex/acrobat/readstep.html

Related Article: 6 Bites of BYU