---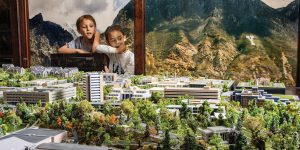 Brothers Cohen (8) and Silas (7) Knudsen have found the perfect place for a campus stroll—for ants—in the Gordon B. Hinckley Alumni and Visitors Center, where a new 9-by-12-foot model re-creates 367 acres of BYU's campus. From the Provo Utah Temple to the Botany Pond, the model contains 81 3-D-printed buildings and some 600 trees, including all 123 featured on the BYU Campus Tree Tour. The painstaking detail extends to a mini Karl G. Maeser statue, bell tower, and "The World Is Our Campus" sign.
For an I-spy challenge, go in person and find the only two people in the model, the project's donors, Stephanie Schneider Sorensen (BA '90) and John L. Sorensen (BA '88), holding hands where Ruth May Fox Hall once stood. They left from there on their first date.
Visitors can light up different buildings in the interactive model, which will be updated as campus changes. Stop by weekdays from 8 a.m. to 6 p.m. or Saturdays from 10 a.m. to 3 p.m.