---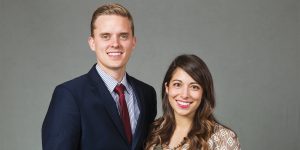 For months Kindall C. (BA '17) and Erica Mehl Palmer (BA '17) had been working to make lifesaving ventilators more accessible in developing countries. But the day after their son Erickson was born, their work suddenly became personal. "The nurse came in and . . . said, 'Erickson's looking a little blue,'" remembers Erica. A medical team rushed their baby to the NICU, where a ventilator kept him alive for the next two months.
Like Erickson, about 10 percent of newborns need help breathing. The Palmers want parents worldwide to have access to the tools that kept baby Erickson alive. With donor funds from winning BYU Marriott's Ballard Center Y-Prize Challenge, they joined a team of other students in founding Neonatal Rescue, which provides low-cost ventilators, developed previously by BYU engineering students, to hospitals and clinics in Cambodia and East Africa.
But that's just the start, Erica says. Training local health professionals is key. "A lot of devices . . . are just pushed off in the corner gathering dust because the doctors and nurses and midwives weren't trained properly on how to use them or how to fix them," she explains.
BYU president Kevin J Worthen (BA '79, JD '82) recently noted the interdisciplinary Neonatal Rescue program as a prime example of his Inspiring Learning Initiative: "That is what inspiring learning is all about: allowing students to take the things they are learning in classrooms and connecting that knowledge with real-life experiences that not only help others but also expand their own souls."
Erica Palmer says Neonatal Rescue comes down to helping parents like herself and babies like Erickson: "We want to change . . . the norm of newborns dying in developing countries and give other people the chance we had to watch our son get better."