How alumni use their BYU education to serve their communities, neighbors, and families.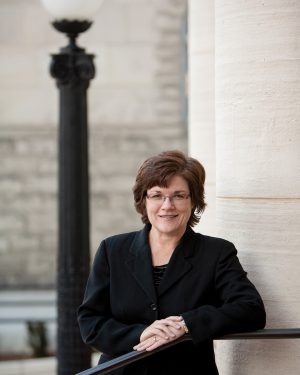 A JD, a Mom, and a Disability
Lisa Broderick Thornton (BA '85, JD '88), Salt Lake City
I graduated from BYU with a degree in English and a JD from the J. Reuben Clark Law School. I met my husband, also a BYU graduate, while working in a law firm in Phoenix. We moved back to Utah and soon had several children. In the chaos of raising young children, I often wondered how my training would help me be a better mother or member of the community. My wondering ended when our fifth child was born with a rare genetic defect called Prader-Willi Syndrome (PWS).
Within two years I was asked to be the president of the Utah PWS Association. I planned fundraisers to bring significant money to the organization. My husband and I drafted proposals and testified at the Utah legislature to secure ongoing funding for a medical manager and clinic serving those with PWS. I worked to select a site and physicians for the clinic and drafted best practices for children and adults with PWS. The clinic has been operating for eight years now, and I recently coauthored a scholarly article outlining its success.
I feel strongly that Heavenly Father loves these children and has opened doors to help us make Utah the best place to raise a child living with PWS. I am on the boards of several organizations that serve those with disabilities, use my legal skills in their behalf, and appear before the legislature on disability issues. Who would have guessed, sitting in those English, business law, and negotiations classes back in the 1980s, where my training would take me?
A Half Century of Inspiration
James E. Kerns (BA '74), Haines, OR
The most valuable BYU class I took was the religion class Teachings of the Living Prophets, led by Professor A. Gary Anderson (MS '60, EdD '68). He taught the class a method for minutely indexing general conference talks and then assigned class members to index two complete conferences. His system involved creating a short phrase to describe a story, paragraph, or even a one-sentence statement that needed to be remembered.
The project was akin to a revelation for me. Up to that point I had regularly been frustrated as I searched through past conferences trying to remember a particular thought or story that I wanted to use in an upcoming lesson or talk. I was so thrilled with the result of this project that I continued indexing back through to the October 1968 general conference and then indexed each new conference every six months.
As our 10 children were growing up, we used the index as source material for a daily family devotional before they left for school. The general conference stories we read have subsequently been gathered together into six volumes, copies of which are owned by each of our families. Our children and grandchildren use the index and these books for all their church talks, lessons, and seminary devotionals.
Next year, after the April 2018 general conference, I will have indexed 50 years of general conferences.
I owe an unpayable debt to Professor Anderson.