---
Ever wonder which scripture is cited most often at the general conference of The Church of Jesus Christ of Latter-day Saints? Do you want to compare what general authorities have said about a particular scripture? The intellectually curious and serious students of the gospel now have a new resource at their fingertips.
The online LDS General Conference Scripture Index, developed by BYU faculty and students, can be accessed at scriptures.byu.edu. The new service links all scriptures in the standard works to general conference talks. By clicking on a given verse, such as John 3:16, users can see the number of times it has been cited in conference, the sessions in which it was cited, and who cited it.
"This Web site makes me smart all of a sudden," says Stephen W. Liddle, '89, Rollins eBusiness Center academic director at the Marriott School of Management who helped create the site. "I can find relationships that are not obvious to me when I sit down and read a conference talk or the scriptures. I've got access to these great minds in Church leadership over the past 60 to 70 years."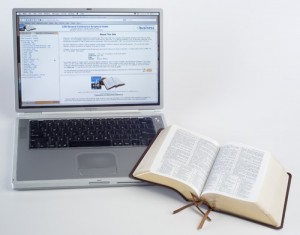 The index, sponsored by the center, includes a database of 347 speakers and general conference talks since 1942. Search filters allow users to sort information by scripture, speaker, date, and citation frequency.
The software marks the target scripture in red, presents footnotes within text, and displays results in a single screen view. This enables users to see search results, scripture text, and a conference talk at the same time.
The idea for the new resource originated with Richard C. Galbraith, '71, a professor in the School of Family Life who has a passion for the scriptures. Galbraith says the new site positions the words of the scriptures alongside the words of modern-day prophets to give a full, unified picture. "If you need some insights on the scriptures, the general authorities have thought about them and have beautiful insights," he says. "They are all seeing the same jewel—just different facets of it."
Aside from creating a rich gospel resource, the scriptural index project provided opportunities for mentored-student learning. Galbraith spent years compiling the citations in the database and relied on Liddle and several research assistants for computer programming. Thomas L. Packer, '06, a computer science student who helped develop the site, says "Computer science projects don't often develop something that can be commercially successful, so it is good to produce something usable."
Read more at scriptures.byu.edu