A look at events, changes, and research for summer 2006.
Biology and Agriculture
March sunshine brought out more than buds and grass blades as BYU hosted the 2006 Professional Landcare Network Student Career Days, a four-day competition for students from landscape horticulture programs across the country. BYU won the overall championship in the "Olympics of landscaping," competing in events such as patio construction, plant identification, business problem solving, equipment management, and even tree climbing.
The White House has appointed Allen C. Christensen (BS '57) to the Board for International Food and Agricultural Development (BIFAD). Christensen serves as director of BYU's Ezra Taft Benson Agriculture and Food Institute, which supports initiatives to enable impoverished communities and families to become nutritionally and economically self-sufficient. Christensen's two-year work with BIFAD will help the United States to extend a similar helping hand through improved agricultural development.
Education
Just as autumn's blush begins to appear on the face of the Wasatch, Steven Hite (BS '80) will be on his way to the Emerald Isle. A professor of educational leadership and foundations, Hite was recently awarded a Fulbright Distinguished Chair Scholarship to spend the next year at the National College of Ireland mentoring faculty on research methodology. Of the Fulbright Program's 800 annual awards, only 35–40 are for distinguished chair scholarships.
Engineering and Technology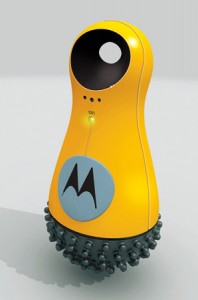 Battery researcher Dean R. Wheeler (BS '96), an assistant professor of chemical engineering, sparked the interest of the National Science Foundation, which awarded him a Faculty Early Career Development Award of $400,000. The grant will fund Wheeler's investigations into electrocatalysis to improve electrochemical reactions in fuel cells, batteries, and chemical sensors and allow him to partner with professors in the college to develop exciting engineering projects for high school students.
Police officers may have faster access to information about suspects and crime scenes in the not-too-distant future thanks to a team of BYU industrial design studentscommissioned by Motorola to design products that will help officers on foot patrol communicate more smoothly in the field.

See more.byu.edu/gear
Family Home, and Social Sciences
BYU political science professor Valerie Hudson appeared on CBS's 60 Minutes to comment on China's gender imbalance. Her book, Bare Branches: The Security Implications of Asia's Surplus Male Population, won the Association of American Publishers' award for Best Professional/Scholarly Book in Government and Political Science and was a finalist for the $200,000 Grawemeyer Award for Improving World Order. The book and 60 Minutes segment explored the potential for increased violence and social unrest from the higher male ratios in China, India, and other Asian countries.
Fine Arts and Communciations
BYU's broadcast journalism program moved up from last year's second place to first in the Hearst Journalism Awards. But success didn't stop there. Two students in the radio news division of BYU Broadcasting placed in the top five for the feature radio category: Ryan B. McIlvain ('06) came in 3rd and Danielle Wood ('06) placed 4th.
Health and Human Performance
In early 2006, the tables turned and BYU became a study abroad destination. Teachers and presidents of Chinese universities and art schools gathered in Provo to learn methodology, curriculum, and instruction techniques for arts education and dance. Chinese leaders requested the workshop, which was sponsored by the College of Health and Human Performance, the College of Fine Arts and Communications, and the David O. McKay School of Education.
Humanities
It took an act of Congress, but the Chinese Flagship Project has officially become a permanent part of BYU's language landscape, with $500,000 in funding every year. Headed by Asian and Near Eastern languages associate professor Dana S. Bourgerie, the Flagship Project prepares 10–12 students annually through intense language training to work in authentic Chinese environments.
Law School
The most recent Law School Student Engagement Survey found that three out of four students at BYU's J. Reuben Clark Law School rated their educational experience as "excellent" versus just one-third of law students nationally. Ninety-five percent of BYU's law students said they would make the same choice if starting law school over, compared to 78 percent nationally.
Marriott School
It may be lonely at the top, but BYU accounting students don't seem to mind. After taking home top honors at the national xTAX Competition, BYU remains the only university to compete at the national level every year since the competition's inception four years ago.
At a time when public confidence in business is at a low ebb, BYU's Marriott School of Management has released a new book that shows integrity and success are not contradictory in the business world, but complementary. Featuring compelling speeches by top CEOs and educators, Business with Integrity inspires readers to keep the bottom line in proper perspective and conduct business with honesty and character.


Nursing
There's accreditation and then there's accreditation. In April the Commission on Collegiate Nursing Education (CCNE) announced that BYU's College of Nursing had not only been granted full accreditation, but it had done so with no special reports or citations. The accreditation process involved extensive reviews of the college's programs and facilities. "This is the best accreditation review the College of Nursing has ever had," says Elaine S. Sorenson Marshall, dean of the College of Nursing. "It is a compliment to the exceptional abilities of our faculty and students and to the support of the BYU administration."
Physical and Mathematical Sciences
Feeling an increasing need to unwind—DNA, that is—BYU's Department of Computer Science will offer a new emphasis in bioinformatics in fall 2006 to educate students in DNA sequence analysis. "Scientists are just beginning to understand the revolutionary changes that will occur in drug development, food production, and health care as a result of DNA sequence data," says Mark J. Clement (MS '89), undergraduate coordinator for the department.
See more.byu.edu/bioinformatics
Religious Education
In December professor of ancient scripture Terry B. Ball (PhD '92) was named the new dean of Religious Education. Professor of Church history and doctrine Dennis A. Wright (ME '73) and Richard D. Draper (BA '68), professor of ancient scripture, were named associate deans.