---
Biology and Agriculture
Mark C. Belk, '85, an associate professor of integrative biology, and his students are hoping to reverse the decline of Columbia spotted frogs in Utah and are monitoring the progress of frogs they helped reintroduce to a nature preserve near Park City, Utah, in August. Belk and his students will track the frogs and use their research as a test case to guide other efforts to reintroduce sensitive species to their natural habitats.
Read more at more.byu.edu/frogs
Education
Associate professor of teacher education Nancy M. Wentworth recently received a Hewlett-Packard Technology for Teaching grant valued at $50,000. The grant includes 20 wireless tablet personal computers, which Wentworth and students will use in classrooms of partnering school districts to study how such technology can facilitate instruction and improve learning.
Engineering and Technology
Eleven BYU graduates, six of them from engineering and technology programs, received prestigious graduate fellowships from the National Science Foundation this spring, each landing a $27,500 annual stipend and $10,500 for tuition per year for three years.
Read more at more.byu.edu/nsf
Family, Home, and Social Sciences
Valerie M. Hudson, '78, a professor of political science, recently coauthored the book Bare Branches: The Security Implications of Asia's Surplus Male Population through the MIT Press as part of Harvard's Belfer Center series on international security. In the book she warns that, by 2020, China's government will be forced to contend with a potentially unruly and unrooted population of 30 million surplus young adult males who have little hope of marrying.
Read more at more.byu.edu/barebranches<
Fine Arts and Communications
Robert T. Barrett, associate dean in the College of Fine Arts and Communications and a professor of visual arts, received an Award of Merit from the Society of Illustrators based in New York City. He received the award for one of his illustrations in Silent Night, Holy Night, a children's book released in December 2003.
Read more at more.byu.edu/Barrett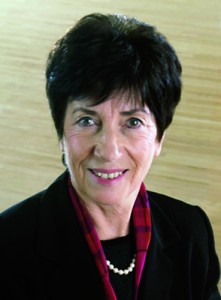 Health and Human Performance
Sara Lee Heileson Gibb, '59, was appointed to be the new dean of the College of Health and Human Performance in August, replacing Robert K. Conlee, '69, who served as dean for 10 years and will return to full-time teaching and research. Gibb, a professor of dance, has served as chair of the Dance Department and associate dean of the college.
Read more at more.byu.edu/Gibb
Humanities
Mark E. Davies, '86, an associate professor of linguistics and English language, received a $250,000 grant from the National Endowment for the Humanities to construct a corpus of historical and modern Portuguese. The work, which will be available online upon completion, will include between 30 and 50 million Portuguese words, dating as far back as A.D. 1200.
Marilyn Arnold, '57, professor emerita of English, was awarded the Mayhaven Publishing Award for adult fiction for her manuscript "Minding Mama." The annual award honors top work in adult and children's fiction. For her first-place award, Arnold will receive national publication of the manuscript as well as ongoing royalties.
Read more at more.byu.edu/Arnold
Law School
Law professor Larry J. EchoHawk, '70, has been named BYU's faculty athletics representative to the NCAA and Mountain West Conference. A former BYU football player and Idaho attorney general, EchoHawk will work with BYU's administration to monitor the athletics program and its relationships outside the university.
Read more at more.byu.edu/EchoHawk
Marriott School
A team of six Marriott School accounting students took first place at the National Student Case Study Seminar sponsored by the Deloitte Foundation. Reviewing a case based on a real situation from Deloitte's national audit office, teams formulated an opinion on the appropriate accounting treatment and presented a formal solution to Deloitte partners, who acted as an auditing committee. A group of active and retired partners selected the BYU team for its ability to identify the relevant accounting issues and present its case most effectively. Each team member received a $1,000 scholarship.
Read more at more.byu.edu/Deloitte
Master of accountancy student David A. Wood, '02, received the 2004 Esther R. Sawyer Scholarship Award from the Institute of Internal Auditors Research Foundation. Wood received the $5,000 scholarship for research examining how internal auditors can add value by coordinating with external auditors.
Nursing
Dean Elaine Sorensen Marshall received a Best of State medal in the education category at Utah's Best of State Awards for the subcategory of best college/university professor. She also was honored with the Best of State statue for the entire education category, which has 13 subcategories.
Physical and Mathematical Sciences
Dan R. Olsen, '76, professor of computer science, was elected a fellow of the Computer-Human Interaction Academy. Composed of the top researchers in the world in the field of computer-human interaction, the academy selects only five people per year from its more than 5,000 members.
Read more at more.byu.edu/Olsen
Religious Education
Douglas E. Brinley, '75, professor of Church history and doctrine, and Daniel K Judd, '85, chair of the Department of Ancient Scripture, recently published a book called Living a Covenant Marriage. The volume features articles from religious educators and professional marriage counselors, sharing advice to those who wish to strengthen their marriage.
Related Story: Another Way of Looking at Things