---
Education
Prestigious Partnership: The BYU–Public School Partnership, which unites the McKay School, the arts and sciences departments at BYU, and five Utah school districts, received an exemplary achievement award from the National Association for Professional Development Schools.

Engineering and Technology
International First: Hybrid Blue, BYU's formula hybrid race car, took first at Dartmouth's 2012 Formula Hybrid International Competition. A 16-student engineering team designed and built the car under the direction of retiring mechanical engineering professor Robert Todd. They beat 38 teams in the overall hybrid competition, set a competition record in acceleration, and took first in endurance.
Family, Home, and Social Sciences
Sleeping Teens: How much sleep do high schoolers need? A study by BYU econ professors Eric R. Eide (BS '88, MS '89) and Mark H. Showalter (BA '86) published in the Eastern Economics Journal found that 16-year-olds with the highest test scores tended to sleep seven hours. Federal guidelines recommend nine.

Fine Arts and Communications
Artist Accolades: BYU illustrators are making waves. Visual arts professor/illustrator Robert T. Barrett was honored with the 2012 Artist Award from the HonorSociety of Phi Kappa Phi, and eight BYU illustrations students—the most ever—were represented in the Society of Illustrators 2012 Student Scholarship Competition. See the winning works, like Colt J. Bowden's (BFA '12) Clarence Clarendon, at more.byu.edu/art.
Humanities
Steward of Sonnets: BYU English professor Lance E. Larsen (BA '85, MA '87) was named the state poet laureate by Utah Gov. Gary R. Herbert ('69).
Kennedy Center
Model Students: Representing the Russian Federation and the Republic of Burundi at the National Model United Nations conference in New York City, BYU's Model United Nations team came away with not one but two Outstanding Delegation awards—the top honor given.
Law School
Interior to Seventy: Larry J. EchoHawk (BS '70), a law professor on leave, was called to serve in the First Quorum of the Seventy. He resigned from his position as assistant secretary of Indian Affairs at the Department of the Interior to accept the call.

Life Sciences
Keeping Cheese Gouda: Using the same type of genetic analysis he uses to study HIV and other viruses, biology professor Keith Crandall identified the source of cheese contamination in dairy factories. The study, which will help save tons of milk, was published in Genome Biology and Evolution.
Marriott School
Budget Blunder: Setting a price limit may prompt shoppers to spend more on a specific product, says marketing professor Jeffrey S. Larson (BS '02). His study, published in the Journal of Marketing Research, shows that consumers who start with a target price spend up to 50 percent more than those who don't. Researchers think that narrowing down choices based on price leads to a preference for higher-quality, thus higher-priced, items.
Nursing
Veteran Care: Nursing professors Ronald S. Ulberg (BS '76) and Kent D. Blad (MS '99) were invited by the American Association of Colleges of Nursing to join a task force to refine curriculum for nursing colleges across the country on how to better care for and treat veteran patients.
Physical and Mathematical Sciences
The Right Formula: BYU's Math 112 introductory calculus class was recognized by the Mathematical Association of America as one of 16 exemplary university calculus courses nationwide. In other Math Department news, in fall 2013 a new emphasis in applied and computational mathematics will be offered to prepare students to apply their skills to real-world problems.
Religious Education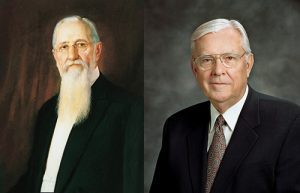 Family Learning: BYU's 2012 Church History Symposium featured Elder M. Russell Ballard of the Quorum of the Twelve Apostles, who spoke about his great-grandfather Joseph F. Smith. Watch the video of the symposium at more.byu.edu/symposium.