---
By Lisa Ann Jackson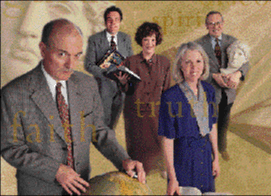 During meetings marking the beginning of the last leg in a six-year, unprecedented effort to bring additional funds to BYU, President Merrill J. Bateman announced that BYU's "Lighting the Way" capital campaign has reached its overall monetary goal but has not funded all its priorities.
"Where we are in the campaign is a dream for me," President Bateman said. "But we still have important priorities yet to meet."
The original monetary goal was to raise $250 million in six years. With two years left, the campaign already has received more than $280 million in contributions and pledges. However, the numbers do not reflect the campaign's progress in funding its priorities. Some campaign priorities have exceeded initial goals and others have yet to reach their goals.
The priorities needing additional funding include five major campaign areas: international programs, special programs (including family programs and FARMS), building projects (including the expansion of the Harold B. Lee Library), learning enhancement (including both student and faculty support), and scholarships.BYU­Hawaii was also highlighted as an area needing additional funding.
"Even though it looks like we are reaching our goal, in order to fund all of the priorities–which is what we are after–we still have a way to go," says Ron Taylor, director of communications for BYU Development.
"When we started this campaign, we all thought we would reach $250 million and be finished. But universities change," President Bateman said. "We didn't take lightly the decision to continue beyond $250 million."
The five priority areas still needing funding are all part of the original charter of the campaign. Changes include FARMS (Foundation for Ancient Research and Mormon Studies), which was added to the special programs priority when FARMS joined BYU in October 1997, and an increase in the dollar amount allocated to scholarships.
The campaign progress report was given at meetings of volunteers in early April. The meetings also marked the final leg of the campaign, which began in 1994 under the direction of former BYU president Rex E. Lee.
During this year's meetings, volunteer leadership responsibilities were passed to the third and final co-chair, Alan Ashton, who will direct the last two years of the campaign. The first two years were conducted "silently" under the direction of co-chair Hyrum Smith. When the campaign entered its public phase in 1996, Jack Wheatley assumed leadership. Ashton will lead volunteers to the fall of 2000.
Campaign volunteers are organized into five volunteer committees that work with donors at various giving levels including gifts from corporations, foundations, and individuals. To become volunteers they first make their own gift to the campaign, then they work with their respective committees to encourage others to donate. The three co-chairs are also volunteer participants in the campaign.
"I have found that giving blesses and it multiplies," Ashton told volunteers.
Campaign staff and volunteers are careful to emphasize their gratitude to those who have contributed and are quick to point out the real goals behind the numbers.
"The important thing to remember is that the campaign is really not about dollars," Taylor says. "You have to raise dollars to do what you want to do. But it's about blessing lives. It's about helping the kingdom grow. It's about reaching out to others. Students will be blessed, and the kingdom will be strengthened. And that's really what it's about."
Several students met with volunteers to help them see how campaign funds are already being used for students. "I feel so grateful for the opportunities that I have because of others' generosity," said Crystal Majeran, a senior from Lethbridge, Alberta, Canada, majoring in English teaching. She and others noted that scholarship funds have enabled them to attend the university and other funds have enhanced the programs in which they are involved on campus.
"BYU was at a certain level of performance going into the campaign, and we hope as we exit the campaign that level will be much higher," says campaign director Barry Preator. "We hope that the level of faculty success with students is more effective than it ever has been in the past. We hope the number of students who are touched and the number of lives changed will be greater as a result of this campaign."
"You and I may never meet those kids at BYU or BYU­ Hawaii, but think of the impact they will have in their communities when they go home," says campaign volunteer Laura Ainsworth from Rancho Santa Marguerite, Calif. "I have a problem giving a Tupperware party, but I have no problem asking for money for BYU because I believe in what it does."
The campaign continues until 2000, by which time the university hopes not only to have fully funded the five remaining priority areas, but also to have built a foundation for BYU's continued growth and improvement.
"We really hope that the campaign is seen as a beginning, not an end," Taylor says.