Alumni write up their stories about getting down.
A Slick Excuse
By Jason E. Chaffetz (BA '89),  Alpine, Utah
Back in the late 1980s, the Palace was the place to be for a night of dancing.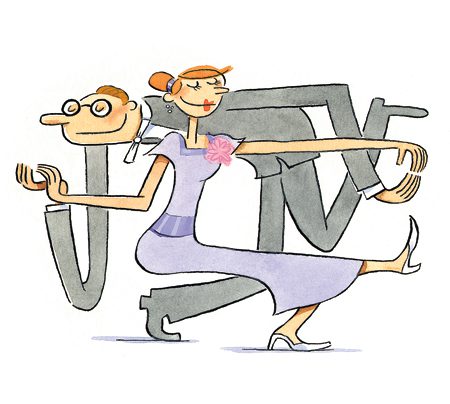 As a place kicker on the BYU football team, I was single, not too humble, and obviously smooth on my feet—or so I thought.
One snowy night I showed up fashionably late to the Palace ready to impress the ladies. Wearing topsider shoes, I stepped from my Honda CRX onto the icy parking lot. The moment it touched the ice, my foot slipped out from under me and up into the air. Replacing my foot on the ice was my chin. Ouch! Kickers aren't used to taking a hit. I brushed myself off only to find a stream of blood squirting from my chin.
It was late at night and a Band-Aid wasn't going to do the trick. I immediately thought of Julie Johnson (BA '90), a girl I wanted to date whose roommate was a nursing student. Any excuse to see Julie, including a bloody chin, was worth it.
The nursing student patched me up, and I later ended up dating and marrying Julie. Never did make it dancing that night, but thankfully, my feet led me in the right direction.
Eternally Lost
By Peter M. Steimle (BA '90), Lawrence, Kans.

To kick off a new year at BYU, there was a dance in the Wilkinson Center that packed the combined ballrooms and spilled out into the hallways and the Cougareat. As I approached the massive dance, I spotted a buddy from back home and walked up to him. He was leaning against the wall, noticeably overcome by his last dance partner, who was now unrecognizable among the thousands of people packed into the ballroom. He said, "Peter, I just met my eternal companion! The only problem is I didn't get her name!"
Steps to Graduation
By Joel D. Black (BS '79), Enumclaw, Wash.

On the first day of freshman registration in 1972, I got a rude shock. I would not be graduating. BYU required two full credits of P.E., and—as I was a tall, skinny, uncoordinated drink-of-water with no strength or stamina—P.E. was out of the question.
But there was the more pressing issue of dating. Painfully shy, I thought dancing might be a nice way for a backward boy to meet (and even touch) a girl. Then followed the miracle: dance counted for P.E. credit.

Ballroom, square, folk, and modern—two credits became seven and an ungainly crane made the ballroom bronze team.

My ward was full of dancers on the silver and gold teams, and competitions at ward parties were fierce. I still glow when I recall how a girl who had no dance instruction and I won.
The many years since have been full of dancing and teaching youth and adults. One day I announced the upcoming stake dance in a priesthood meeting.
A wise guy, new to the ward, snickered, "Yeah, right. I can just see Joel on a dance floor." The other brethren fed him enough rope to hang himself, which he happily did.
(Study) Break Dancing
By Teresa Eddy Topham (BA '87), Fremont, Calif.

My roommates and I attended dance after dance at BYU, hoping to meet the man of our dreams and be swept away in a cloud of romance, but our best dances occurred right in our own apartment. We lived directly across a walkway from some young men, and we could see into each other's apartments if our blinds were open. When my roommates and I simply could not read one more word in our textbooks, we would turn on the radio full blast, open our blinds, and begin dancing at full speed.
Our male neighbors rarely failed to burst through our door and join in the ruckus. We usually danced for several minutes and then returned to our studies, ready to buckle down again.
Bertha and Flo
By Anne Galbraith Hutchinson (BA '92), Ogden, Utah

"Wedding in the Spring" was the theme of a BYU student ward dance my junior year, intended to encourage romance amongst ward members. Two ward members were chosen to play the part of bride and groom and everyone else was supposed to dress formally and come as wedding guests—a chance for us girls to bring out the not-too-old prom dresses, hot rollers, and heels to compete for the attention of all the cute guys in the ward.
Years of miserable experiences at stake dances, along with a touch of social phobia and two left feet, rendered the prospect of yet another church dance gloomy. But the pressure was on to attend, so my roommate and I went as "the annoying relatives": I was elderly Aunt Bertha and she was slightly senile Aunt Flo. While everyone else came in their fanciest duds, we wore sagging knee-high panty hose, comfortable athletic shoes, less-than-attractive skirts, and buttoned-up cardigan sweaters. Lipstick outside the lines and large plastic jewelry completed the look, which was upstaged only by our behavior. Our new identities allowed us to cut in on romantic couples, squeeze the guy's cheek, and shriek out endearments. It was the most fun I'd ever had at a church dance.
So You Think You Can Film
By Michael J. Ballard (BA '94), Bozeman, Mont.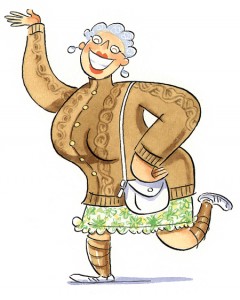 When it comes to rhythm, I don't have it, but my wife, Jennifer Shumway Ballard (BA '94) was on the BYU Ballroom Dance Team. The biggest stage she danced on was the Marriott Center floor for the annual ballroom dance concert. It was in this same building that I later made my own ballroom-dance debut.
After graduating I made my living as a freelance television camera operator. When BYU hosted the 1998 U.S. National Amateur DanceSport Championships, I was asked to be on the crew. My assignment that night was to operate a handheld camera by the dance floor.
During the introduction of the finalists, the director gave me a special responsibility. As each couple was announced, they would perform a short dance routine. I was to follow them around the floor, keeping up with them whichever direction they went. I had no idea which direction they would go; at any second they might turn and spin into my camera or take off across the floor with a fox-trot or a quickstep. I got quite a workout that night.
At the end of one of the finalists' performance, I realized that the crowd's exuberant applause was actually for me.
The director was impressed as well, and soon thereafter I spent a week in Miami working the broadcast for the U.S. Open Professional International Latin Dance Championship. I don't have rhythm, but it turned out I could keep up with those who do.
More dancing stories can be found online at magazine.byu.edu/boogie.