---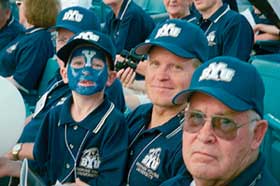 By Kristel Lander
Although the Pigskin Classic against Florida State was a disappointing loss for Cougar football fans, the BYU alumni tour to the game was a definite victory.
Eighty-nine faithful Cougars left Salt Lake City early Tuesday, Aug. 22, and flew to Orlando for two days at Disney World. "The group was pampered as they stayed at the famed Dolphin hotel on site," says Reid A. Robison, manager of alumni activities. "The most popular attraction must have been Epcot, but the new animal kingdom was a close second. Participants of all ages were exhausted, having so much fun squeezed into two days."
The group then took a bus tour to Florida State University in Tallahassee, stopping at St. Augustine and Jacksonville before arriving at the location of the Pigskin Classic game. The diverse group included babies and toddlers, single BYU and UVSC students, middle-aged couples, and retired couples. All came united in purpose—to cheer on the Cougars.
One participant, Gloria Madsen Hulme, '50, Boise, Idaho, has been a BYU fan for 55 years. She cheered for BYU even while attending the University of Utah and became a die-hard fan when she transferred to BYU. Since then, most of her children have attended BYU. She is a staunch supporter of BYU sports and alumni tours.
"My family members know better than to tell me if they aren't BYU fans," Hulme says. "My son-in-law wanted to go on a trip to a sporting event this year, so of course I took him to a BYU sporting event."
Other participants, Jan Freeman Gabbitas, '60, and her husband Chip, Los Angeles, take family members on trips as often as possible. This time they took a grandson and two granddaughters and their young families.
"The trip was worth every penny. One of my granddaughters lives in Utah and now she wants to move to California so she can live near our family," says Jan Gabbitas.
The Gabbitases say they usually take BYU tours to Church-related sites to strengthen the testimonies of family members, but this trip matched their schedule and was a great way to strengthen family unity.
Relatives and friends of team members were also on the tour. Two cousins of BYU kicker Owen Pochman and their friend Katie Glem joined the tour to continue their pattern (begun in 1999) of attending every BYU football game.
"My sister and I are the biggest football nerds. Having Owen on the team gives us someone to rally around and makes everything worth it," says Sarah Hansen, Pochman's cousin.
Another interesting combination was the Stewart group father, son, and grandson. "I noticed the tour hosts went the extra mile to help us have a good time," said son John Stewart, '76, of Fairview, Utah. "The people we associated with on the tour were very friendly and showed special consideration to my son, Alex."
Burton L. Guymon, '63, and his wife Karen, Upland, Calif., celebrated their 40th wedding anniversary by taking the tour. Burt joked that he was going to tell everyone at home he took his wife on a cruise, since the group took a three-hour river cruise in Jacksonville.
The BYU Alumni Association hosted the tour, and BYU Travel Services made the arrangements. It was first advertised through the Cougar Club, and most of the participants came because of that affiliation.
Each fall, the Alumni Association and the Cougar Club offer a tour to an away football game, generally in the East. Past tours have included trips to Alabama, Indiana, and Virginia. This year the group offered two tours—one to Florida and one to upstate New York. About a month after the Pigskin Classic tour, an equally large group visited Church history sites in the Palmyra, N.Y., area and attended the BYU v. Syracuse football game. Plans for 2001 include a trip to Starkville, Miss.