---
He played trumpet for the Marines. Now he plays for the Cougars.
Trumpet or drums," 11-year-old Clifton A. Hargus ('13) announced, to which his former-band-director father retorted, "You're not playing drums in my house." So the trumpet it was. Hargus has since performed at a presidential debate, a Monday Night Football game, and an event honoring the Apollo 8 astronauts. And now, at age 38, he is the oldest member of the Cougar Marching Band.
He's come to BYU to obtain a civil engineering degree after 15 years of military service; Hargus left the Marines, where he played trumpet, to give priority to school and family. He first started on an associate's degree in Texas, but the priests in his ward there convinced him to apply to BYU—and to join the Cougars in uniform.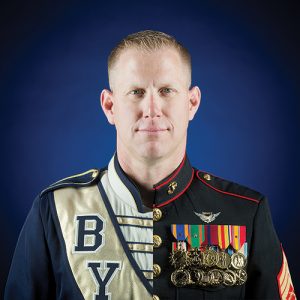 "He was just like a friend, but at the same time he was a really good leader," recalls baritone horn player David W. Larson ('15), the priest who got BYU into the head of Hargus, then a member of the young men's presidency. "He taught me to take responsibility for my actions and to be a good example." The two of them—born 16 years apart—marched together their first year at BYU.
Back when Hargus was a priest, he had something else on his mind: the Marines. He signed on after high school and played in the Marine Band San Diego.
The hair on the back of his neck stands up, he says, as he recounts moments like marching in the Rose Parade in Pasadena. "Everybody's waving and cheering," says Hargus. "And then all of a sudden the Marines walk by and the quarter of a million people lining the street go nuts."
An aircraft fanatic as a child, Hargus landed a spot in aviation as a crew chief and mechanic on CH-46Ehelicopters in 1999. He was one of the first on site in Afghanistan for Operation Enduring Freedom. Hargus vividly remembers the first night of the American offensive, during which he crammed onto a carrier-ship deck with a few thousand others watching the first plumes of light shoot up in the middle of the pitch-black Arabian Sea.
In 2004, just three weeks after marrying Shelly Saddoris, Hargus was activated again and sent to Iraq. He arrived 70 miles west of Baghdad at Al Asad Air Base, or "Camp Chocolate Cake" as it was nicknamed, because it hadn't been attacked in over a year. It was attacked at 2 a.m. on Hargus' first night. "This was the first time that I'd been fired at," he remembers.
Hargus has since traded in the 120-degree-plus temperatures of the Middle East for the not quite as sweltering summer temperatures at LaVell Edwards Stadium. Still in a uniform, Hargus brings a lot of experience to the table. "I'm twice as old as some of the kids coming into the band these days, but it's not a big deal to me," he says. "I'm out doing something that I love." Fellow trumpet player Brandt R. Jensen ('12) says Hargus "can play the trumpet really loud and really well, which is hard to find." And being in the band has its perks, Hargus adds—like going to New Orleans for the Sweet 16.
He has his own personal fan section. Hargus' wife and three children, ages 7, 5, and 1, sit behind him at the basketball games when he's in the pep band, and he gets high fives over the railing during football halftimes.
Graduating in 2013, Hargus will complete his Cougar Marching Band career as the trumpet section leader. He'd like to keep playing—possibly in a community band or as a high school band assistant. "I've marched for a long time, and I've got a lot of skills to share."
His experiences, he says, have taught him self-confidence. "I gained a go-get-'em attitude. If you see something and you want to do it, go do it."
— Madeleine Brown ('13)