---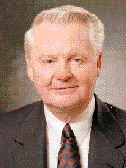 By President Merrill J. Bateman
This year's April Commencement set a new record, as 3,919 degrees were awarded to graduates of Brigham Young University. When combined with the December graduates and those expected in August, almost 8,300 students will complete their education during the 1996­97 academic year. This comes at the end of a 10-year span that has seen an ever-increasing percentage of BYU students complete their studies; in fact, the number of graduates has increased by almost 2,000 students per year since the mid-1980s.
This trend reflects the fact that people are more aware of the importance of education in today's society. The increasing rate of scientific discoveries enhances the importance of the learning process, even as changing social relationships have increased the value of an education. The impact on young women has been particularly strong. Although the number of women students at BYU has remained nearly constant during the past decade, approximately 4,000 women will graduate this year in contrast to 2,600 10 years ago–an increase of 60 percent. Male graduates, by comparison, are up by 10 percent.
Dollars invested in education provide one of the best returns available. A bachelor's degree increases the expected salaries of men and women by some 80 percent, with a master's degree adding another 30 to 40 percent. (1) In addition, a substantial benefit accrues to society. Recent economic literature suggests that the rate of return on funds invested in education is 12 percent or more for each additional year of schooling. (2) In fact, economic advancement in society is largely traceable to developments in higher education.
As one example, there are more than 100 firms in Utah County directly related to research conducted at BYU. (3) The computer technology sector is a prime example, with many firms tracing their origins to BYU faculty and students. Any society in today's world that does not promote education will diminish economically, socially, and spiritually. A society that does not foster learning, strong work habits, self-reliance, and provident living will provide only meager opportunities for its citizens.
Beyond dollars and cents, the highest purpose of BYU is to educate both the mind and the spirit. We believe that character development is as important as the advancement of the intellect. Two thousand years ago, Greek education centered on the mind. In ancient Greek philosophy, reason, or logos, was the controlling principle in the universe. The Greek educational assumptions and model have been adopted by much of the western world today.
As Latter-day Saints, we believe that the "glory of God is intelligence" and that "intelligence" is more than intellect. It is more than one's reasoning powers or ability to store information. It includes both the mind and the heart. As Professor David Yarn has said:
In that oft used phrase from the Doctrine and Covenants, "The glory of God is intelligence," "intelligence" is described as "light and truth" and we are told that "light and truth forsake that evil one" (D&C 93:36-37). Therefore, intelligence is . . . not . . . only light and truth but . . . a disposition to act (also see D&C 93:30), and whatever one's disposition to act is we conventionally think of as his [or her] character. . . . Therefore, "intelligence" . . . seems to be an appropriate synonym for "character"–righteous character. (4)
The aim of this university, then, has been and always will be to elevate not only a student's reasoning powers, but to increase his or her spiritual sensitivities, to influence the heart as well as the mind. Whether one's degree was earned in 1997 or 1927, the expectation is that all of BYU's graduates will have the capacity and the disposition to be a righteous influence in neighborhoods and communities across the globe, and that each will enjoy both the economic fruits of a strong education and the peace and joy that comes from a righteous disposition to act.
---
1. NAICU Report, 9/17/96, Census data, 1990.
2. Orley Ashenfelter and Alan Krueger, "Estimates of the Economic Return to Schooling from a New Sample of Twins," The American Economic Review, December 1994, p. 1157.
3. Gibb Dyer, et al., "High Tech Business in Utah Valley" study, June 1, 1989.
4. David H. Yarn, Jr., "My Age of Preparation," BYU Devotional Address, August 6, 1996.
---
This article is adapted from an address given at the commencement exercises on April 24, 1997.