---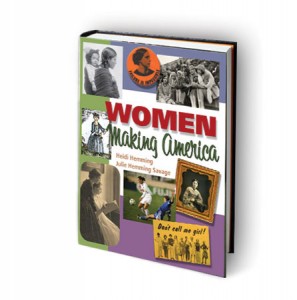 When sisters and educators Heidi Hemming (BA '88) and Julie Hemming Savage (BA '92) found that stories about women were largely missing from American histories, they decided to create their own comprehensive women's history book, Women Making America.
"A ton of research . . . has been done in women's history, and there are beautiful textbooks if you are teaching college," Savage says. "But there is not a single book that we know of that is a comprehensive survey of women's history and that is appropriate for younger readers."
Hemming, a high school history teacher, and Savage, a former middle school teacher, included extensive sidebars and pullout facts, as well as more than 300 images in the book to make it appeal to readers both young and old.
In the book, readers learn about famous historical figures as well as everyday women. "We know about Abigail Adams and Amelia Earhart, but we don't know so much about the average women who really had an enormous hand in building this country," Savage says. "I think women will even find themselves in this book."
More at womenmakingamerica.com