---
BYU's Office of Research and Creative Activities (ORCA) awards grants to hundreds of students each year, allowing students to pursue original research. Each grant recipient gets $1,500 in project funds.
Though it's a modest amount in the world of research grants, the seed money gives undergraduates opportunities that most campuses reserve only for grad students, and the skills and experience gained along the way open doors to grad schools, employers, and entrepreneurship. Students come up with project ideas, find faculty mentors, and apply for ORCA grants on their own.
ORCA awarded grants to 318 students this year. Here's what a few of them are up to.
Presidential Partisanship and the Stock Market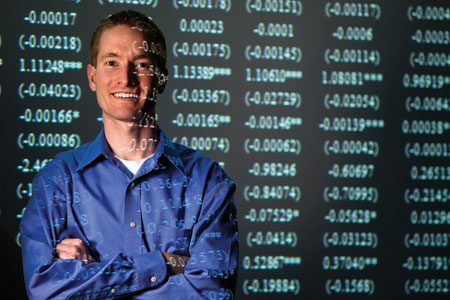 Economics and math major Ian J. Wright ('09) wondered whether presidential turnover affects the stock market. He and his mentor, finance professor Keith Vorkink, developed statistical models to test the idea and applied for an ORCA grant. Wright is running statistical tests on the monthly stock returns during presidencies since WWII to see if there is a significant relationship between presidential partisanship and stock market returns.
Borrowing Ideas from Ladybugs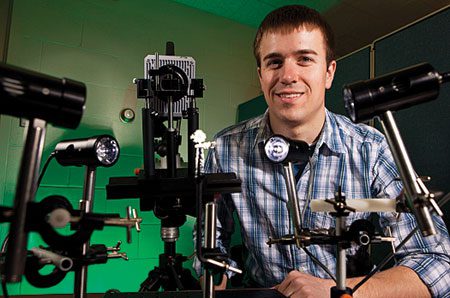 Bug-sized spy planes may sound like science fiction, but Ryan B. George (BS '09) hopes his research will help make them a reality. With mechanical engineering assistant professor Scott L. Thomson (MS '00), George is researching the wing movements of ladybugs to develop flapping-wing micro air vehicles. Hoping Mother Nature can teach modern technology a thing or two about flight, George uses a camera with a shutter speed of 5,000 frames per second to analyze the exact movements of a ladybug in flight.
Steak, How You Like It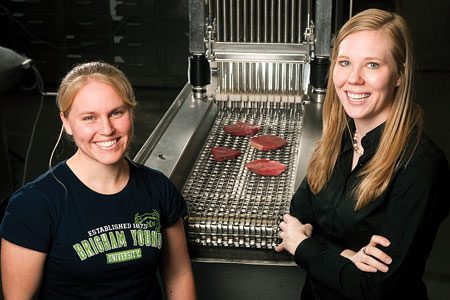 A mouth-watering steak may look well-done, but its external brown coloring doesn't necessarily mean it's thoroughly cooked. Food science majors Maria Morey Carter ('09) and Amanda Wellman Nordquist ('09) are experimenting with different meat tenderizing techniques to find out if some methods affect the color meat turns at low heat. The best part? To provide meaningful findings, the project called for a sample size of 120 steaks.
---
Web: To learn more about or to contribute to ORCA, visit ORCA.byu.edu.