---
The five "fat" Whiting sisters behind The Fat Sisters' Cookbook—Joyce Whiting Packard, Glenna Whiting Tingey (BS '66), Myrna Whiting Borden (BS '70), Debra Whiting Lewis (BS '72), and Terry Whiting Schnepf (BS '76)—picked their book's title to honor their mother, Aleen Whiting, who told them, "Never trust a skinny cook."
"Most of our loves are in the dessert section," says Lewis. Though their children thought the cookbook needed more entrées, the sisters disagree. "Well, that's what made us the Fat Sisters," Lewis laughs. "But the chicken recipe [right] is so popular, some of our teens eat a dozen in one sitting."
Dedicated to Aleen, who passed away in 1982, the cookbook is filled with simple recipes and Whiting family history. The sisters created it in 2006 for their children, but it was soon requested by many others. The sisters have sold more than 4,000 copies and appeared on radio and television shows.
The cookbook required many 16-hour days to collect and edit recipes, but the experience brought the sisters closer and documented their family history. "People are hungry to preserve their heritage any way they can," says Schnepf. "If people have those memories, they should compile them. As long as they know it's not just a piece of cake."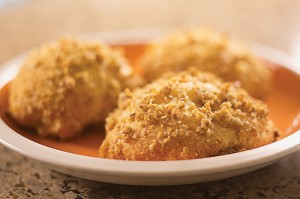 Chicken Rolls
3 ounces cream cheese, softened
2 tablespoons butter
1 cup cooked chicken, chopped
1 4-ounce can mushrooms (or add an extra 1/2 cup chicken)
1 can refrigerator crescent rolls (refrigerator biscuits can be flattened and substituted)
1/2 cup seasoned croutons, crushed
1/4 cup walnuts or pecans, finely chopped
1/2 teaspoon sage
3 tablespoons butter, melted
For the filling, mix cream cheese and butter well. Then stir in chicken and mushrooms. Separate crescent rolls into eight triangular pieces. Spread each with about 1/4 cup chicken mixture. Roll up and tuck sides of dough under to make a ball; pinch the dough to seal edges.
Mix croutons, nuts, and sage. Dip each roll in the melted butter and then in the crumb/nut mixture. Place on cookie sheet and bake 15 to 20 minutes at 375°F. Serve with gravy on top. Can be frozen (before or after baking) and reheated.
Gravy options: Use canned cream of chicken soup thinned with 1/3 cup of water or milk, Pillsbury chicken gravy mix plus 2 tablespoons chopped chives, or your own favorite chicken gravy.
— Courtney M. Feinauer ('13)