---
Education
New Emphasis: The teacher-education graduate program now offers a math and science emphasis. Changing Behavior: In a chapter of Issues and Trends in Special Education, counseling psychology faculty Darlene H. Anderson (BA '65) and Michelle Marchant say teachers, by changing their own behavior, can influence positive change in their students.
Engineering and technology
Quake Detective: The National Science Foundation sent civil and environmental engineering prof Kyle M. Rollins (BS '82) to Chile to help document geotechnical aspects of the recent 8.8 magnitude earthquake.Tomorrow's Speakers: Industrial design students partnered with Logitech to produce a series of computer- and iPod-speaker prototypes.
Family, Home, and Social Sciences
Rural Society: Sociology prof Ralph B. Brown was appointed executive director of the Rural Sociological Society. GOP in Vietnam: Assistant history prof Andrew L. Johns (BA '92) authored In Vietnam's Second Front: Domestic Politics, the Republican Party, and the War. Taking Sides: Psych prof Brent D. Slife wrote Taking Sides: Clashing Views on Psychological Issues. Community Violence: Assistant psych prof Jared S. Warren's (BS '96) research, published in the Journal of Consulting and Clinical Psychology, explores the effect of community violence on psychosocial outcomes for youth.
Fine Arts and Communications
Religion Reporting: Proposing guidelines for religion reporting in political campaigns, comms grad students Austin S. Cameron (BA '07), Sara R. Shawcroft ('12), and Holly N. Wallace ('12) received the top ethics-paper award from the Association for Practical and Professional Ethics. Platinum Performance: The journal Graphis presented Adrian H. Pulfer (BFA '89), associate prof of graphic design, with his third Platinum Award.
Humanities
Prolific Prof: Comparative literature prof Larry H. Peer (BA '63) received the Lifetime Achievement Award at the International Conference on Romanticism.
Kennedy Center
Model Delegates: At the National Model United Nations conference, BYU's Model UN team received two awards for outstanding delegation and was ranked in the top 1 percent of competing universities. Four BYU-student delegates also received awards at the Model European Union conference.
Law School
Supreme Justice: In June law prof Thomas R. Lee (BS '88) became the newest member of the Utah Supreme Court. For AIDS Victims: Law student Tyler D. Lake (BA '04) developed the nonprofit International Children's Legal Aid to protect the property rights of women and children in Ugandan AIDS clinics. Free to Impugn: In an article published in the Boston College Law Review, associate law prof Margaret Robertson Tarkington (BA '99) argues for attorneys' free-speech right to impugn judicial integrity.

Life Sciences
Lizards Dwindling: Biology prof Jack W. Sites Jr. coauthored a paper in Science linking lizard extinctions to climate change. Skin Serum: Physiology and developmental bio prof Edwin D. Lephart (BS '79) identified a molecule derived from a soybean compound that improves skin health. The technology has been licensed to Nu Skin.
Marriott School
Top Four: BYU's organizational behavior and strategy faculty ranked no. 4 in the nation for their 2009 publications in the top journals in the field, according to a list published 
by the University of Texas at Dallas.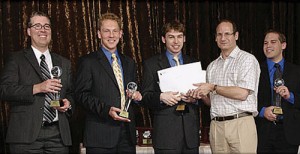 International Champs: Three info-systems students won first place at the APEX Global Business IT Case Challenge in Singapore.
Nursing
Stellar Students: BYU received the Stellar Chapter Recognition Award at the 2010 National Student Nurses Association (NSNA) convention. Senior Erin E. Zundel ('10) was elected a director of NSNA and appointed chair of the 2011 convention.
Physical and Mathematical Sciences
Gas Power: Chem and biochem prof Jaron C. Hansen and emeritus prof Lee D. Hansen (BS '62) founded Anaerobic Digestion Technology, which powers homes by producing fuel from garbage. Goldwater Scholar:Biochemistry major Matthew T. Winterton ('11) became the 11th BYU student in six years to receive the national Goldwater Scholarship.
Religious Education
LDS Chaplains: In April seven commissioned officers in the U.S. military became the first class to graduate with BYU's master's degree in religious education for chaplains.