---
By Richard H. Cracroft
Our cup runneth over– with good books! I can't think of a time in the soon-to-be-decade that I have been Book-Nooking with you that the quality and variety of books by BYU alumni has been as rich as it has been in the final year of this old millennium. At the top of my gift list this Christmas will be All Is Well (Salt Lake City: Bookcraft, 1998; 716 pp., $25.95), the ninth and final volume in Gerald N. Lund's The Work and the Glory series; When We Meet Again (Salt Lake City: Deseret Book, 1999; 480 pp.; $21.95), volume 4 in Dean Hughes' Children of the Promise series; and, as a stocking stuffer, that illuminating tale by Carol Lynn Pearson, illustrated by Kathleen Peterson, The Lesson: A Fable for Our Times (Salt Lake City: Gibbs-Smith, 1998; 32 pp.; $9.95).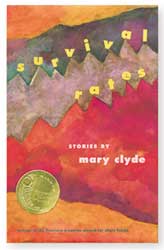 For those certain to appreciate the fine photography and reflective text of John Telford and Susan Easton Black is In the Footsteps of Jesus: Images of the Holy Land (American Fork, Utah: Covenant Communications, 1999; 105 pp.; $29.95). The authors take us on a rich visual and spiritual journey to the Holy Land, retracing the footsteps of the Lord through Bethlehem, Egypt, Galilee, and Jerusalem and following Him through the Passion Week, from His triumphal entry to His crucifixion and resurrection. Black's moving, scripture-based text complements Telford's personal "Photographer's Notes" and his striking color photographs of Holy Land vistas.
I'm happy to introduce Mary Clyde, BYU alum (English major, of course) and one of the new and brilliant lights of modern American/Western/LDS fiction. Clyde's collection of nine first-rate short stories, Survival Rates (Athens and London: University of Georgia Press, 1999; 161 pp.; $24.95), garnered the Flannery O'Connor Award for Short Fiction. (Clyde is the third BYU alum, with Paul Rawlins and Darrell Spencer, to achieve that distinction.) Her fictional world is the contemporary desert Southwest, peopled with human beings, some of them Mormons, trying to survive in a world where life is difficult at best, and if one survives, it is only to die another day. In each of her stories, the characters, having confronted various life-changing circumstances, grope to cope, in hope. Indeed, a New York Times reviewer touts Clyde's ability "to transform a shallow experience into something resembling hope. That she does so with intelligence and wit makes this collection as good as they get." Clyde's stories are universal, humorous, guardedly hopeful, of good report, and praiseworthy. She does herself, her craft, and her essentially Mormon worldview proud. As one of her former teachers, I modestly take full credit for her splendid accomplishment.
As you select bookish gifts, keep in mind that the turn-of-the-millennium will probably be described by future Mormon literary historians as the Card Era. Orson Scott Card's imaginative genius, boundless creative energy, and stylistic vigor combined with his keen-minded grasp of Mormon theology and his resulting audacity to opine, from the hip and with authority on any subject, place him among the most prolific and exciting Amer- ican/Mormon/sci- ence fiction/fantasy/ historical fiction/ humor/sports biog- raphy/nonfiction/ playwright/screen- writers of the late- 20th century. (Whew!) Card is phenomenal. His recent book Enchantment (New York: Del Rey, Ballantine Publishing Group, 1999; 390 pp.; $25), subtitled A Classic Fantasy with a Modern Twist, is trademark Card.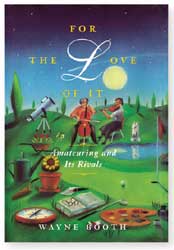 And now comes Card's latest triumph, Ender's Shadow (New York: TOR, 1999; 380 pp.; $24.95). Not a sequel but "a parallel novel to Ender's Game" (published in 1985 and currently in production as a film), Ender's Shadow has climbed nearly to the top of the Amazon.com, Wall Street Journal, and New York Times bestseller lists. Ender's Shadow begins and ends at the same points as Ender's Game and features many of the same characters and events. But this time these events are seen through the eyes of Bean, another child warrior who is even younger and more intellectually gifted than Ender. Bean must learn how to survive in a terrible world, how to outwit adults seeking to exploit his powers, and, most important, how to understand, acquire, and practice the puzzling morality of self-sacrifice, compassion, and love which motivate Poke (who dies for him), Sister Carlotta (who lives for him), and Ender (who shows him how). Ender's Shadow is a powerful tale of an interstellar superboy who learns to love and be loved, a page-turner par excellence in which the inimitable Card outdoes himself–even outdoes, I think, his classic Ender's Game. I also once taught Card everything I know.
Many of you will want to receive, as I recently did, For the Love of It: Amateuring and Its Rivals (Chicago and London: University of Chicago Press, 1999; 237 pp.; $22), by Wayne Booth, one of BYU's most distinguished alums. Booth, a distinguished professor emeritus of English of the University of Chicago and former president of the Modern Language Association, takes a close look at the amateur–"one who practices an art or science or sport for his own pleasure, rather than as a profession." He examines why humans spend so much time on challenging hobbies, whether painting, music, gardening, chess, or genealogy–being passionately engaged, not just for the fun of it, but for the love of it and for the quality of life such anxious engagement seems to afford. Using his own amateur devotion to the cello (since age 31) as his point of departure and return, Booth looks at his and others' motivations, acknowledging in his case that "if you are brought up as a Mormon, taught daily to see the goal of life as getting better all the time, in as many dimensions as possible, you cannot escape that daily betterment command'" (p. 53). This charming, provocative look at the components of joie de vivre may set you to rummaging for your fiddle, guitar, or harmonica–just for the love of it, of course.
Some of you will want to give–and receive–Anne Perry's Tathea (Salt Lake City: Shadow Mountain, 1999; 522 pp.; $23.95), a book so important to the literature of the Latter-day Saints that, with or without President Bateman's approval, we must immediately anoint its author an honorary BYU alum. With 7 million copies of her 30 Victorian mystery novels in print, Perry is acclaimed internationally and publishes two books each year with Ballantine Books. A native of London, Perry lives in Scotland. She joined the LDS Church in 1967 while living in California.
Tathea, which Perry considers her most important book to date, is no Victorian mystery but a symbolic epic which, while never mentioning Mormonism, is replete with Mormon doctrine. Searching for meaning after her life is shattered by the murders of her emperor-husband and son, Tathea undertakes a journey which introduces her to the principle of agency and prepares her for a vision of the Council in Heaven. She is given a golden Book, written in an ancient tongue, which she translates. The citizens of her native Shinabar, however, dilute and distort the message of the Book, which is withdrawn from them.
The concluding chapter presents the text of the Book, consisting mainly of a conversation between Man of Holiness and Amadeus, the Great Enemy. In a dialogue reminiscent of the book of Job, God explains and defends the laws of agency-based eternal progression and makes such familiar statements as "When God was yet a man like yourself, with all your frailties, . . . even then was the law irrevocable" (p. 505) and "Wickedness can never be joy. Even I cannot make it so" (p. 508).
In the sequel, which Perry plans to finish by October 2000, Tathea, who has been preserved for 500 years, will find and teach the 13-year-old youth raised up to reopen the Book and usher in Armageddon.
Space permits only mention of other works of fiction: Chris Crowe has edited 15 short stories for LDS teenagers in From the Outside Looking In (Salt Lake City: Bookcraft, 1998; 134 pp.; $10.98). Susan Evans McCloud presents Farewell to Babylon (Salt Lake City: Scribe Publishing, 1999; 196 pp.; $11.95), a historical romance about Julian Gray forsaking prosperity in London for the uncertain life of a Latter-day Saint in Nauvoo. JoAnn Jolley, in Secrets of the Heart (American Fork, Utah: Covenant Communications, 1998; 300 pp.; $13.95), charts Paula Donroe's humbling, bittersweet, but worthwhile way to faith along a road full of twists and surprises.
Several LDS works of nonfiction will appeal to many of you this Christmas season: My Soul Delighteth in the Scriptures: Personal and Family Applications, edited by H. Wallace Goddard and Richard H. Cracroft (Salt Lake City: Bookcraft, 1999; 204 pp.; $17.95), gathers 15 original essays by, among others, Elder Marion D. Hanks, Elaine Cannon, and the late Elder Carlos E. Asay. In A Lively Hope: The Suffering, Death, Resurrection, and Exaltation of Jesus Christ (Salt Lake City: Bookcraft, 1999; 214 pp.; $19.95), Richard Neitzel Holzapfel examines the Passion and Resurrection narratives of the gospel writers and shows how their teaching was new and strange for their first-century audiences.
Have a good tome this Christmastide!
Richard H. Cracroft is a professor of English, director of BYU's Center for the Study of Christian Values in Literature, and bishop of the BYU 203rd Ward (married students).