Two frugal friends have blessed the lives of many BYU "daughters."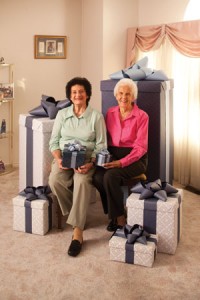 Two frugal friends have blessed the lives of many BYU "daughters."
Beverley Nalder (BS '52) admits that, at first, she wasn't too fond of Ramona Morris ('81). "She was so organized—something I wasn't," says Nalder, describing how she met Morris four decades ago on a river raft trip. "But I got over it." By the end of the excursion, the two had become friends. They later became roommates and eventually bought a home together.
"As the years have gone by, we have sort of met in the middle," Nalder says. "Her friendship has been the dearest blessing in my life."
The companionship has blessed more lives than two. Neither woman has ever married or had children, but together they have scrimped and saved to help more than 100 "daughters" gain an education at BYU.
"We never travel first class," says Nalder, explaining how she, a retired BYU professor and counselor, and Morris, a retired high school counselor, manage to fund several scholarships each year. "We keep our cars a long time, and we make do with the same old television by having a converter box rather than buying a new television. We even delay repairing a light in the kitchen if we can use the money a better way."
"We take cruises," Morris adds, "but we always get inside staterooms without windows. I suppose we could have a cabin with a window and a balcony, but the extra money could be used for others. Besides, we figure we would only be in the room for sleeping."
Using personal funds, inheritance money, and even portions of their retirement, Nalder and Morris make heartfelt donations every year. "When I give to BYU, I feel like I'm experiencing 
what the widow who gave her small mite felt in giving her fair share," Nalder says. "You don't have to be a millionaire to do this. The blessings of any gift far outweigh the investment."
Helping Girls
Much of Morris and Nalder's desire to help came through their professions. As social workers and counselors, they saw many students who could use assistance with their educational goals. "We talked for many years about doing something," Morris says. "I especially wanted to help senior girls at Provo High School, where I was a social worker and counselor, helping college-bound seniors apply 
for scholarships."
Male students at the school could apply for the Knight Mangum Scholarship, which funds four years of education at BYU. While Morris thought it was a great opportunity for young men, she wanted a similar award for young women. "I just didn't think this was fair," says Morris.
"We needed a sponsor and came close to succeeding two or three times," Morris says. "Ultimately, however, we could not secure the necessary funding, which was a big disappointment."
At the same time, Nalder worked up the hill at BYU as an assistant professor and psychiatric social worker. She also had an ardent interest in helping 
young women.
"I often met young women who—through divorce, widowhood, or other challenges—were trying to raise families and find resources to obtain an education," recalls Nalder. "Their lives were so difficult. Some told me they would go through garbage cans behind restaurants and get food that had been tossed and then cook it well just to get through school. Their needs were tremendous."
She wished there were more scholarship options and remembers thinking if she were ever in a position to help, that is what she wanted to do.
Her opportunity came in the early '90s after her father, mother, brother, and sister died within a few years of each other. "Neither my brother nor sister had married, so I inherited all my family's resources," she says.
One of her first decisions was to retire three years early and begin helping others through LDS Philanthropies. She established a scholarship at LDS Business College in honor of her late sister, Nadine Nalder, who had attended Radcliff and majored in business. She also established a BYU scholarship that each year assists three or four single mothers who are majoring in the social sciences, which was her field of study.
Morris realized her wish when she and Nalder combined resources to create the Morris-Nalder Scholarship for Provo High School girls. As a companion to the Knight Mangum Scholarship, the Morris-Nalder Scholarship provides four years of BYU tuition for one graduating senior each year. The pair has been funding that scholarship for 15 years now. "We just plan for it, and when it's time to give our money, we have it," Morris says.
Like Daughters
To receive the award, Provo seniors apply and go through a screening process. When the school has narrowed the finalists to five, Nalder and Morris interview them and make the final selection. "These young women are wonderful; we have a challenging time selecting just one girl," Nalder says.
"It is hard to describe your feelings when you see how grateful a girl is and what a difference this scholarship makes in her life," says Morris. "Sonia Valdez ('12), the young woman we chose in 2008, immigrated from Peru. She is not only a good student but is also a pure, unassuming girl who was working hard at two or three jobs while attending high school. This scholarship has made it possible for her to attend college." Valdez's parents visited Morris and Nalder's home to express their gratitude, bringing homemade empanadas.
"Beverley and Ramona have made an enormous difference in my life," Valdez says. "I sincerely believe I would not have been able to attend BYU right out of high school without it. It has always been a dream of mine to attend BYU, and because of this scholarship, I am achieving that dream."
Nalder says she and Morris enjoy the opportunity to influence young lives. "We feel a joy I suspect might happen when a mother gives birth or when a missionary finds someone receptive to the gospel," she says.
"Many of these girls have become like daughters to us," says Morris.
Jenna Taylor Jensen (BS '08), one of the scholarship winners, says the 
Morris-Nalder Scholarship made all the difference in her college experience. "Because of the scholarship, I was able to live in the dorms instead of at home and fully participate in the freshman experience," says Jensen, who had been student-body president at Provo High. "I also had the time to participate in cross country and run for BYU. I'm sure I could not have done that without the security of that four-year scholarship. I also met my husband on the cross country team, so the scholarship really guided me to the opportunities and people I needed to meet."
Jensen graduated in exercise science and now lives in New Jersey with her husband, Tyrel (BS '08), and their newborn. "Although I live far away, I will always remember these lovely ladies." She showed her appreciation by giving Morris and Nalder a small, handmade, cloth-covered scrapbook, filled with pictures of her college years and comments about how the scholarship had changed her life. The book sits in Morris and Nalder's living room, along with several other thank-you gifts, including a Lladró porcelain nativity and a handmade quilt.
"We get invitations to our girls' weddings, mission farewells, and, for those in the arts, their recitals," Nalder says. "We love the connection."
The newest awardee is Whitney Hoopes ('13), a freshman who hopes to study nursing. She was a 4.0 student and played varsity soccer at Provo High.
"These are the sweetest ladies I have ever met," Hoopes says. "We really related during the interview, especially when we discussed adoption. I am adopted and learned that they had worked with adoption agencies. That really put me at ease. I was kind of surprised to get the award, because my best friends also applied, and they are so smart. I feel blessed that I have eight semesters of school paid for."
Addicted to Giving
Nalder and Morris are the most popular people in the neighborhood every summer during the Orem Summerfest celebration and fireworks show. They haul a large popcorn popper from the basement and make abundant amounts of popcorn to fill the tubs and bowls of neighborhood children.
"The kids care more about their popcorn than they do about the fireworks," says longtime friend Linda M. Palmer (BS '71), managing director of the BYU Alumni Association. "It's in Beverley's and Ramona's natures to serve."
The pair's generosity has long been noted at BYU. In the 1990s they participated with prominent donors on a committee for the Lighting the Way campaign. And in 2009 they were honored by President Cecil O. Samuelson at the annual President's Dinner. Elder Russell M. Nelson, of the Quorum of the Twelve, spoke at the banquet and praised Morris' and Nalder's giving natures. "Their generosity has been likened to the widow's mite," said Elder Nelson. "It's a nice metaphor, but it's not true. Neither one is a widow. Their gift is a mite, but it's spelled M-I-G-H-T."
"These ladies have become legendary and were the obvious choice to be honored," says Tanise McIntire Chung-Hoon (BS '89), director of principal gifts for LDS Philanthropies. "They have changed how they live so they can give. One of our very generous donors who learned about Beverley and Ramona approached me and said that, while she and her husband had given a lot of money to BYU, she did not believe their gifts had required them to change their lifestyle. She was really touched to hear about these lovely ladies."
Orrin J. Olsen (BS '76), a director of major gifts for LDS Philanthropies, has worked with Morris and Nalder for years. "One thing that makes Ramona and Beverley stand out is their consistent giving, year after year," he says. Olsen met the two of them nearly 20 years ago, and the meeting marked the beginning of an enduring relationship. "Since then we have become very good friends, and it has been wonderful seeing how well they connect with the students they help."
Morris and Nalder maintain relationships with recipients that go beyond the scholarships. Whitney Hoopes, for example, decided to show appreciation this past Christmas by having her father, who is in the Mormon Tabernacle Choir, arrange tickets for the duo for the annual choir concert.
Sonia Valdez believes the best way she can thank her donors is to work diligently in school. "Beverley and Ramona are both so full of life," Valdez says. "It is an absolute blessing to know them. I look up to them and hope that one day I can make a difference in someone's life the way they do with so many 
young ladies."
Nalder says the chance to make a difference brings a sense of satisfaction and happiness the two can't get away from. "I guess Ramona and I are addicted to giving," she says. "You can't take it with you, and giving brings a lot of joy and peace to our lives. You feel as if you are giving to a good cause, and the world needs good causes. The Lord says we will be happy when we serve others, and that is surely true. It is part of the gospel, and this is our way of sharing 
our testimonies."
---
Feedback: Send comments on this story to magazine@byu.edu.