---
By Richard H. Cracroft
When all is said and done, and said and done again, it all comes down to the amazing act of atonement by Jesus of Nazareth, transformed by that ineffable act into Jesus, Savior and Redeemer. Before the miracle of the Atonement, everything else pales into relative insignificance.
In what is, I believe, the most complete study to date of the Atonement, Tad R. Callister, in Infinite Atonement (Salt Lake City: Deseret Book, 2000; 356 pp.; $21.95), has built on the teachings of the Book of Mormon, that greatest scriptural repository of the doctrine of the Atonement, and gathered virtually everything God has revealed on the subject. To that he has added the words of modern prophets, seers, and revelators—from Joseph Smith, Brigham Young, and Parley P. Pratt to James E. Talmage, Bruce R. McConkie, and Neal A. Maxwell. With a confidence arising from familiarity and spiritual insight, Callister has brought to the table the inspiring and pertinent words of Dante's Divine Comedy and of such writers as William Shakespeare, John Milton, Emily Dickinson, Eliza R. Snow, Mahatma Gandhi, Robert Frost, and C.S. Lewis. The result is a well-written, doctrinally sound, and highly readable book about what Robert L. Millet calls in his foreword "the central act of human history, the pivotal point in all time, the doctrine of doctrines" (p. ix).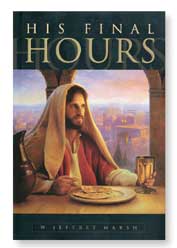 W. Jeffrey Marsh's His Final Hours (Salt Lake City: Deseret Book, 2000; 127 pp.; $15.95) is a tightly focused companion volume to Callister's book. In it Marsh chronicles the final week of the mortal life and ministry of Jesus of Nazareth, setting each event into the context of the plan of salvation and positing Jesus as the fulfilment of prophecy. Marsh, BYU associate professor of ancient scripture, not only unites ancient and modern scripture in testimony, but also recovers such little-known, overlooked, or forgotten gems as Elder Orson F. Whitney's dream about the Savior in Gethsemane (pp. 116–117) and Elder James E. Talmage's "Parable of the Grateful Cat" (pp. 102–103).
Speaking of recovering lost gems, the editors at Deseret Book—concerned that the work of a number of LDS scholars has become lost and inaccessible—are collecting "the best of the best" in their new Gospel Scholars Series. One of these volumes is Selected Writings of Robert L. Millet (Salt Lake City: Deseret Book, 2000; 596 pp.; $29.95). Millet is BYU dean of Religious Education, director of the Religious Studies Center, and professor of ancient scripture. The editors have culled Dean Millet's many books and gleaned a number of excellent selections under the headings of "Scripture," "Doctrine," "Families," and "The Abundant Life." In addition to Robert Millet, already published are the collected works of Gerald Lund, Daniel Ludlow, and Robert Matthews.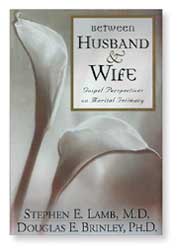 The Daily Universe reports that Between Husband & Wife: Gospel Perspectives on Marital Intimacy (American Fork, Utah: Covenant Communications, 2000; 202 pp.; $17.95) is a runaway best-seller at the BYU Bookstore. Written by Stephen E. Lamb, MD, and Douglas E. Brinley, a BYU religion professor, Between Husband & Wife is, they explain, about the sacred physical union of man and woman in marriage. "It is based on the premises that marriage, as ordained of God, is an essential doctrine of the Plan of Salvation (D&C 49:15–17; 131:1–4; 132:14–20, 24) and that a fulfilling sexual relationship profoundly enriches the marriage partnership. The greatest joy, the deepest satisfaction, and the most poignant impressions of the soul come to a man and woman in a covenant marriage by sharing emotional and physical intimacy" (p. 1).
Every LDS couple, regardless of age, ought to read this book; it will assist in anticipating and resolving problems in marital intimacy, and it will candidly educate—from a healthy spiritual perspective.
Treating another recurring challenge in many marriages, BYU professor of family science Bernard E. Poduska undertakes, in Till Debt Do Us Part (Salt Lake City: Shadow Mountain, 2000; 224 pp.; $15.95), to show that most financial woes arise from behavioral problems. Poduska shows the interrelationships among finances, feelings, and family relationships; he teaches readers why we have financial problems, how to manage debt and plan for the future, and, most pertinently, how to get through this month; and he deals with the modern family view of finances and suggests how we can cope. In an appendix Poduska summarizes "The Ten Financial Principles" he treats in this interesting guide to dealing with the vagaries of family finance.
BYU alums continue to produce a variety of fiction, most of which is distinctive because it is firmly anchored in belief, faith, hope, and Christian and Latter-day Saint values. Here are four recent examples.
Blaine M. Yorgason, that prolific (60 books) and wonderful storyteller (Charlie's Monument, The Windwalker),now gives us Gabriel's Well (Salt Lake City: Shadow Mountain, 2000; 216 pp.; $17.95). A (very old) Cluvarous Ezekiel Jones ("Clue") recalls events that took place in 1904 when his Oklahoma village was forever altered by the advent of a mysterious stranger, Carlos de Ortega. Representing an eastern oil company, Carlos, a geologist, claimed to have discovered vast oil reserves on nearby property owned by Gabriel and Keziah Jane Hurryup, whom everyone (mistakenly) supposed to be Indians. Carlos invited Clue's father, Ezekiel Jones, the local banker and town recorder, to lay claim to the Hurryups' land, since Indians could not legally own property. Resisting temptation, Ezekiel Jones protected the Hurryups' property claims, whereupon Carlos raised the entire town against the Jones family, with terrifying consequences. The ensuing adventures, enhanced by a bit of charm and romance, make for a lively and exciting story—and a very good read-aloud for the entire family.
With Love's Labors Tossed: Trust and the Final Fling (Salt Lake City: Deseret Book, 2000; 302 pp.; $15.95), Robert Farrell Smith concludes his comic trilogy chronicling the perils of Elder Trust Williams. Smith brings Trust and his fiancée, Grace Heck, back to Thelma's Way, Tennessee, where, you recall, Trust spent his wacky mission, hilariously recounted in volume 1, All Is Swell: Trust in Thelma's Way. You will also recall that, in volume 2, Falling for Grace: Trust at the End of the World, Elder Trust returns home to Southdale—and a ward every bit as madcap as the Thelma's Way branch. There Trust continues his obstacle-course courtship of Grace, against overwhelming forces, but the couple finally becomes engaged. In this final volume, Love's Labors Tossed,Trust and Grace's path is chuck-holed by Cindy Finders (alias Hope Hayhurst), a gorgeous returned missionary who sets her hat for Trust. Cindy wants Trust, and whatever Cindy/Hope wants . . . well, you can imagine the obstacles she poses. But, happily for the course of True Love, Cindy is also
blunt, tacky, conceited, opinionated, and bossy, alternating with obtuse, stubborn, and malicious, depending on the day, mood, and slant of the moon. She administered criticism like some sort of poisoned Pez dispenser, dropping her jaw down, her full lips pushing out sour negatives. . . . She alienated herself from most folks by acting better-than-thou and distanced herself from all the rest by being harsher-than-all. . . . Cindy truly was the kind of child that even a mother could shove. (pp. 16–17) 
In a fast-paced novel for young adults, Breaking Rank (New York: Morrow Junior Books, 2000; 201 pp.; $16), Kristen D. Randle continues her estimable knack of teaching the importance of paying the price for discovering and fostering the best within. With the same finesse she applied in The Only Alien on the Planet,Randle follows the rite of passage of Baby, a member of the Clan—a mysterious, silent, and passive group (not a "gang")—who violates the Clan's ethos by taking, and scoring high on, college entrance exams. After being placed by a sensitive principal in the high school's honors classes and assigned cute, bright, and good Casey as his tutor and guide into the mainstream, Baby finds himself torn between loyalty to the Clan and attraction to Casey, her Mormon family, and high ideals. This tension is heightened by the Cribs, the clique of letter-jacketed athletes who resent Clansman Baby's association with straight-arrow Casey. Breaking Rankis an exciting novel that unobtrusively affirms family, moral, and educational values and demonstrates the power of good will, selfless love, and hope in effecting change.
Finally, Curtis A. Taylor, in The Dinner Club (Camino, Calif.: Foreword Press, 2000; 380 pp., $14.95), has written the lively, entertaining but spiritually engaging story of Chris Young, hard-working driver of a 550-horsepower Freightliner rig, and his gorgeous but lonely, unhappy, and straying wife, Gertrude. After Chris accidentally bounces from the back of his rig a glistening new BMW 540i in the middle of Interstate 5, his beautiful Gertie runs off with a mutual friend and the $60,000 Beemer and into Telestial jaws. In the ensuing misadventures Chris, hitherto a lukewarm convert to Mormonism, learns the gospel of faith, forgiveness, love, and covenants—the hard way—as does his family. Taylor, author of The Invisible Saint (1991), a comic novel, and currently the host of a nationally syndicated radio show, has written inThe Dinner Cluba well-crafted parable that makes the gospel pertinent and immediate, without finger-wagging didacticism and takes contemporary LDS fiction in a new and satisfying direction.