---
While her husband was stationed in Pakistan, Patricia Ormsby Stoddard (BS '74, MS '78) hunted for something to color their white walls. She was taken with the deep-hued quilts she encountered in handicraft shops, each quilt handmade without frames, patterns, sewing machines, tables, or rulers by women in the Indus Valley Region of Pakistan and India.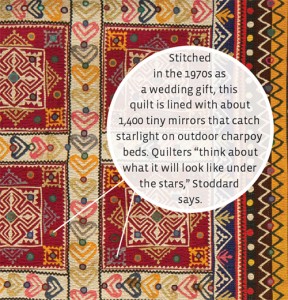 Traditionally crafted from scraps of used fabric, these rallis warm beds, denote wealth, and highlight the region's aesthetics. "They don't have fancy architecture, they don't paint pictures on walls," Stoddard says. "Textiles are their canvases."
Stoddard, a former BYU professor with a PhD in family ecology and international development, documented the region's unique patterns in Ralli Quilts: Traditional Textiles from Pakistan and India, bringing them to the attention of quilters and collectors worldwide. A sampling of her almost 500-ralli collection anchored the 2014 Fabric of Belonging exhibit in BYU's Museum of Art. As MOA curator Marian Eastwood Wardle (BA '73, MA '88) says, "Art isn't just painting and sculptures."
Web: See more of Stoddard's collection at ralliquilt.com.