---
Football: Cougar to Raven
BYU All-American tight end Dennis G. Pitta ('11) was drafted by the Baltimore Ravens in the fourth round of the 2010 NFL Draft. He'll join former teammate John D. Beck (BA '06), a reserve quarterback for the Ravens.
Basketball: Smart Shooters and Euro Tour
The NCAA honored the men's team for earning multi-year Academic Progress Rate (APR) scores in the top 10 percent of all basketball squads. The Cougars are the only basketball team to earn the APR recognition and an NCAA tournament spot in each of the last four seasons.
The women's basketball team headed overseas for a 12-day, four-game tour of Italy, Switzerland, and Slovenia, putting together a 4-0 record.
Golf: Fillmore an All-American
Robert F. Fillmore ('10) tied for 18th at the NCAA Championships and received an All-America honorable mention citation from the Golf Coaches Association of America.
Tennis: Coach of the Year, Twice
Brad D. Pearce (BS '99) was named the Wilson/ITA Coach of the Year for the Mountain Region as well as the MWC Coach of the Year. Pearce led the men's team to an MWC regular-season title after going 6-0 in league play, the first time BYU has gone undefeated in the conference since 1988. The team finished with a 21-7 overall record and advanced to the NCAA Championships for the first time since the 2001 season.
Track and Field: Conference Sweep; All-Americans
Both the men's and women's teams placed first at MWC Outdoor Championships. Fourteen Cougars went on to compete at the NCAA Outdoor Championships. Four came away with All-America honors, including Richard H. Nelson (BS '10), who came in eighth in the 3,000-meter; Blaine D. Baker ('11), ninth in javelin; Sean J. Richardson ('11), 11th in javelin; and Mindy Neeley McClurkin (BS '10), third in the long jump. McClurkin, a five-event athlete, is one of the highest-performing BYU women track and field athletes of all time. Between indoor and outdoor events, she has set six BYU records, claimed first in five MWC championship events, and earned All-America honors three times.
Volleyball: Italian Interlude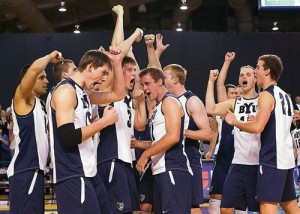 After a 22-9 season and a no. 2 national ranking, the men's team headed overseas to play matches against four Italian teams. The Cougars finished with a 3-1 record, defeating Voghera, Treviso, and the Italian Junior National Team.