A BYU researcher and writer explores the post-expedition lives of Corps of Discovery members.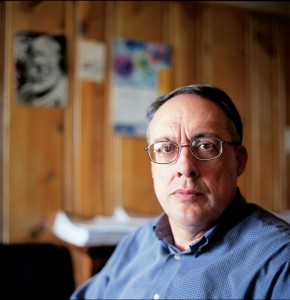 This year marks the 200th anniversary of the beginning of Meriwether Lewis and William Clark's historic expedition across North America. All year long, residents along the Missouri River will mark the bicentennial of the explorers' pushing a heavily laden keelboat upstream through their states. Coinciding with the milestone is the release of a new book by a BYU writer, the first to chronicle the lives of the 30-plus members of the "Corps of Discovery" following their return to St. Louis from the Pacific coast after many had given them up for dead.
The first two-thirds of The Fate of the Corps, published by Yale University Press, is rife with eye-opening factoids and anecdotes from the lives of the 31 men, one woman, one child, and one dog that completed the transcontinental trek. But readers who flip to the back, stacked with appendices, footnotes, and a 279-item bibliography, will catch a glimpse of another odyssey—that of author Larry E. Morris, '76, and his nine-year assembly of the explorers' scattered fortunes. Instead of climbing pristine mountains and wading unnamed rivers, he pored over piles of court records and hunted through rolls of microfilm. The reality that made the famous mission so astounding—the wide-open and uncharted nature of the West—made reconstructing their lives, which occurred on or outside the frontiers of 19th-century America, a remarkable and demanding chore.
Frontiers of Knowledge
His quest began when Morris, whose day job is as an editor and writer for BYU's Institute for the Study and Preservation of Ancient Religious Texts, was wandering a bookstore in the early 1990s and, chancing upon a book about the Lewis and Clark trek, was confronted by his ignorance.
"I realized I didn't know a darn thing about the expedition—I couldn't have even told you their route," says the man who now effortlessly rattles off place names and dates associated with the 28-month trip. "I just got curious about what happened to all those members of the expedition."
That curiosity led to an exhaustive, and fruitful, journey of his own.
"It surprised me at first that no one else had tried to do this before—until I realized what an extraordinary amount of work it required," says Lara Heimert, the publisher of history books at Yale University Press who acquired Morris' manuscript. "I was struck by the prodigious amount of research Larry had done. But I was most impressed by the wonderful stories Larry uncovered surrounding each of these extraordinary lives."
As a reviewer for the Wall Street Journal's leisure section put it, "All the stories in The Fate of the Corps are well told, but the most riveting is that of John Colter." During the final stages of the return voyage, Colter, a true mountain man, was excused from the corps to head back up the Missouri River with a trapping party. He explored the region that now includes Yellowstone National Park and later met fellow corps veteran John Potts to trap in present-day Montana. They were captured by hundreds of hostile Blackfeet warriors, and, after Potts went down fighting, Colter was stripped naked. He thought he would be tortured and executed, but the chief of the party motioned for him to run and gave him a 100-yard head start before sending the warriors after him. That's when Colter, known among the corps as a fast runner, became a legend. After a few miles, he turned and killed the fastest Indian with the Indian's own spear, then dove into a frigid river and hid under some driftwood all day. When the frustrated pursuers abandoned their search, he hiked—still without clothes—for 200 miles over a mountain range to an outpost called Fort Raymond, in only 11 days. "His beard was long, his face and whole body were thin and emaciated by hunger, and his limbs and feet swollen and sore," wrote one with whom Colter shared his account. Colter survived other encounters with hostile Indians and finally returned to Missouri after six years in the wilderness, only to die two years later of mere disease.
A strength of the book is the way it allows the reader to come to know the historical figures not through interpretation by Morris, but through the minor details of their lives he has cohesively assembled.
After the trek, Lewis was driven delirious by fever or depression over his ineffectiveness as governor of the Louisiana Territory and his failure to publish his journals of the trek. Morris presents a clear case that Lewis later shot himself at a lonely Tennessee inn only three years after his triumphant return to St. Louis. The trusty Newfoundland dog who followed him across the continent, Seaman, was apparently at his side, wearing a collar inscribed, "The greatest traveler of my species."
Aspects of Clark's character are revealed in small deeds like his accompanying the widow of one of the explorers to court to settle her husband's estate—the probate record shows he cosigned a note with her for $1,000. A darker side of the popular leader, who would go on to be governor of the Missouri Territory, is apparent in a letter Clark wrote to his brother three years after the expedition about "a severe trouncing" he gave his slave, York, who accompanied him on the trek, for acting "insolent and sulky."
Back on the bright side, Clark adopted Sacagawea's son, whom she had born to her French-Canadian husband just before the trek and then carried to the Oregon coast and back. Clark's journal entries during the trip affectionately refer to little Jean-Baptiste Charbonneau by the nickname "my boy Pomp." Sacagawea left the 6-year-old in Clark's care before heading back up the Missouri with her husband, never to return—she died of typhoid fever in 1812. (Morris lays to rest an alternate theory that a Shoshone woman named Porvio, who died in 1870, was actually Sacagawea.) Jean-Baptiste would grow up to befriend a German prince, live in Europe for six years, and return to the West, guiding the Mormon Battalion through what is now New Mexico and Arizona to their destination of San Diego.
Solving Mysteries of History
To build these narratives, Morris combined elements of genealogy with traditional historical research to cast a wide net and narrow the search to his quarry. He first digested the secondary research available—existing books on the trek and the American West. Then, armed with some indication of where the diaspora of corps members had taken them, he combed census reports, town records, manuscript collections, land transactions, probate proceedings, arrest warrants, and family genealogies from the likely counties. When he talks about squinting at stacks of books and rolls of microfilm at The Church of Jesus Christ of Latter-day Saints' Family History Library and in historical societies in several states, Morris exhibits some of the personality traits required to stay with such an arduous project.
"There were a number of individuals for whom I put in hundreds of hours at libraries," Morris says. "Out of, let's say, 400 hours for one person, only 10 of those hours were the real gold mine; the rest of it I didn't find anything at all."
Instead of finishing the sentence with a scowl, he chuckles. "Any genealogist is bound to appreciate that."
Some thorough detective work came regarding the three massive earthquakes that hit New Madrid, Mo., in 1811, estimated at between 8.0 and 8.8 on the Richter scale. Records clearly indicated that corps sergeant John Ordway lived there with his family and owned property that was destroyed by the quakes. But Morris kept finding a family tradition that another member of the corps, William Bratton, had also witnessed the calamity (which actually caused the Missouri to flow upstream for a few hours), despite the fact there was no trace of him in city or county records in the area. While at the Oregon Historical Society, Morris reviewed a letter from Bratton's grandson stating that his grandfather had been working on a boat at the time, which explained how he could have been there for the earthquake though he was not a resident of New Madrid. "That was a nice find," Morris says. But to meet Yale Press's documentation standards, Morris felt he needed more.
Several months later at BYU's Harold B. Lee Library, he was meticulously checking to see if any of his many subjects appeared in a massive collection of 19th-century documents called the Draper manuscripts. In a letter preserved on microfilm, Morris found confirmation that Bratton had taken some goods downriver for the letter writer in 1811, right past New Madrid.
"It showed he was in the area, just not living in the area, and solved the mystery. I found that exhilarating," says Morris, who also used old watch-repair bills to prove that one of the explorers who had been charged with murder was soon after living a respectable life—likely indicating that he had been acquitted.
Although the span of centuries involved dictated Morris spend most of his time poring over old documents, he was able to speak with Eugene Gass Painter, the great-grandson of Patrick Gass, who at age 98 was the last of the corps to die—appropriately, in 1870, a year after the completion of the transcontinental railroad. When Gass died, Morris writes, "The expedition had ended." But the author's quest has not. Referring to the still-sketchy details surrounding the fates of some members of the corps, Morris ends the expansive notes section of the book with, "The search . . . for the others continues."
---
Michael Smart is a media relations manager for BYU University Communications.